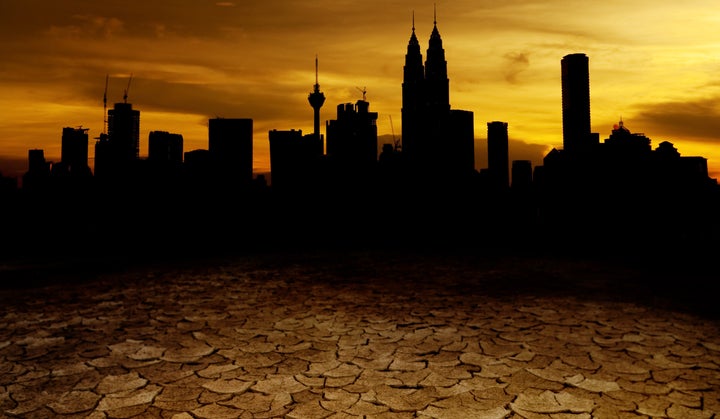 Countries around the world are pledging to cut their carbon emissions ahead of next month's climate meeting in Paris, part of a desperate team effort to stave off catastrophic climate change. But even if these promises are kept, they won't go nearly far enough, according to an analysis released Friday by the United Nations Environment Programme.
In its sixth annual "Emissions Gap" report, the UNEP analyzed pledges submitted by nearly 150 countries, which collectively contributed more than 85 percent of total global greenhouse gas emissions in 2012. The report found that the pledges would amount to only about half of the greenhouse gas emission cuts needed to stabilize warming below dangerous levels by the end of the century.
"That means we've still got a lot of work to do, but we've made some real progress," said Michael Mann, director of Penn State University's Earth System Science Center.
The Paris meeting will take place between Nov. 30 and Dec. 11, and attendees are tasked with shaping the first-ever universal climate pact. Forming the backbone of that pact are these emissions-reduction pledges, known as Intended Nationally Determined Contributions.
The United States, one of the nations that contributes the most to global warming, has pledged to reduce its greenhouse gas emissions by slightly more than one-quarter (relative to 2005 levels) by 2025, the report indicates. China has committed to lowering carbon dioxide emissions "per unit of GDP by 60% to 65%."
Meanwhile, poorer nations that face some of the biggest threats from climate change have made promises as well. The Maldives, an island chain and one of the countries most threatened by rising sea levels, emits just 0.003 percent of the world's greenhouse gases, yet promises a 10 percent reduction in emissions -- up to 24 percent if it gets international resources.
While the pledges represent a "historic step," UNEP Executive Director Achim Steiner said in a statement, they "are not sufficient to limit global temperature rise to the recommended level of two degrees Celsius (3.6 degrees Fahrenheit) this century."
Scientists have warned that a rise in global temperatures beyond 2 degrees Celsius would trigger the most devastating effects of climate change, such as intolerable drought, mass migration and superstorms. Some experts actually suggest limiting the rise to less than 1.5 degrees, since even that level of warming could pose dire consequences, especially to poorer nations.
"If anything, the outcomes we've seen -- including rates at which certain changes such as sea-level rise are happening -- have been more troublesome than what we expected," said Michael Oppenheimer, a climate scientist at Princeton University.
Based on nations' current pledges, the UNEP estimated that global temperatures could still jump at least three degrees Celsius (4.8 degrees Fahrenheit) by 2100.
"It's not too late to make a two-degree target, but it's getting late fast," Oppenheimer said. "If we twiddle our thumbs for another 10 years, it will be almost impossible to make it without some Hail Mary pass with technology that may or may not work out." (Scientists are investigating an assortment of extreme measures, such as sucking massive amounts of carbon dioxide out of the atmosphere.)
"The importance of these INDCs is for governments to have plans that they can take home [from Paris] and begin to implement," Oppenheimer continued. "And, as they start, hopefully they'll find it easier and cheaper than they thought, and then maybe they will do more and more of it at an accelerating pace."
But he added that it's also important to hold countries to their commitments.
"It's nice to put down plans, but then what?" Oppenheimer asked, saying he hopes an accountability plan is also agreed to in Paris.
Penn State's Mann expressed some optimism about the Paris talks, based in part on another major piece of climate-related news that made headlines on Friday: the Obama administration's rejection of the Keystone XL pipeline.
"Through executive actions, the administration has already committed to substantially reduce carbon emissions from power generation and from the transportation sector," Mann said. "They've reached a bilateral agreement with the largest emitter (China) of carbon on the face of the planet to substantially reduce carbon emissions in the decades ahead. Now, with the rejection of Keystone ... they've now strengthened their hand further."
"Hopefully that sets the tone for an aggressive, actionable agreement in Paris," he added.
Popular in the Community