 WASHINGTON –- Many U.S. companies are already including a price on carbon emissions in their business planning. That includes oil companies such as ExxonMobil and ConocoPhillips, and major coal-burning utilities.
Efforts to put a federal price on carbon stalled out in Congress in 2010. Major polluters deserve most of the credit for tanking that legislation, and for keeping it from coming up again.
But other countries have moved ahead with a putting a price on planet-warming greenhouse gas emissions, and the Environmental Protection Agency has started issuing new regulations on emissions. So, in effect, emitting carbon is starting to get more expensive for all those companies that have been polluting for free for all these years. And the companies recognize it, as the CDP (formerly known as the Carbon Disclosure Project), a London-based nonprofit that works with corporations to get them to voluntarily disclose their emissions, concluded in a new report issued Thursday.
More than 1,000 companies that operate in North America disclose their emissions to the CDP each year, and the CDP puts that information online and issues reports about trends it sees in those disclosures. This latest report found that at least 29 companies reported that they use a price on carbon internally in their business planning and decisions.
"We're not surprised companies are taking a rational, strategic view on climate change and incorporating it into their decision-making process," said Tom Rivett-Carnac, the president of CDP for North America.
Some of the companies that do so might be surprising, however; they include oil companies such as ExxonMobil, BP, Chevron, ConocoPhillips and Shell. The report also notes utilities such as the St. Louis-based Ameren Corporation, the Southern giant American Electric Power, North Carolina-based Duke Energy Corporation and the Midwest's Xcel Energy.
ExxonMobil reported the highest internal price on carbon, anticipating a cost of $60 per metric ton of carbon by 2030. BP said it is using an assumption of $40 per metric ton of carbon, and ConocoPhillips gave a range of $8 to $46 per ton. Not every company reported an exact figure, but those in the report stated that they do use some number internally.
Exxon posts its assumption on its website. Company spokesman Alan Jeffers said the company is also operating under the assumption that the price will increase to $80 a ton by 2040.
"We think that will be the net impact of the various policies that various government's around the world impose in efforts to curb CO2 emissions," Jeffers told The Huffington Post. "The risk posed by co2 emission in the environment, raising temperatures, climate change, etc., are motivating governments to take action to put a price on carbon, to try to tackle that issue. We want our planning for that to be as accurate as possible."
Practically speaking, Jeffers said, that figure "really does impact some of the fuel choices and our planning assumptions."
Jeffers said that the company still prefers a revenue neutral carbon tax, if the U.S. is going to put a set price on carbon emissions. But as the CDP report highlights, whether or not that happens, the company is already anticipating that carbon emissions won't be free for much longer.
Xcel Energy reported a $20 carbon cost assumption in the report, but Jack Ihle, the company's director for environmental and public policy, said that it uses "a range of estimated future costs of carbon dioxide emissions" in its accounting. Xcel has coal, gas and wind power generation facilities across Colorado, Michigan, Minnesota, New Mexico, North Dakota, South Dakota, Texas and Wisconsin, and says that it plans to cut its own emissions by 31 percent by 2020. "Given the capital-intensive nature of our business, we must make decisions over long-time horizons and take steps today to plan for potential future outcomes, such as climate change regulation," Ihle said in an email. "By so doing, we believe we can reduce both the costs and risks associated with potential new environmental mandates."
While the future of greenhouse gas regulation in the U.S. is "uncertain" at this point, Ihle said, "in the long term, we think that either EPA or Congress will likely impose some form of market-based carbon policy on electric generating units."
The disclosure that many companies are already using a price on carbon internally is a marked difference from the doom-and-gloom diagnosis heard most often in Congress. In fact, many companies already think carbon pricing is inevitable.
"I think, going beyond the vagaries of party politics, actually companies realize this is coming over the medium- or long-term horizon at least, so they need to plan for it," said CDP's Rivett-Carnac. "I think they do a risk assessment and it's all based on probability. Businesses don't operate in a world of certainty; they operate in a world of probabilities. I think they would say, 'We don't know, but we think it's possible.' This is prudent planning in that scenario."

Before You Go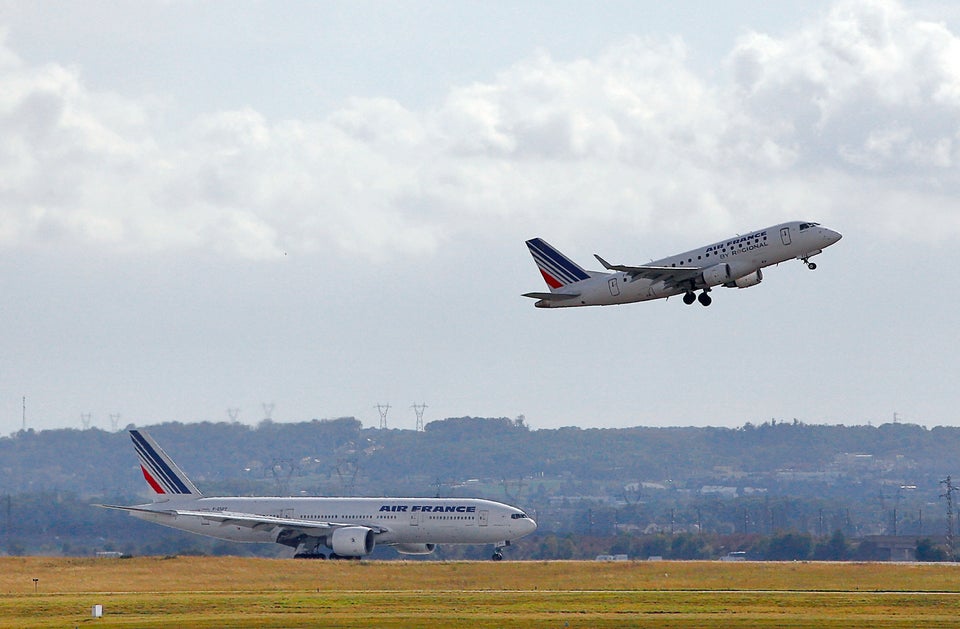 Connect The Dots On Climate Change
Popular in the Community