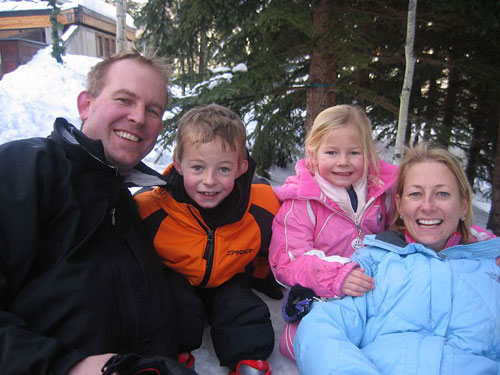 The Lofgrens
The deaths of four members of a Denver family in a home just east of Aspen during the Thanksgiving weekend two years ago have resulted in the indictments of three people, including a building inspector and building plans' inspector.
Aspen media reported the trio also includes a contractor.
The claim is that Parker Lofgren, 39, his wife, Caroline, 42, their children, 10-year-old Owen and 8-year-old Sophie, were killed by the colorless gas leaking from a snowmelt system. It also is odorless, making it even more difficult to detect.
The family was staying in the house after winning a contest at their children's school that awarded the winners a five-day stay there.
The deaths led to a campaign that resulted in a Colorado law requiring most homes to be fitted with carbon monoxide detectors. News reports said county ordinances required a carbon detector in the home at 10 Popcorn Lane.
"We are pleased with the outcome and certainly appreciative of the time and attention the grand jury paid to this. Nothing will bring them back. But we think it's really important to expose what happened to hold those who were accountable responsible," Hildy Feuerbach, Caroline Lofgren's sister, told the Aspen Daily News.
The Aspen Times reported that Pitkin County Sheriff Bob Braudis questioned the indictments, saying his deputies had thoroughly investigated the deaths and found no criminal conduct.
Meanwhile, a civil suit is being prepared that could name Pitkin County as a defendant.
Marlin Brown, owner of Roaring Fork Plumbing and Heating, was charged with four felony charges of criminally negligent homicide.
Erik Peltonen, who retired as a Pitkin County building inspector after the deaths, faces the same charges.
Both men were released on $11,000 bail.
Brian Pawl, who remains a building plans inspector for the county, was indicted on misdemeanor charges.
REAL LIFE. REAL NEWS. REAL VOICES.
Help us tell more of the stories that matter from voices that too often remain unheard.