Are New Yorkers up for the Challenge? Our problems of climate change and diminishing energy supply are greater than ever, but architects and designers can have a significant impact in improving the state of the planet. Buildings are responsible for over 75% percent of New York City's greenhouse gas emissions, and there is a tremendous opportunity to effect real change through energy efficient and innovative design.
Ed Mazria is an architect who is making a big difference, as a preeminent leader and visionary in the field of sustainable design. With a career spanning 45 years, he has been engaged in environmental issues since the 1970s. He is the author of the "bible" of solar design, The Passive Solar Energy Book. Most significantly, he closed his practice in 2006 to start Architecture 2030, a nonprofit that challenges designers to achieve carbon neutrality in buildings by the year 2030. Carbon neutral buildings are ones that do not emit greenhouse gases or offset any emissions by producing renewable energy.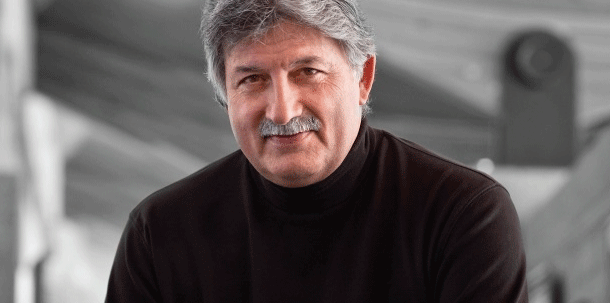 Ed Mazria. Photo credited to Jamey Stillings.
As part of Earth Week, the New York Chapter of the American Institute of Architects (AIA) has invited Mr. Mazria to present a keynote lecture to launch its 2030 training program, which will educate designers on how to achieve ambitious energy and carbon reduction targets. Mr. Mazria was kind enough to answer some questions in advance of his keynote on the subject of creating a sustainable vision for the future and how New York City architects and designers can rise to the occasion.
Ed Mazria's lecture "Architecture on the Brink," will take place this evening at 6:30pm at Cooper Union's Great Hall, 7 East 7th Street, New York City.
How do you see New York City as uniquely positioned to achieve significant greenhouse gas reductions?
Ed Mazria: New York City is already quite energy efficient due to the city's high density and public transportation network. The inherent efficiency of the city's plan and infrastructure will make it easier to meet greenhouse gas reduction targets than in many other locations.
The city consists primarily of occupied existing buildings. It is typically much simpler to design a sustainable building when it is a new construction. Do you see significant environmental improvements being possible in this regard?
Ed Mazria: Most buildings in New York will undergo renovation over the next twenty years. A number will also get demolished. As well, many building enclosures will soon need replacement, particularly post-WW2 curtain wall buildings. Gut renovations of office spaces take place on a regular basis. There is great opportunity to re-imagine and reduce energy consumption in all these buildings.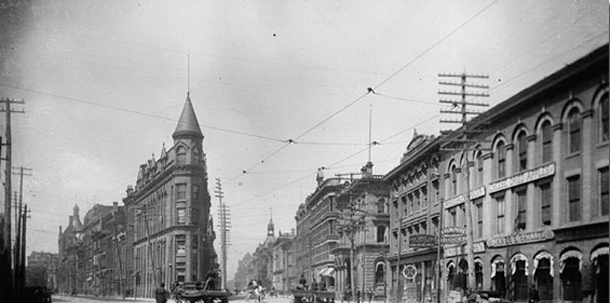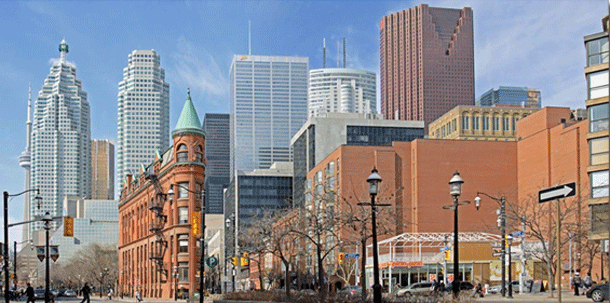 Toronto's Flatiron Building: 1895-2011. Our built environment has changed dramatically over the last century. Today, a new transformation is underway. Photos credited to Jamey Stillings.
How do you specifically see New York architects as champions of the global climate crisis?
Ed Mazria: It's up to the design community to solve the problem. If we don't do it, nobody will. New York City is a global center for design that takes place all over the world both directly by firms doing work internationally, and indirectly by the city's leadership role. New York should be forging the way.
Do you think that the role of architects and designers needs to adapt to meet these ambitious environmental goals?
Ed Mazria: Absolutely. The field of sustainable design is exploding and the boundaries of practice need to expand -- and are doing so. Architects are also engaging more deeply in policy and legislation to help advance the agenda more quickly.
There is a lot of discussion these days about building design vs. performance, and the role of the owner and operator in helping to achieve energy reduction goals. What are your thoughts about this?
Ed Mazria: We need to keep design simple and easy to operate. In my experience, if we rely on too many overly complex technologies, things will fall apart when a building operator leaves or new tenants move in. As much as possible, we should design the buildings to operate themselves. 60-80% of the energy reduction strategies can be dealt with through design strategies.
With so many years of experience in sustainable design under your belt, what advice would you give to students, architects and designers just starting out?
Ed Mazria: Be visionary about how to transform buildings and the building sector, and about the possibilities for the future. Don't hesitate to experiment and test. Finally, education and information sharing is critical for us to collectively achieve significant impacts in improving the state of our environment.
Related
Popular in the Community