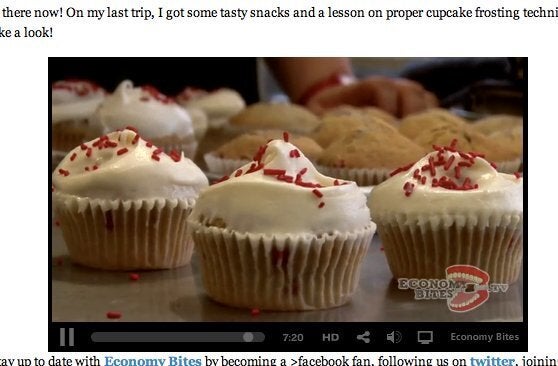 Welcome Economy Bites readers and viewers! We're so happy to be back RIGHT in time for Valentines Day! Single or coupled, Valentines day is a time for love...and SWEETS! So today we're celebrating with something sugary and pink: fresh strawberry cupcakes!
Our cupcake recipe comes from Little Cupcake Bakeshop, the first and only carbon-neutral bakery in New York (SoHo to be exact). The Bakeshop is a beautiful family owned joint in a great location that serves some of the most delicious treats this side of Willy Wonka (blue velvet cupcakes? YES PLEASE!) Whenever you stop in for a cupcake, piece of pie and/or cup of coffee, you're doing the environment a big favor, PLUS you're getting a treat made from only the freshest, seasonal ingredients. That makes you feel a little better about an afternoon cupcake, right? RIGHT!
Go there now! On my last trip, I got some tasty snacks and a lesson on proper cupcake frosting technique. Take a look!
Fresh Strawberry Cupcakes
1 cup unsalted butter
2 cups sugar
3 eggs, beaten
2 cups finely diced fresh strawberries
1 tsp vanilla extract
1/4 cup milk
3 1/2 cups all purpose flour
1 tsp baking soda
1/2 tsp baking powder
1/2 tsp salt
Frosting
3 Tbsp softened unsalted butter.
2 1/4 cups confectioners sugar
3/4 tsp vanilla extract
2 to 3 Tbsp whole milk
-In a large bowl mix butter and sugar until the mixture becomes fluffy. Once it's fluffy, then add the eggs one at a time while mixing it all together. Combine the dry ingredients in a separate bowl then add to the creamed mixture. Continue beating until batter becomes thick and everything is completely mixed.
-Pour 1/4 of a cup of batter into paper-lined muffin cups making sure to leave room for when the cupcake rise a bit and bake at 350 degrees for 25-30 min. Remove the pan from the oven and make sure to let cool for 10 minutes before removing cupcakes from pan.
-To make the frosting: mix butter and confectioners sugar in a small bowl until it becomes delightfully fluffy. Add the vanilla extract and milk. Continue to mix the frosting until it becomes smooth and delicious. Once cupcakes are cool - frost away!

Popular in the Community