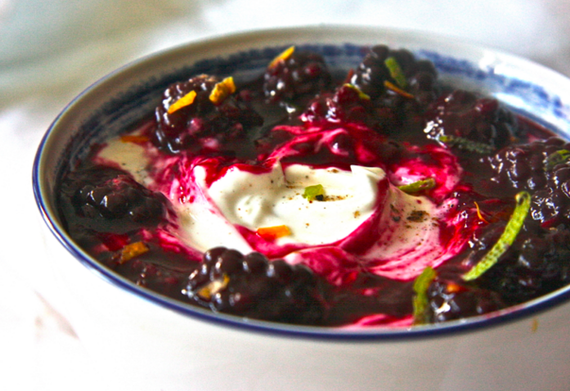 Something had to be done with the rather ripe blackberries in the fridge this morning and I wanted it to be quick and simple. Making a juicy compote like this is so much better when the berries are ripe - so that's exactly what I did, adding a squeeze of lime and orange, and then grating some of the zest to give the bowl an ounce of extra colour and a burst of intense flavour. I love using cardamom, cinnamon and saffron, usually combining a couple of these in a breakfast dish like my Chai chia pudding, but today's morning bowl is a simple dash of cardamom with honey stirred into thick creamy yogurt. It's so easy and absolutely delicious!
4 tablespoons, 150g Greek yogurt
1 tablespoon honey
¼ teaspoon cardamom powder
15 blackberries, around 150g
squeeze of ¼ lime
a squeeze of orange
orange and lime zest for garnishing
Simply stir the honey and cardamom powder into the yogurt. Warm the blackberries with lime and orange squeeze in a pan on low heat for a couple of minutes - if they aren't ripe, then mash them a little using a fork. Wait for this to cool for a minute before pouring onto the yogurt. Add small pieces of lime and / or orange zest to garnish.