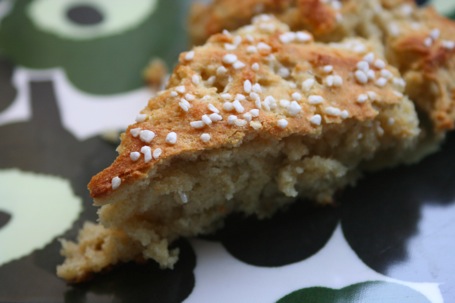 High end ramen, breakfast for dinner, sparkling water: We spend a lot of time discovering and discussing food trends on Foodie Underground. It's a dichotomous pursuit. There are the evenings spent complaining to friends about how fed up with the foodie world I am (bone luging, really? yet another cupcake store, must we?). Naturally, in the next sentence, I'm going on about my sea salt and olive oil polenta cake in the oven.
"Sea salt, Anna, really?"
"But sea salt is really good in cake. I swear."
"Want to try this cardamom chocolate cake instead?" Tease all they want, I know they're not going to turn it down.
No matter how much your friends roll their eyes at a foodie's obsession, one can always quell their serving of sass with what one cooks up. Appreciation for good homemade food is universal.
But about those trends. Today: cardamom.
Go take a look in your spice cabinet. What do you see? A half-empty container of powdered ginger that's more yellow mass than powder? Vietnamese cinnamon you haven't used since that botched chai recipe in graduate school's chai-and-soy-I-don't-do-coffee days? Turmeric that you don't dare use because... well, because it's so damn technicolor?
Get rid of them -- all of them -- and make room for cardamom, your new spice of choice.
I have a personal long-standing love affair with cardamom, it being the basis of practically every Swedish baked good ever created -- thank you, Vikings. It has been a longtime staple in my culinary adventures, but lately I've noticed that whenever I see a restaurant that employs one word for its name (or two words connected by an ampersand in Helvetica of course), I can be certain there will be cardamom on the menu. Cardamom is the food world's latest "it spice."
This spice deserves any accolade a food lover gives it. It's versatile, delicious and sexy in everything from desserts to main courses. Yes, it's expensive, coming in after saffron and vanilla, but there's good reason that this India-born spice is the new épice du jour.
Here are five reasons you should (and will) fall in love with cardamom.
1. Cardamom is exotic. It is sexy.
Cardamom has a distinct and complex flavor. Bonus: Anything you put the spice in is automatically going to sound more alluring that the original version.
And so forth. Thanks to this spice, you can instantly turn yourself into a creative, culinary genius, which of course will be a hit for your food-related dating endeavors. It's marketing, baby! (Fortunately, the product backs up the hype.)
2. Cardamom goes well with coffee.
"Must be some Scandinavian thing," a friend of mine responded to a comment I had made about never being able to put too much cardamom in my coffee.
I'm not certain putting cardamom in coffee is an actual Scandinavian habit, but my Swedish-born mother has been doing it since before I can remember, and she buys cardamom in bulk quantities to ensure that we never run out. Having the economic sensibilities of every other food-loving twentysomething, I always fill a plastic bag up when I go home to visit my parents to avoid having to purchase it myself.
Add a pinch (or two, or three) to your morning brew and let it work its magic. You'll quickly understand my obsession.
3. Cardamom is both sweet and savory.
For a quick and easy sweet tasting cardamom recipe, try my favorite Cardamom Cake.
Ingredients:
2 cups flour
3 teaspoons ground cardamom
1 tablespoon baking powder
1/2 cup sugar
7 tablespoons butter
1 egg
1 cup milk
Instructions:
-Mix dry ingredients in a bowl. Add in butter with your fingers and mix until crumbly consistency.
-Add in egg and milk and mix until a batter consistency.
-Pour into a greased 9.5 inch circular baking pan. If you want to, sprinkle with sliced almonds or orange zest. (The one pictured above uses Swedish pearl sugar, which you can buy at IKEA or import food stores).
-Bake at 400 F for about 30 minutes.
4. You can get creative with cardamom.
I have found that any recipe that requires any element of spice can be adapted to include cardamom. Food52 ran a contest with cardamom inspired recipes, resulting in everything from Bellinis to granola.
If you have yet to go out on a foodie limb, cardamom could just be your gateway spice. Start small. Add a little cardamom to your hot chocolate, for example. Then graduate to more complex creations, like cardamom in a butternut squash soup.
Just remember to go easy; too much cardamom and your recipe will taste more like medicine than food.
5. You can please omnivores, vegans, the gluten-intolerant and your grandmother.
Editor's note: This is the latest installment of Anna Brones's weekly column at EcoSalon, Foodie Underground, discovering what's new and different in the underground food movement, from supper clubs to mini markets to the culinary avant garde.
Support HuffPost
A No-B.S. Guide To Life
Related
Popular in the Community