Two-and-a-half years after a deadly magnitude-6.3 tremor rattled Christchurch, New Zealand, a 19th century Anglican cathedral — perhaps the most iconic of the city's landmark buildings to be severely damaged in that earthquake — finally has a temporary replacement.

And it's made mostly of cardboard.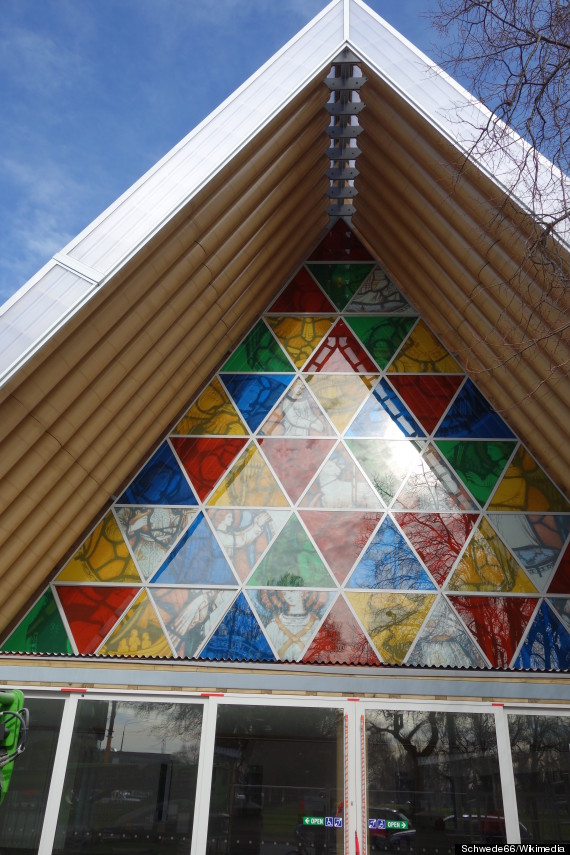 After a controversial deconsecration and demolition process that began in the spring of 2012 and was halted some months later by a high court judge in a move that was considered a victory for local preservationists, the ChristChurch Cathedral is once again open for services in a transitional home designed by none other than disaster relief housing specialist, environmentalist, and cardboard building proselytizer, the lauded "emergency architect" Shigeru Ban.

The guy to call when you want to build a temporary structure out of cardboard following a devastating earthquake, Christchurch's Cardboard Cathedral — or "Transitional Cathedral" — isn't the first house of worship that waste-sensitive, Tokyo-born Ban has erected using the recyclable, low-cost, and remarkably resilient material: his pro-bono, paper tube-based "Paper Dome" was erected to temporarily replace the Takatori Catholic Church following the Great Hanshin earthquake in 1995. It is undoubtedly, however, his most dramatic.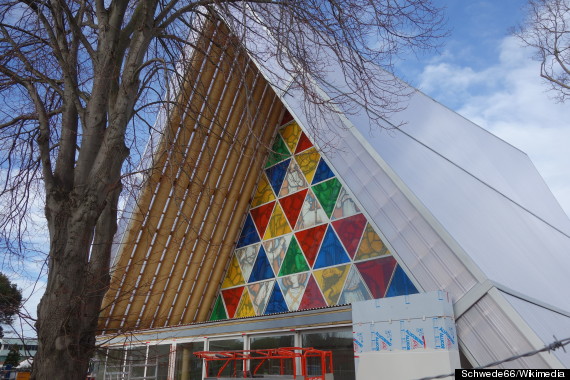 Located a few blocks from the semi-demolished ChristChurch Cathedral in Latimer Square, Ban's A-frame style structure with a capacity allowing for 700 parishioners was built from timber, steel, and 98 polyurethane and flame retardant-coated cardboard tube-encased beams weighing 1,100 pounds each. Topped with a polycarbonate roof, decked with striking triangular stained glass windows etched with images from the original cathedral's rose window, and anchored by walls formed by eight recycled shipping containers, the concrete-floored Cardboard Cathedral will also serve as an event space, concert hall, and de facto tourist destination.

Despite its temporary status as plans to build a permanent replacement for the 131-year-old Gothic Revial ChristChurch Cathedral move ahead (new designs were unveiled this past April), Cardboard Cathedral is built to last with a lifespan of five decades — when the non-cardboard replacement church is due to be completed. It's also 100 percent up to earthquake code. "The strength of the building has nothing to do with the strength of the material. Even concrete buildings can be destroyed by earthquakes very easily. But paper buildings cannot be destroyed by earthquakes," remarked Ban.

Just like the plans to the demolish the original quake-ruined cathedral have experienced numerous setbacks, Ban's Cardboard Cathedral has persevered through a series of delays, setbacks, and infighting (not to mentioned sharp criticism from the Wizard of New Zealand, who has called Ban's design "kitsch.") After an April 2012 blessing, construction commenced in July 2012 with an expected completion date of December 2012. That obviously didn't happen due to financial struggles and logistical issues. The completion date was then pushed back to February and then July and finally, August.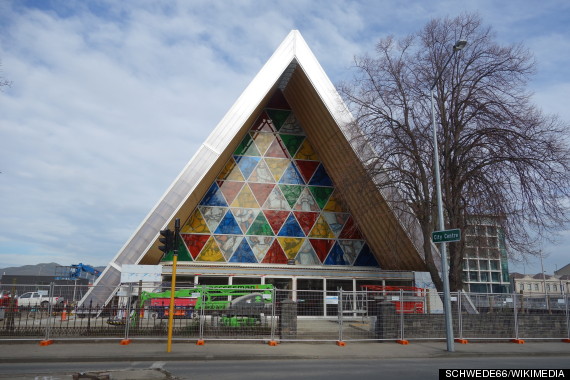 During a small ceremony held last week, control of the structure was at long last handed over from contractors to the Anglican diocese (naturally, a giant cardboard key was involved). Yesterday, the building was officially opened to the public; on Aug. 11 the church will host its first Sunday services. Additionally, a grand dedication service is scheduled for Aug. 15.

Bishop Victoria Matthews was overcome with emotion during the Aug. 2 key ceremony. "It's really quite overwhelming. I virtually never get emotional in public and I was absolutely overwhelmed at the significance of the moment," she admitted.

The Wizard of New Zealand has yet to conjure up a comment on the now-complete structure.
Calling all HuffPost superfans!
Sign up for membership to become a founding member and help shape HuffPost's next chapter
BEFORE YOU GO
PHOTO GALLERY
10 Hot Green Innovations