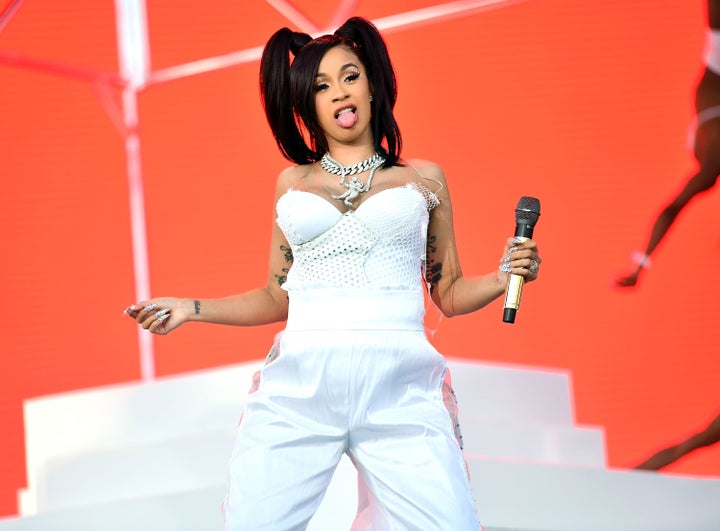 Fresh off the debut of her new record, "Invasion of Privacy," Cardi B addressed reactions to her revelation on "Saturday Night Live" that she is pregnant. These things were intertwined, the album and the baby, if not in reality then in the hyperreality Cardi B inhabits. Both were treated by certain corners of the public as bits of creative output to be consumed and judged, and last week on the "Ebro in the Morning" radio show on New York's Hot 97, Cardi B seemed annoyed with this arrangement.
It's just like, you know what? I'm a grown woman. I'm 25 years old. I'm going to say this in the most humblest way: I'm a millionaire. And I'm prepared for this.
She went on a little later:
I see a lot of women online like, 'Oh, I feel sorry for you, oh your career is over.′ And it's like, why can't I have both? As a woman, why can't I have both? Why do I gotta choose a career or a baby? Like, why can't I have both? I want both.
Cardi's frustration is understandable, but so, too, is the public preoccupation with her rise to fame. For the first time there was tension in what had been an unprecedentedly sunny relationship between Cardi and her fans, and it told us something about stardom based the sort of authenticity Cardi embodies. People cherish authenticity in a celebrity, it seems, until the celebrity is too authentically a person of her own.
The affection for Cardi isn't hard to understand. Everybody loves an underdog story. In fact, there's a science behind our need to root for the underdog, the unlikely hero, the rags-to-riches story. Psychological studies exploring this phenomenon, specifically in sports, have found that people are more likely to root for teams they perceive to be putting in "more effort with less ability," because it creates a compelling narrative.  
Cardi B is the ultimate underdog. She is, by her own description, just a "regular degular girl from the Bronx," a former stripper who leveraged her charisma and humor and authenticity on social media into a rap career.
Throughout a three-year trajectory, from Instagram star to reality TV star to hip-hop princess, Cardi surmounted obstacles. She was dismissed as a rapper because she is a woman and a former sex worker. She was too unapologetically ratchet ever to win over the respectability crowd. She was too Dominican and too 161st Street ever to be taken seriously by the country at large. Classism, racism, misogyny — she seemed to fly directly into all the usual cultural headwinds and wound up a superstar anyway.
But having her own life constantly served up for the purposes of vicarious identification brought its own set of problems, as evidenced by the conversation about Cardi's pregnancy. On blogs like The Shade Room and Industry on Blast, indeed in the comment sections of her own Instagram, people reacted with pity, confusion, even downright disdain toward Cardi's pregnancy. The comments have come from haters and fans alike.
The give and take of fame is always tricky, especially in the age of social media. Cardi gained popularity, after all, by sharing nearly every aspect of her life on the 'Gram, something she's always been proud of. On the song "Best Life" from her new album, she raps, "Never been afraid to show y'all the real me/hair when it's fucked up/crib when it's filthy."
Part of Cardi's charm is how transparent she's been about her past, about the fact that she is, essentially, winging this fame thing. This quality is also what makes "Invasion of Privacy" such a great record ― an album that hops from thot anthems like "Bickenhead" to confessional ballads like "Be Careful" in which Cardi admits that Offset, her (allegedly) cheating fiancé, has "got me trippin'/got me lookin' in the mirror different/Thinkin' I'm flawed because you inconsistent..."
But she gives so much of herself that it has created a sense of ownership for her fans, not just over her work but over her personal choices. This has always been an aspect of the transaction of fame, but it has been intensified in the digital era, in which people mistake what they are shown or indeed what they share for actual intimacy.
Cardi's life itself is seen now as a performance in which her fans have a stake. This is how we wound up with people evaluating Cardi's pregnancy as if it were a new album — as if it were something about which aesthetic objections could be made.
The misogyny of criticizing Cardi's decision to have a child should go without saying, as should the misogyny of the double standard whereby some people question how she will juggle a baby and a career, but never ask the same of her fiancé, Offset, who already has three children from previous relationships. There's an irony in this. She has soared beyond the sexism of the champagne room and the recording studio, only to find some of her own fans throwing it back at her in the comments of her own Instagram.
Cardi's crime was undermining other people's illusions. She had conjured a fantasy for people — anyone can make it on one's own terms; anyone can find fame and fortune without losing oneself. And now the very real obligations of a child had intruded on that illusion. An unplanned pregnancy? That was too messily commonplace for anyone's vicarious daydreaming. Fans want Cardi to be authentic, sure, but not to herself. They want her to be authentic to their fantasy.
And how does Cardi B feel about all this? During her performance at Coachella on Sunday, she wore all-white, her hair swept up and out in a style reminiscent of the late Lisa "Left Eye" Lopes. She was visibly, heavily pregnant. As rapper YG paced the Coachella stage beside her, chanting at the crowd, "Dat ass, dat ass, dat ass, dat ass," Cardi dropped down low, twerked, flipped over and, holding herself up by her arms and bent knees, humped the air. If this wasn't a declaration of "I don't care what you think," nothing is. It was a "fuck you," authentically so.
REAL LIFE. REAL NEWS. REAL VOICES.
Help us tell more of the stories that matter from voices that too often remain unheard.
BEFORE YOU GO