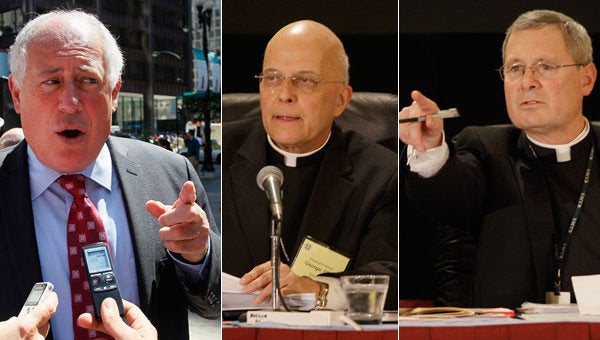 Catholic groups in Illinois have joined Cardinal Francis George in slamming Illinois Governor Pat Quinn for his decision to present a pro-choice leadership award at an upcoming luncheon.
Quinn is slated to present the award to a rape survivor who has helped support pro-choice causes at the Nov. 17 luncheon for Personal PAC, a political action committee that works to get pro-choice candidates elected in Illinois.
"We deeply regret the Governor's decision to present this award, which so closely associates him with a political action group whose purpose is contrary to the common good," the Catholic Conference of Illinois said in a statement. The group consists of state bishops and Cardinal George. "With this action, Governor Quinn has gone beyond a political alignment with those supporting the legal right to kill children in their mother's wombs to rewarding those deemed most successful in this terrible work."
The church went a step further by saying that Quinn "should not be given special recognition on Church property or at functions held in support of Church ministry."
The Catholic dioceses in the state have policies prohibiting any politician who has voted in favor of policies that go against the Church's teaching from speaking at or receiving an award from a Catholic institution, like at a school.

The bishops have not banned Quinn from receiving Communion. An individual priest could make the decision not to give Quinn Communion.
During a Thursday press conference, Quinn fired back at the Catholic Conference.
"I'm going to the event to present an award to a woman who is a victim of rape, and who is a very strong advocate of helping rape victims all over our state and country, so I really think that's a proper Christian thing to do, to honor someone who's doing something that helps the community at large," Quinn said, according to the Chicago Tribune.
Personal PAC president Terry Cosgrove told the Chicago Sun-Times that the bishops have been angry ever since Quinn defeated conservative Republican Bill Brady in the gubernatorial race. The Catholic Conference threw their support behind the anti-abortion Brady during the election. Cosgrove also mentioned that Catholics are against birth control, which would reduce the number of abortions if it were more accessible in all communities.
"It's very hypocritical for them to be so passionate about denying women the right to make this profoundly personal decision, yet they won't do anything to lessen the need for something they see as so wrong," Cosgrove told the Sun-Times. "The hypocrisy is so alarming."

Related
Popular in the Community