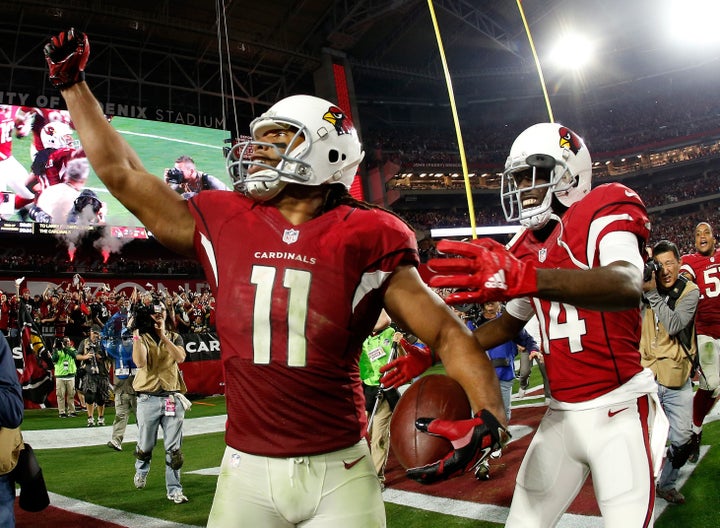 Already deemed one of the best playoff games in recent memory, the Green Bay Packers and Arizona Cardinals just gave fans three-plus hours of gridiron insanity, as the two teams traded plays for the ages in their fight to advance to the NFC Championship Game.
Ultimately, it was Arizona that earned the coveted bid to next week's bout, outlasting Green Bay, 26-20, late Saturday night.
The contest was chock-full of questionable calls from the refs, but, in the end, it'll be these five plays that'll remain in our collective memory.
1. Carson Palmer Lucks Out, Dials In.
Coming off a bad interception just minutes earlier, Palmer nearly gave up possession of the ball yet again as his nine-yard pass was sent far off course by an intervening Packers defender's arm. Alas, somehow, the deflected ball made its way towards and was caught by none other than Arizona teammate Michael Floyd.
2. Rodgers. Hail Mary. Part I.
Desperate and treading water in the opposite end zone, Rodgers threw up a fourth-down prayer -- a prayer that went 60 yards, and sunk into the hands of Jeff Janis.
3. Rodgers. Hail Mary. Part II.
Never one to shy away from the big play, Rodgers refused to be deterred on this final drive of regulation, tossing an incredible 41-yard heave downfield and once more into Janis' hands. The extra point was good, and off we went to overtime.
4. Larry Was Legendary. Part I.
A short pass from Palmer to Larry Fitzgerald began a 75-yard drive, as the 32-year old laced his way all the way down the field, making it nearly into the end zone before being knocked down around the five-yard line. On the night, Fitzgerald totaled 176 yards.
5. Larry Was Legendary. Part II.
Another short pass -- this time, a little flip -- from Palmer to Fitzgerald, sent L.F. skipping into the end zone, notching the touchdown, winning the contest, and earning the Cardinals a berth in the NFC Championship Game.
This was, to say the least, an unbelievable finish to an unpredictable game. Packers fans must be devastated, but at least moving forward they know that, as long as they have Rodgers on the field, they're never out of the contest. Meanwhile, Arizona fans -- thank your lucky stars that Mr. Fitzgerald is suiting up in Cardinals red every week.
REAL LIFE. REAL NEWS. REAL VOICES.
Help us tell more of the stories that matter from voices that too often remain unheard.