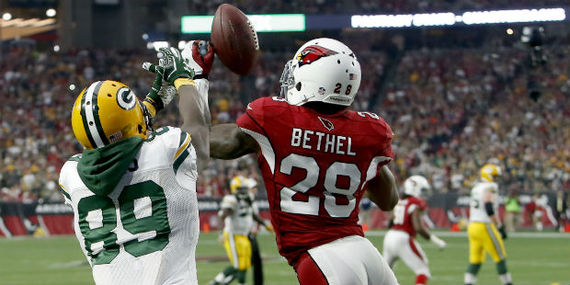 It was hardly the game that Aaron Rodgers anticipated when suiting up to do battle with the Arizona Cardinals on Sunday afternoon. In fact, the former MVP was probably thinking it would be a lot less of a struggle than it turned out to be. With playoff slots on the line and seeding being decided during the final weeks of the NFL regular season, both teams showed up, but only one came to play.
The Cardinals, led on defense by Dwight Freeney and Calais Campbell, dominated, sacking Rodgers eight times while returning two forced fumbles that were stripped for touchdowns along the way. This was just part of a four-quarter butt-kicking that resulted in the Packers being sent packing on a long, and most likely very quiet, plane ride back to Green Bay.
Telling of the evisceration on the field was the final tally: 38-8.
Palmer was in full form, having led his team to eight straight wins before this game, throwing for 257 yards and two touchdowns. It's the best winning streak that the Cards have had since 1948, when they were still based in Chicago and won 10 in a row.
To their credit, Green Bay is dealing with some injuries. Namely to left tackle David Bakhtiari (ankle injury) and right tackle Bryan Bulaga (ankle injury). But at 10-5, you just expected to see a better game, a better showing... something. On this day, the only thing that was to be had, however, were disgruntled arms being flung up in the air, mostly out of distress, and partially out of the shock of the blowout.
There were to be no eclectic "discount double-checks" on this day; no smiling Rodgers-esque swagger that has become synonymous with Green Bay. And assuredly, no "Lambo Leaps" by celebrating Green Bay players into the throngs of fans that made their way into Glendale Arena.
''They were very aggressive to the line of scrimmage,'' said Green Bay coach Mike McCarthy. ''They played very well and took advantage of it.''
In total, there were nine sacks on QBs for the Packers, with eight being levied against Rodgers. Freeney got three, Campbell got 2 ½, and a total of six players contributed for QB takedowns on the defensive side.
Now the Packers are tied with the Vikings for the lead of the NFC North. Green Bay hosts them next weekend, where both teams will be jockeying for playoff position.
''This was a playoff-style game and we played terrible,'' Rodgers said in the post game conference, making no excuses. "But we have won a lot of games here. When you play long enough you are going to be on the wrong side at times, but I am confident that we have guys and myself that, when it matters for all the marbles, guys will show up.''
The win gave Arizona the No. 2 seed in the NFC. If they beat the Seahawks next week, and if the Panthers lose, they'd claim the top spot.
''We still really haven't done anything other than get a bye,'' said Cardinals head coach Bruce Arians said. ''You don't get rings for byes; you only get T-shirts and hats.''
Palmer had a solid showing, completing 18 of 27 with just one pick, hitting Michael Floyd six times for 111 yards.
Rodgers passed for 15 of 28 and 151 yards, with one touchdown and one interception.
Things briefly looked to be turning around for Green Bay with Arizona in the lead at 10-0 late in the first half, when Palmer was picked off at the Arizona 15 due to a shoddy screen pass. But just moments later, Justin Bethel picked off Rodgers in the end zone, taking away a chance to get back in it before halftime.
Following that flub, Palmer regained composure on his next series, arcing a beautiful 47-yarder to Floyd and tacking on two more completions, ultimately nailing the electric John Brown in the end zone for the go-ahead touchdown, making it 17-0 before the half.
Out of the gate for the second half, a James Starks fumble was recovered by Powers. A quick shot to Floyd for 14 yards and a 14-yard run by Johnson upped the score to 24-0.
Followed up by a sack-fumble that was returned all the way for a TD by Redding, who's 6-foot-4 and 318-pounds, by the way, put the score out of reach at 31-0; and made for a very impressive replay highlight reel, too.
From here, it mattered little what the Packers did. By the end of the fourth quarter, they were only able to muster a TD and a two-point conversion before being sent packing back to Green Bay.
Visit

NowItCounts.com

,
The Destination for Americans 50+

for stories that matter to you covering financial, health, beauty, style, travel, news, lifestyle, food, entertainment and sports.
Calling all HuffPost superfans!
Sign up for membership to become a founding member and help shape HuffPost's next chapter