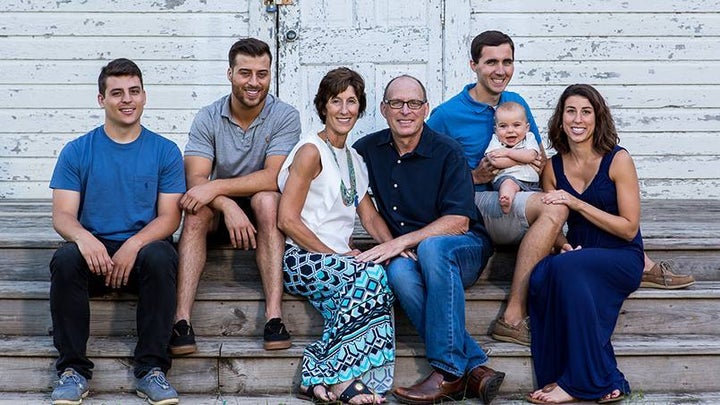 Kristin O'Meara's story, she says, is one of denial.
It began with searing chest pain, a serious symptom Kristin understands well from three decades as a cardiology nurse at Mayo Clinic. But when that pain was in her own chest, Kristin had a hard time recognizing it for what it was.
"The brain works in funny ways," she says. "I was in good shape. My numbers were all good. I told myself there is no possible way this could be a heart attack."
A visit to the doctor proved her wrong. Despite the fact that she was active and fit, doctors at Mayo Clinic's Rochester campus discovered Kristin was having a heart attack that day as a result of a condition called spontaneous coronary artery dissection, or SCAD. Before she could get to the diagnosis, Kristin had to overcome her impulse to dismiss her symptoms as something minor.
Discounting tell-tale signs
On Jan. 5, 2017, Kristin's day started, as had so many before it, with a trip to the gym.
She began running about 20 years ago, and has completed countless half marathons and a few marathons in the years since.
"I've always enjoyed exercise," Kristin says. "It's become a passion of mine."
The activity has also helped Kristin maintain her weight, and keep her cholesterol and blood pressure in check. So when she experienced a sharp pain in her chest while warming up on an elliptical machine, she attributed the feeling to something other than heart trouble.
"My first thought was that it was just one of the aches and pains of aging," Kristin, now 57, says.
She moved to the fitness center's track and began running. After about 40 minutes, Kristin started to feel pressure in her sternum. Then the pain moved to her shoulder and back.
"I started wondering if it could be a gallbladder attack or an esophageal spasm," Kristin says.
She headed for the locker room, stopping twice to rest before leaving the gym. By that time, Kristin had begun to feel nauseous. She contemplated a trip to Emergency Department, yet something held her back.
"I didn't want to go and find out there was nothing wrong. I didn't want to feel foolish," she says. "But as a provider, I know it's always better to err on the side of caution and get your symptoms checked out."
Kristin wasn't quite ready to listen to that provider's voice inside her head, though. She drove past the hospital but didn't go inside. Instead, she ran an errand and then returned home, where her symptoms escalated. It was getting harder for Kristin to avoid thinking that she might be having a heart attack. She chewed a couple of aspirin tablets and promptly vomited.
Kristin then called her husband, Rick, at work and asked him to come home and drive her to the Emergency Department. She could no longer deny her body's messages. Something was wrong. She needed help.
Finding a diagnosis
Dennis Laudon, M.D., an emergency medicine physician, examined Kristin when she arrived at Mayo Clinic Hospital — Rochester and immediately suspected her symptoms might be due to spontaneous coronary artery dissection. The condition, which most often affects women with no atherosclerotic risk factors for heart disease, causes a tear or blood pocket in the blood vessels of the heart. This can slow or block blood flow and cause a heart attack.
Cardiologist Marysia Tweet, M.D., a colleague and friend of Kristin's, was called in for a second opinion.
"When I walked into the room and saw Kristin, my heart sank," says Dr. Tweet. "It's hard to see someone you know in that position."
She spoke with Kristin about her symptoms and reviewed results of the tests Dr. Laudon had ordered, including an electrocardiogram and blood work. Dr. Tweet, who cares for patients in Mayo Clinic's SCAD Clinic and studies the condition as a member of Mayo's Spontaneous Coronary Artery Dissection (SCAD) Research Program, agreed with Dr. Laudon's suspicions. But based on Kristin's family history, which included aortic dissection, Dr. Tweet decided to order an additional test.
"I wanted Kristin to have a CT scan to first rule out dissection of the aorta before any invasive procedures," she says. In addition to ruling out an aortic dissection, the test also revealed dissection of the coronary artery.
"It's a challenging procedure in SCAD patients, because there's a risk the artery could tear further," Dr. Tweet says. Before attempting the procedure, she and Dr. Tilbury consulted with two additional colleagues to determine the best treatment option for Kristin.
"That is just how Mayo is," Kristin says. "Everyone gets together to figure out what's best for each patient."
Gaining new perspective
After the procedure, Kristin spent four nights in the hospital recovering. She also completed three months of cardiac rehabilitation, learning how to safely return to exercise. She says being on the other side of the bedside was an enlightening and rewarding experience.
"I was so blessed to receive the care I did," she says. "Everyone I encountered was so kind. I've always been very proud to work at Mayo Clinic and have always believed we give outstanding care. But I have a new understanding of that now."
She believes the experience also increased her ability to connect with her patients.
"I was sympathetic, but now I truly understand the fear that patients may have," she says. "I think I can relate better to some of my patients now, and that's also been a blessing."
For years, spontaneous coronary artery dissection was believed to be exceedingly rare. Until 2010, Mayo Clinic saw just 10 patients a year with the condition. But as awareness has grown, thanks in large part to survivors who became advocates, more people have been accurately diagnosed. Today Mayo's SCAD clinic sees more than 10 patients each month. It's a group that shares many similarities.
"Kristin is like so many SCAD patients," Dr. Tweet says. "She's a model of health and very active. She's not a 'typical' heart attack patient."
That's part of what can make the condition so difficult to diagnose. When relatively young, healthy women like Kristin come to emergency departments with chest pain, providers may dismiss the symptoms or attribute them to something other than a heart issue. And like Kristin, patients themselves may not realize their symptoms reflect a heart attack and delay seeking care.
Dr. Tweet and her colleagues including Sharonne Hayes, M.D., Rajiv Gulati, M.D., Ph.D., and Tim Olson, M.D., hope their research will help change that. They're studying data from the ongoing Mayo Clinic SCAD Registry and Biorepository. It currently has over 750 SCAD patients enrolled from around the world. The group has published more than 25 papers on the condition since 2011 in the hope raising awareness among both patients and providers. And they continue to study the data, with a goal of discovering new and better ways to treat and prevent the condition from occurring or recurring. Between 12 to 29 percent of people diagnosed with the condition experience it again.
"I don't plan to be among them," Kristin says.
Reflecting on lessons learned
Instead, Kristin plans to return the life she lived and loved. "I want to go back to the person I was," she says. And she's well on her way. She's returned to work and to running, even completing a half marathon in August.
"It feels wonderful to run," she says. "I'm not as fast as I used to be, but that's OK."
Some other things about Kristin have changed as well.
"I've learned it's OK to have downtime to sit and think and read and pray," she says. And when she does take time for reflection, she often gives thanks for "the guardian angel that was with me that day."
Kristin hopes her story will help other women who might find themselves in her shoes.
"I knew something wasn't right," she says. "But denial is a very strong emotion. I thought I was healthy. I thought I was invincible. But we are not invincible. Anything can happen to anyone. I want to tell women to listen to their bodies."
Kristin says she's grateful for the chance to be able to continue to listens to hers. "When I wake up each day," she says, "I really do thank God for another day."