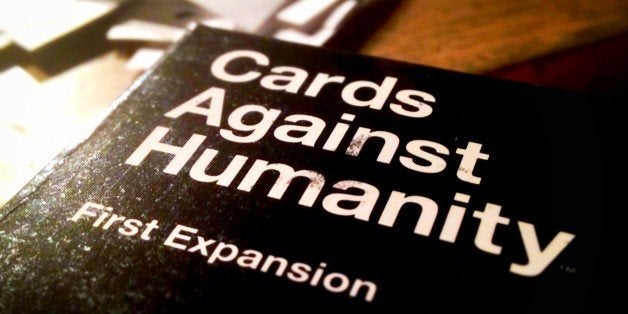 CAH took $1 on Day 10 from every order of CAH's seasonal promotion, "12 Days of Holiday Bullsh-t" to fund this year's donation.
"Education is super important to us. We all benefitted from going to amazing public schools in the suburbs," Temkin told The Huffington Post by phone Friday. "Any business like ours is enormously indebted to the public resources that make it possible."
Temkin added, "[Cards] is a smart game. We have tons of historical references and language jokes. We need a well-educated customer base."
Through the "12 Days" promotion, 100,000 people paid CAH $12 to send them a mystery gift each day, including a mini expansion pack, a personalized card and a lump of coal.
"Last year we did something also kind of interesting but a little less crazy -- we made a pack of holiday cards and did a pay-what-you-want deal," Temkin said. The promotion netted about $70,000 which was entirely donated to the Wikimedia foundation.
This year, Temkin said the eight CAH co-founders and its two support staff members divided the $100,000 equally so each member could spend $10,000 on the DonorsChoose school projects of their choice.
"I bought a lot of books and field trips -- simple stuff that I know if had in school, it would have meant a lot to me."
Several months ahead of the donation, CAH reached out to DonorsChoose.
"They were really excited," Temkin said. "The DonorsChoose founder actually lives in Chicago so I got to meet him. They helped us monitor all the projects we were giving money to and shared all their amazing data with us."
The breakdown of the data was then compiled in a stunning (and naturally, inappropriately hilarious) infograph that informs supporters the profits served 38,318 school kids -- a number of children that CAH helpfully notes "If conscripted into Joseph Kony's army of child soldiers, it would give him a fighting force as large as Alexander The Great's."
"We're careful of how we do this as a company. We don't want to stuff it in peoples' faces; we want it to be a big thing, and to help other people find a way to give. We want [the donation] to put a big spotlight on the charity, not to be 'look how great we are!'"
"If we were just giving these cloying feel-good stats for helping children, that's boring. It's like giving a dog a pill -- you gotta put some peanut butter on it or else it won't eat it. The Joseph Kony joke is the peanut butter."
Calling all HuffPost superfans!
Sign up for membership to become a founding member and help shape HuffPost's next chapter