"When they signed up, subscribers filled out a survey with a mix of demographic questions and red herrings. We ranked everyone based on their survey responses and geographical census data to figure out who most needed money," the site explains.
"The poorest 100 people received a check for $1,000, paid for by everyone else." 

The company included remarks from some of the initiative's beneficiaries on its website:
Kristi from Michigan said the money "would mean so much" to her, as she and her husband are taking care of her niece "for the foreseeable future because her parents aren't capable of doing so" and "are in the process of becoming licensed foster parents."
SrCow from California said hemophilia has slowed down his work and that he's currently trying to save $10,000 for his upcoming nuptials, honeymoon and a future home.
"The $1,000 dollars will go towards our $10K goal. It will make us 10% closer to a small wedding, but a big future together," he said.
Courtney from Florida said the "$1,000 will help ensure that my bills are paid, strengthening a cushion/emergency repair account I've been trying to build all year." 
Cards Against Humanity says its move was driven by the harrowing statistic that "eight men own the same amount of wealth as the poorest half of humanity." The company also said it initially wanted to launch a "campaign to eat all the rich people and live in their houses," but its lawyers advised against that, so it "settled for something more achievable."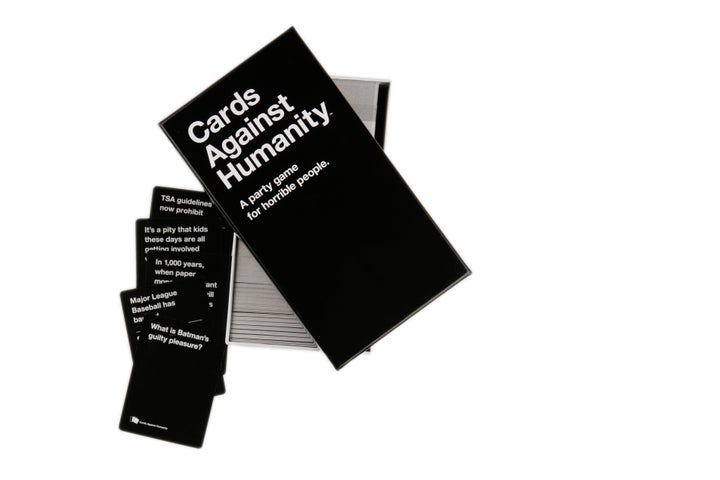 The company also said its "Cards Against Humanity Saves America" initiative has enabled it to purchase "a plot of vacant land on the US/Mexico border and retain a law firm specializing in eminent domain to make it as time-consuming and expensive as possible for Trump to build his preposterous wall."
Other outcomes included cards, thank you notes from children, and a policy paper written by the Chicago Children's Museum in partnership with DonorsChoose to "support teachers who are creating alternatives to traditional homework."
Calling all HuffPost superfans!
Sign up for membership to become a founding member and help shape HuffPost's next chapter
BEFORE YOU GO
PHOTO GALLERY
Card Games That Aren't Cards Against Humanity