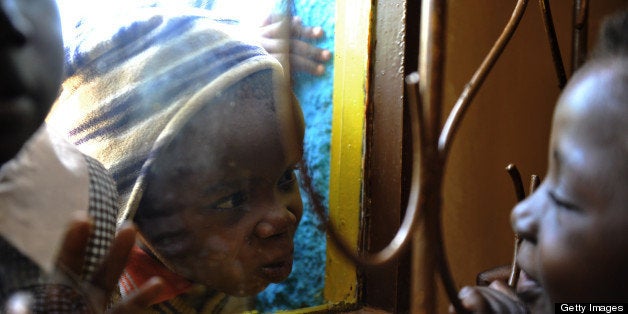 I often try to explain how or why I started a non-profit organization, Care for Kenya, but one meaningful encounter with a woman called Rispa can explain it all. She, like hundreds of other women, was trapped in a life of poverty and hardship by the country's social norms, which neglect women and ignore their potential.
It was Care for Kenya's third year in Kenya. We had just finished our usual focus group with a vibrant crowd of Kenyan ladies that traveled from their rural homes to not only hear about the program we were preparing to launch in their region of Gem, but also contribute to our needs analysis and share the most pressing concerns they had in the areas of health, HIV/AIDS, starting a business, agriculture and farming, and finally alternate income-generating projects.
A dear friend and Care for Kenya board member, Kenyan Ambassador Bob Jalang'o introduced us to Gem, a rural region of Western Kenya. As we were toured through the area, which is a two or three day matatu trip from Nairobi, we saw how truly isolated Gem is. From the main road to the area where we held our focus group was a 25-minute walk through an open expanse of bare land. There was no infrastructure. For the women, the area became dangerous at nightfall, and they were forced to stay in their homes to avoid the threat of rape. On the walk, our guide explained that Gem has neither running water nor electricity. The houses -- small single-room structures made solely of red mud -- were scattered across the desolate landscape. Straw roofs atop the structures served as minimal barriers to the elements. It was clear that this area offered virtually no resources or opportunities for development and growth.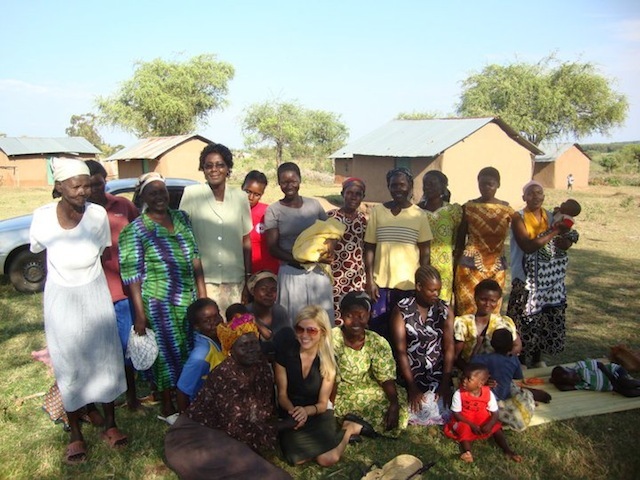 Back to my story... It was after a long day in the African sun, sitting outside with over fifty wives, mothers and grandmothers, and we were finally winding down for the day. Care for Kenya's local consultant, Margaret, and I were having a cup of Kenyan chai when I noticed a lady standing at the front door. As the sun was beginning to set, I could only see her shadow but called out "Karibo sana" (Welcome). As she entered with her head down, I understood immediately that she was not coming to join us for tea, but was in fact six hours late for our focus group meeting. Margaret, who is a respected woman in the community, was quick to scold her for not 'keeping time' and reiterated that a commitment to this program is one of the necessary requirements for beneficiaries.
Margaret was determined to find the thirty women who would best utilize the training, education and economic opportunity we would provide during our pilot project in this area - and also to ensure that it was a success. There is such a severe lack of development work in this isolated area of Western Kenya and we would be starting the first women's empowerment projects she had ever seen in this area.
This shy yet collected woman sat beside us in silence until I acknowledged her with a question, "Why are you here?"
From there I learned her entire story... the woman's name is Rispa, she is thirty years old, and she had five children. She was not six hours late to our meeting that day because of distance -- she lived just a few doors down from our meeting place -- but because of her responsibilities. As her husband had left for Nairobi to find work, Rispa was not only responsible for taking care of the children, but also tended to their shamba (garden) everyday. Her daily chores began with waking the five children at 5:30 a.m. and preparing them for their day, then milking the cows, carrying the milk to market to sell, fetching water, working in the field -- plowing and cultivating the farm -- all day long, and, finally, returning home before sunset to cook dinner for the children (as what little electricity there is is generated from solar panels, and thus parse in the evening). This was the rain season, so she had to accomplish all of this on her own before the rain started in the early evening. The family couldn't afford a shamba boy or house help so all of the domestic labor also fell on Rispa's shoulders.

But this was nothing new to Margaret. Daily life was this difficult for many women in Gem, the majority of whom could not afford to send their children to school. Though education is technically free, most families cannot afford the mandatory uniforms and classroom supplies. Additionally, the boys are made first priority, so many girls are only educated -- at the most -- to a middle school level. Knowing all of this, Margaret said, "What makes you different than every other woman who also made the sacrifice to come here today? Why should we see you?" Margaret is really a tough woman.

"Because I just found out I have HIV/AIDS," Rispa whispered. I heard every word.
Rispa's eyes filled with tears, and I anxiously waited for Margaret to interpret every following sentence, as I knew this would be a new dimension in understanding the plight of women living in extreme poverty. A primary component of our program is that the women who apply to participate have the opportunity to be tested. If they are found positive, we offer counseling, referral for Antiretrovirals (medication) and recommend they have their CD4 count checked regularly. In addition, we provide psycho-social support with our staff counselor and a support group of women who are also dealing with the trials and tribulations of this illness, which are compounded by the women's poverty.

Initially, Rispa refused to receive her ARV's, and with every refusal and accompanying excuse, we grew to understand the underlying issues of the marginalization of women in rural Kenya.

She started by expressing her fear of receiving treatment from a decentralized comprehensive clinic in her village as if her neighbors, friends or family saw her there, they would know her status. They would think she had been promiscuous or unfaithful to her husband, and this could be the reason they choose to no longer do business with her or barter for her products at the market. They would cast her out of society. The stigma does exist in a very real way, I thought to myself.
If that wasn't enough, depending on her family's financial position that month, it would be financially impossible to pay the 80 shillings (equivalent to $1.00 USD) to take the matatu (local minibus) to the nearest medical center. Even if her family did have the money, she would have to ask her husband (who was regularly abusive) for the matatu fare as men traditionally control the family finances. Margaret reminded me that women cannot just reach out to local authorities about domestic abuse and women's rights issues, as the leaders are usually also men who convey this male dominant mindset.
At the time, Rispa had no alternative for work as she only received a third grade education. She needed a source of sustainable income to help her become financially independent and change her demoralizing situation. In addition, Rispa, along with other married women in Kenya, did not share ownership of the property she lived on with her husband. She could also not leave and return home. When woman are married off and dowry is paid to the bride's parents, the new wife will no longer return to her home village or have any claim to her ancestral land.
Rispa's story provided such insurmountable evidence of the feminization of poverty in this brief conversation, that I couldn't help myself to feel empathy, compassion and true determination to save this one case, this one woman named Rispa in the rural town of Gem. This woman was alone, and I wanted to save her life.
Margaret and I discussed Rispa's prospects and settled on an approach. The very next morning we accompanied her to the clinic and started her initial care. She is on the path to managing her disease so that she can live a long and prosperous life, yet her story will always resonate with me as a first-hand reminder of why it is important to focus on the empowerment of women, especially in remote, destitute areas of the third world.
There are three main lessons that I would like you to remember from Rispa's story and that will serve as a theme throughout Care for Kenya's projects:
1) The importance of HIV/AIDS awareness, support and available care that could play a part in abolishing stigma. This will serve to provide an understanding that this disease can be treated, monitored, and most importantly, prevented.
2) The prevalence of gender inequities embedded in the cultural values and traditions in the developing world. Although the new Kenyan constitution has addressed marginalized groups, including women, these groups may not be educated on how to express these rights, especially in regards to land ownership, widow inheritance and domestic violence.
3) Economic empowerment is the most effective tool for bringing women out of poverty. When these women join Care for Kenya's income-generating projects and vocational training workshops, they not only make a steady wage that far exceeds the national average, but also learn valuable skills that in turn better their livelihoods and the lives of their family and community.
REAL LIFE. REAL NEWS. REAL VOICES.
Help us tell more of the stories that matter from voices that too often remain unheard.