By William Schaffner, MD, Medical Director, National Foundation for Infectious Diseases and Susan Peschin, MHS, President and CEO, Alliance for Aging Research
Older adults and those who care for them–including healthcare providers and family caregivers–should be particularly concerned about influenza (flu) prevention, each and every year.
Adults age 65 years and older are at greatest risk of serious complications from flu, including death. In recent years in the US, more than half of all flu-related hospitalizations and most flu-related deaths occurred among older adults.
Despite these risks, recently-released data from the Centers for Disease Control and Prevention (CDC) showed that vaccination rates among older adults have largely remained stagnant over the past five years.
While many older adults today are fortunate to feel young at heart, the reality is that the immune system grows weaker as we age. This phenomenon, known as immunosenescence, makes it more challenging for older adults to fight off infectious diseases, and makes their immune systems less responsive to standard influenza vaccines.
Even worse, older adults are also more likely to suffer from one or more chronic conditions such as heart disease and diabetes, which further increases the risk of flu-related complications. And even when older adults do recover from flu, they may never fully regain their pre-influenza health and abilities, significantly impacting their quality of life.
Fortunately, there are safe and effective flu vaccines licensed by the Food and Drug Administration (FDA) that are specifically-designed for older adults. These vaccines, including high-dose and adjuvanted formulations, help protect older adults against flu by overcoming the effects of immunosenescence.
Because the flu virus can evolve and flu vaccines are updated each season, older adults should get a flu shot every year. The CDC Advisory Committee on Immunization Practices (ACIP) recommends routine annual influenza vaccination for all individuals age 6 months and older, with a licensed age-appropriate vaccine.
Many specialty physicians may not think to recommend a flu vaccine, assuming that a patient's primary care physician will see to it; however, this is a mistake. Every healthcare professional has a responsibility to encourage patients to receive this most basic measure of preventive care. Even if flu vaccines are not available in the office, a strong recommendation – and sometimes even a written "prescription" – is essential to ensuring patients are protected against flu. Survey research shows that adults are more likely to get a flu shot if it is recommended by a physician.
To help initiate a dialogue between older adult patients and healthcare professionals about the importance of annual flu prevention, the National Foundation for Infectious Diseases (NFID) created the Care For Older Adults? Care About Flu! toolkit. The toolkit makes it easy to share information about the risks of flu-related complications in the 65+ population and to promote the importance of annual flu vaccination. Toolkit materials include a fact sheet on the risks of flu in older adults, an infographic to illustrate the unique risks and potential complications of flu among older adults, customizable scripts to help guide conversations with patients, a 30 second public service announcement video, and additional resources to ensure that patients get the protection against influenza that they deserve. To access the toolkit and related resources, visit www.nfid.org/flu65.
The Alliance for Aging Research is also committed to educating older adults about the importance of vaccination through the Our Best Shot campaign. The campaign provides materials for community health leaders to conduct educational seminars, includes an educational pocket film and brochure for older adults in both English and Spanish, shares the facts about vaccines and combats many misconceptions so that older adults are empowered to educate others, and outlines preventive services—including vaccines—available through Medicare.
All of us who care for older adults can and should do our part to make sure that they protected against flu and are living long and healthy lives!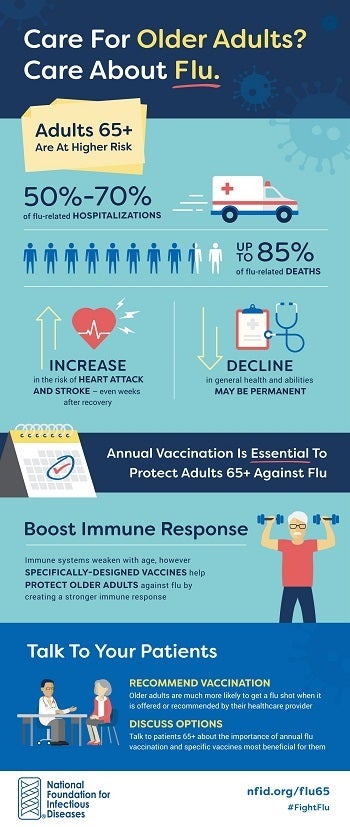 Calling all HuffPost superfans!
Sign up for membership to become a founding member and help shape HuffPost's next chapter
This post was published on the now-closed HuffPost Contributor platform. Contributors control their own work and posted freely to our site. If you need to flag this entry as abusive,
send us an email
.