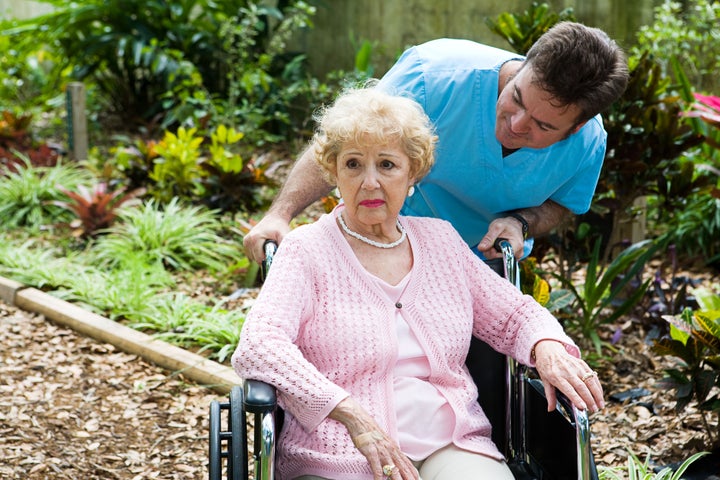 I recently had the opportunity to interview Carole Larkin, a geriatric care manager in Dallas, Texas. She opened our conversation with the following story.
One day, she received a call from a California woman whose mother had Alzheimer's. Her mother had been thrown in jail for assaulting a neighbor, and the daughter desperately needed Carole's help. Carole suggested that one option would be to put her mother into an assisted living facility, but there was just one problem: The woman's mother refused to budge.
Carole then suggested they have someone come into the home to help take care of her mother and she helped the daughter find a highly reputable homecare service. That, too, was a disaster. The woman promptly threw out the first person and wouldn't even let the second one in the door.
With Carole's expert guidance in selecting a high-quality assisted living facility, the daughter finally got her mother into one, where her mom was up for three straight nights trying to get out.
To make a long story short, Carole was involved in every aspect of this case -- the most difficult one she'd ever had -- over a long period of time. After numerous twists and turns and false starts, the woman finally calmed down and adjusted to her new home.
Carole Larkin, MA, CMC, CAEd, DCP, QDCS, EICS, is the geriatric care manager for ThirdAge Services LLC in Dallas. She has a Master of Applied Gerontology degree with a specialty in Aging Services from the University of North Texas. She is a certified specialist in "Best Care" practices by both the Alzheimer's Foundation of America and the National Council of Certified Dementia Practitioners, and she has worked for the Alzheimer's Association.


Carole Larkin, MA, CMC, CAEd, DCP, QDCS, EICS
Unlike other geriatric care managers, Carole has chosen to focus her career exclusively on helping families who have a loved one with dementia. To her knowledge, she's the only member of the National Association of Professional Geriatric Care Managers (NAPGCM) who specializes in dementia. Other geriatric care managers help dementia patients as well as persons with other diseases, such as cancer.
She says the most rewarding parts of her job are when she sees the stress drain from the family members' faces initially and then again at the end of the work when positive solutions have been found for all of the difficult problems.
What are geriatric care managers?
A geriatric care manager is a health and human services specialist who helps families who are caring for love ones. They are trained and experienced in any of several fields related to care management, including nursing, gerontology, social work or psychology.
Geriatric care management is a relatively new profession. It's rapidly growing, especially given the aging of the baby boomers.
Just what do these specialists do?
They provide a wide range of services, including:
1.Coming to the residence of the person with dementia and completing an extensive assessment of that person's circumstances, including, but not limited to, the personality of the person, family dynamics, funds available for care, a safety check of the residence, listing any medical issues and providing a list of other previously vetted professionals that might be needed for a consult. These could include eldercare attorneys, home health companies, senior real estate experts, remodeling companies, nursing homes and others.
2.Developing a care plan especially for that person and the family, outlining steps to be taken immediately as well as actions to be taken in the long-term.
3.Conducting educational sessions with the family to increase their knowledge of the patient's illness.
4.Monitoring the situation to assure things are going as planned.
When might you need a geriatric care manager?
According to NAPGCM, several possible scenarios indicate you would benefit from having a geriatric care manager:
1.When you live at a distance and are worried that there is no one nearby to help with appointments and emergencies or to make sure there is food in the house and bills are being paid
2.When your loved one is forgetting to take medications but assures you it's not a problem
3.When your loved one shouldn't be driving and you can't figure out what to do
4.When you have to choose an assisted living facility or a nursing home and don't know how to start or where to look
5.When your loved one is suddenly living alone and you are concerned about whether he or she can conduct appropriate self-care
6.When your loved one's depression is interfering with sleeping, eating and interest in life
7.When you are wondering if your loved one should remain at home or move to a senior residence
8.When you are seeing signs of forgetfulness and don't know how to handle it
9.When your loved one needs help at home but refuses to allow it
10.When you want to make sure that your loved one is receiving Medicare benefits and all other available entitlements.
Are geriatric care managers certified?
Yes. They are certified by NAPGCM and are required to participate in continuing education in order to maintain their certification.
What's the best way to find a qualified geriatric care manager?
You can go to the NAPGCM website to find certified care managers in your area. If there are none, the work can be carried out through phone and email contact. In this case, the manager functions more as a consultant than a hands-on collaborator.
How much do they charge and who pays them?
Geriatric care managers are privately paid. Medicare does not pay for this service, but some long-term care insurance companies do. Care managers may work by the hour or charge a flat fee for the assessment and an hourly fee after that. Most are independent companies, although a few work for home care companies or other senior businesses. Rates vary widely and are usually in a range of $75 to $150 per hour.
Although this may pinch some family budgets, according to Carole the families usually end up saving money. This is because she can often help them access benefits they know nothing about. Also, finding the right facility -- a duty Carole performs -- can help prevent having to move the patient repeatedly. In addition, families save a lot of time by not having to visit facility after facility trying to determine which on is best.
I really wish I'd had a geriatric care manager when I was taking care of my soul mate. As described in my book, Come Back Early Today: A Memoir of Love, Alzheimer's and Joy , I faced numerous difficult and extremely stressful problems, the most agonizing of which was getting him into a nursing home. I thought I'd lose my mind before I'd accomplish that. Someone like Carole could have helped me tremendously, but I didn't know anything about these professionals. If I had it to do over again, hiring a care manager would be the first thing I'd do.
Support HuffPost
The Stakes Have Never Been Higher
Related
Popular in the Community