I did not give birth in Tanzania, although some people had asked me if I would, given my professional focus on maternal healthcare in the country. Despite impressive improvements being made to the quality of care in Tanzanian facilities by Kupona Foundation's sister organization, CCBRT, (Comprehensive Community-Based Rehabilitation in Tanzania) pregnancy and childbirth is still a high-risk ordeal. The maternal mortality rate remains stubbornly high, with 8,000 women dying every year. The odds are worse for babies. Each year in Tanzania, 39,000 newborns do not survive their first month of life. If I had delivered in Tanzania, my son would have been one of them.
On September 24th, my husband Mike and I became parents. Three days later, we left the hospital with a healthy baby boy, and with a renewed appreciation for the medical care available just a quarter mile from our home.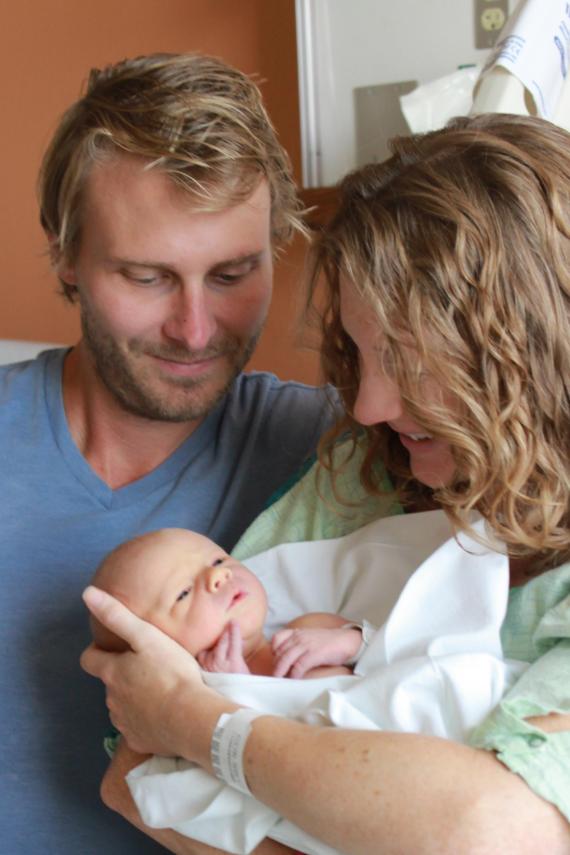 The happy new family: Mike, Abbey and Bryce. Photo Credit: Kimberly Hoover
In my last Huffington Post blog, I painted a contrasting picture between the expectations of parenthood and childbirth in the U.S. and Tanzania. I wanted to understand, as much as I could, the reality experienced by new mothers in Tanzania. When it was time, we walked to the hospital. I told the nurses that I wanted to try for a natural delivery; that was my plan. I only lasted 8 hours.
After my water broke, our baby's heart rate began dropping dangerously every time I had a contraction. We had the undivided attention of two nurses and one doctor for over an hour. That's when we knew it was serious. Our "plan" for a natural birth melted away. All that we cared about was the health of our son.
When they had exhausted every other option, I was told calmly but firmly that a C-section was necessary. It took just a few minutes to go from decision to incision. Our son, Bryce Edward, was born with the umbilical cord wrapped around his neck, chest and leg. As soon as he was delivered the crisis was over. Bryce and I were both healthy, and our journey as a new family began.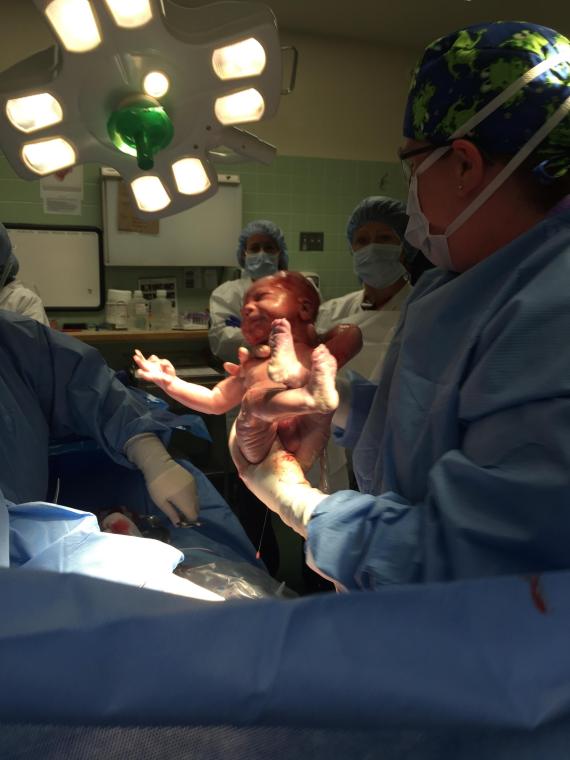 Bryce Edward Kocan surrounded by the skilled medical team at Saratoga Hospital. Photo Credit: Michael Kocan
It took about 36 hours for the reality of what could have been to sink in. I went into labor wanting to bring my experience closer to that of a Tanzanian woman. Afterwards, I came to a heartbreaking realization. If my experience had been the same as that of a Tanzanian mother, Mike and I would almost certainly be mourning the loss of our son today.
Dar es Salaam, our home in Tanzania for six months in 2012, is a city facing a staggering maternal and newborn healthcare crisis. Patients overwhelm facilities; staff are undertrained and overworked; equipment and supplies are scarce. It's impossible for a Dar es Salaam medical team to constantly monitor a fetal heart rate. Monitoring is done manually, meaning you have to wait for a nurse to attend to you, and the four other women who may be sharing your hospital bed as you labor together. Bryce's heart rate only dropped with each contraction, so his distress would have been easily missed with intermittent monitoring. If by some miracle it was noticed, and the same decision to conduct a C-section was made, we would have waited an hour, maybe longer, while the team gathered the supplies they needed. We could have lost our son in the time they took to mobilize for surgery.
It's easy to feel detached from big numbers like mortality statistics. It's not until you think about your own child being 1 of the 39,000 babies that won't survive their first month that you start to understand. It is a custom for Tanzanian families to wait until a baby is at least four weeks old before choosing a name. So familiar is the grief of infant mortality, families prepare for and expect it.
Our work at Kupona Foundation holds a new meaning for me now. Even something as simple as this short video about the conditions pregnant women face in Tanzania now seems far more poignant. As we train healthcare professionals, improve infrastructure, and distribute life saving equipment, the urgency of the need, and the impact it can have upon Tanzanian families, hits closer to home than before.
Today, during the week of Bryce's first Thanksgiving, we are grateful that he's here to celebrate with us. We're grateful for the healthcare professionals at Myrtle Street OBGYN for keeping us healthy during my pregnancy, and we're grateful for the team at Saratoga Hospital, who saved our son's life. Every new family around the world should have access to the same high quality care. By working together to improve the quality of maternal healthcare available globally, we are raising the bar for healthcare standards across the world, helping to give every family the chance to bring home a healthy baby.
If you would like to learn more about how Kupona Foundation is unlocking access to quality healthcare for expectant mothers and their newborns in Tanzania visit kuponafoundation.org.
Editor's Note: Kupona Foundation is a partner of Johnson & Johnson, which is a sponsor of The Huffington Post's Global Motherhood section.