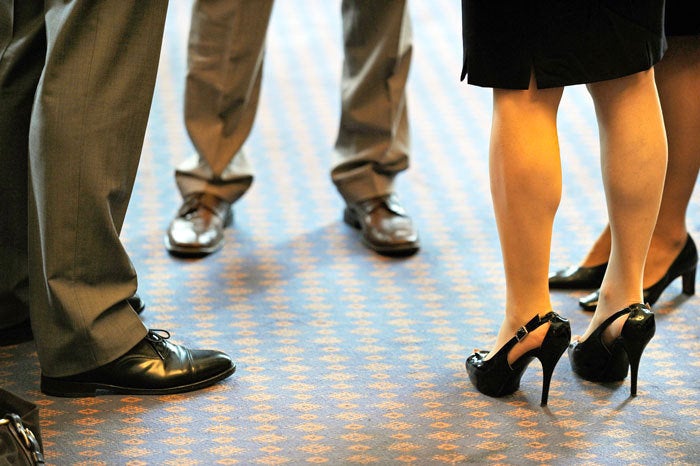 "There is a special place in hell for women who don't help each other." - Madeleine Albright
There's a stereotype that women in the business world are bitches. And can you blame them? Many successful women have fought tooth-and-nail to get to where they are, competing against men who work the same jobs for higher salaries and more benefits. Being the woman at the top makes you unique -- you're special, and you don't look kindly upon other women rising up to compete with you. The successful woman is a woman alone.
But is this stereotype actually true? Recent research certainly seems suggestive. The Workplace Bullying Institute reported that, while the majority of bullies in the workplace are male (60%) and most bullying is men-on-men (31%, as opposed to 29% women-on-women), women-on-women bullying is on the rise. Since 2007, women-on-women bullying has increased by 9%.
There seems to be a variety of reasons for this behavior: Women in male-dominated industries often adopt what they consider to be "masculine" behaviors in order to get ahead, and many women make easier targets for bullies because they're less likely than men to react. Add that to social conditioning that teach women to be judgmental from an early age, and you can see a roadmap for a bad work situation.
A recent study conducted by the University of Valencia into intersexual rivalry in the workplace showed that women are jealous of attractive female colleagues, whereas men remain unfazed by their colleague's good looks. However, both men and women are equally envious of their rival's social skills.
These numbers paint a grave picture, but they tell less than half the story. While some women are victims of bullying and jealousy by other women in the workplace, they are in the minority compared to those who actively seek out other women to form support networks. In fact, many women report their relationships with other women are vital to their company's success.
Rachel Thomasian is a licensed marriage and family therapist. She says her connections with female therapists and other business leaders in her city that have really benefitted her practice. "I have had many women colleagues go to lunch with me just to make a professional connection, they soon after made referrals to me," she said.
I have also been an active part of professional organizations for a long time and have always felt welcomed by the female leaders of these organizations. As a board member for some of these organizations even as an intern, I had many women come up and tell me how excited they were that someone as young as I was so involved with the networking community.
Thomasian finds her connections with women a lot stronger than those she's made with men:
From my experience, women have followed up and checked in on a regular basis more than men -- maybe it's just in our nature and how we relate with relatives and friends as well. I think there's also something innately nurturing about both women and psychotherapists, so in combination, they are very caring.
CJ Scarlet's company Roving Coach offers coaching to employees at all levels of their career. She is another business owner who has found the support of women to be invaluable. "I worked in predominately male environments in my early career (the U.S. Forest Service as a fire-fighter and the US Marines as a photojournalist) and during my years as a professional business woman, I have found women to be much more willing to share ideas, business information, tips for success, and opportunities."
Scarlet's advice to women in business is to network with other women through organizations such as the Women's Business Enterprise National Council (WBENC) and local mentoring and referral groups. "The networks I have are invaluable for helping encourage and support me."
Kimberley Gauthier, the voice behind popular dog blog Keep the Tail Wagging, also advocates establishing a strong female support network. As an internet-based business, her connections with other women are primarily online, through social media channels. "I belong to women groups on Facebook and LinkedIn and it's nice to have a place to go to discuss frustrations and other challenges in business and blogging. Women have a unique way of looking at things - we can find it difficult to handle conflict and having a support group gives us the strength we need in a difficult situation."
"There are issues that women deal with that are unique to women," adds Gauthier. "The one that immediately comes to mind is the Mean Girl situations. At the last conference I attended we talked about people who attack others in forums, spread rumors and are just plain bullies. Logically, we understand that this person is dealing with some serious demons, but it's still damaging. "
Being in a room full of other people who understand is refreshing and empowering. The "I've been there" feeling I get with other women makes a huge difference. I love that men can easily move on from conflict and I try to do that as well. But on those days when I'm feeling frustrated and discouraged, it's nice to be able to turn to a group of women and know that they understand.
While instances of women bullying women are on this rise, this might simply be an indicator of more women reporting this "Mean Girl" behavior for the bullying it is. There will always be people who try to put others down, but their reasons for acting out against colleagues are often more complicated than "it's a girl thing". Building a support network of strong, independent and caring women will help you rise above these challenges and take your business to a new level.
And when you find colleagues and friends who are supportive and always have your best interests in mind -- hold on to them. Bring them into your own personal Board of Advisors network, but also do everything in your power to help them succeed. We are much stronger and more successful together than we are apart! That's my mantra! What's yours?