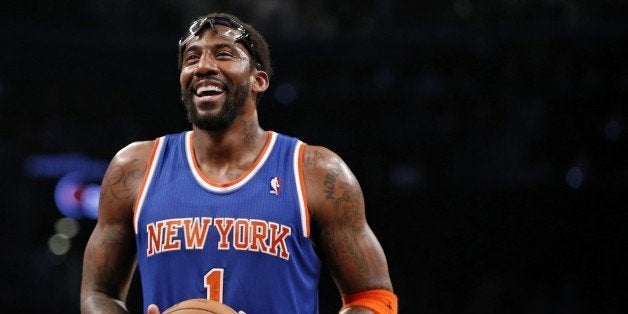 Drafted to Phoenix, where he rightfully flourished in the D'Antoni system due to his ability to both run the floor and blast his body off into another gravitational level to throw down on the rim. This was the team that heard of defense as a concept, but made an emphasis on speed, running and suffocating your opponent into submission with offense, or more accurately, buckets. The first team to truly and effectively pull off the pace and space system that so many teams thrive in these days.
Along with Steve Nash, Amar'e was the fulcrum of this system. A big man who was agile enough to run in the open court and good enough to play the pick and roll on his way to throwing down on the rim Streets of Rage style. His best years were in his partnership with Nash when he went a solid 21.4 points per game and 8.9 rebounds per game in his tenure. Amar'e thrived in open space, aided by spot-up presence of Shawn Marion and still blooming Joe "soon to be Iso-Joe" Johnson. This was the team that gave the San Antonio "we're basically perpetually in the running for the title" Spurs a run for their money.
Once Phoenix decided it was as good as it was going to get and disbanded, Amar'e went to the Mecca -- New York (which is only the Mecca of basketball for people with very tertiary knowledge of basketball). At 27 and firmly in his prime, Amar'e was bringing hope to New York, $116 million over five years worth of hope propped up by bad knees. Knicks fans did what Knicks fans do while most of us scratched our heads and asked "what?" -- put on their "ride or die" shirts said "sure" and started their engines.
Amar'e was good at first, he had that stretch with consecutive 30-plus games and the team was slowly forming around him and his grand warlock Mike D'Antoni. Saying Felton wasn't as spry as Steve Nash is like saying a sling shot isn't as good at hunting bears with a rifle, but the rest of the team fit. Gallo was slowly becoming a promising euro-three who could should and wasn't allergic to defense. Wilson Chandler was strangely good across the board and the rest of the team fell into place. Until it James Dolan decided to blow it up for Carmelo.
It all went downhill from there. Amar'e never really got over his broken down knees never playing more than 48 games in a season for the Knicks after his first season and him and D'Antoni never recaptured the magic they had. It's hard to run and more so leap into the atmosphere where your legs are threatening to separate from your body at the knees. But for a while there Amar'e was good. Scary good. Too good almost.
He was good enough and so prototypical of the modern NBA that he enabled Mike D'Antoni to build half of his system, the system that would define the new NBA, around him. Around a mobile big man capable of taking a human soul and pushing it into that same human's heels in a single bound. A big-man athletic enough to run a the perimeter pick and roll at the heart of a deadly pace and space system. Fast enough to let a team run a five man typhoon on the break. In a way he helped crack the code for the modern NBA. And for that we should remember him if nothing else. Even though he still lost to a fire extinguisher.
Calling all HuffPost superfans!
Sign up for membership to become a founding member and help shape HuffPost's next chapter