In the same week that Katharine Zaleski published her apology to mothers article, I was waiting to hear about an offer for my dream job. I was refreshed by her statements on how moms add value to an organization. In that week alone, I had cared for my 8-month-old teething daughter, scouted daycare facilities in anticipation of going back to work, reread Sheryl Sandberg's Lean In (for the third time) and spent hours talking to my husband about how we could focus on both of our careers while staying present in parenthood. I had prepared for this moment for years. I've always known that I wanted a family, but I also wanted to forge ahead in my career. At 24 years of age, I had earned my master's degree and jumped into my career full-speed, aspiring to become a leader within my field.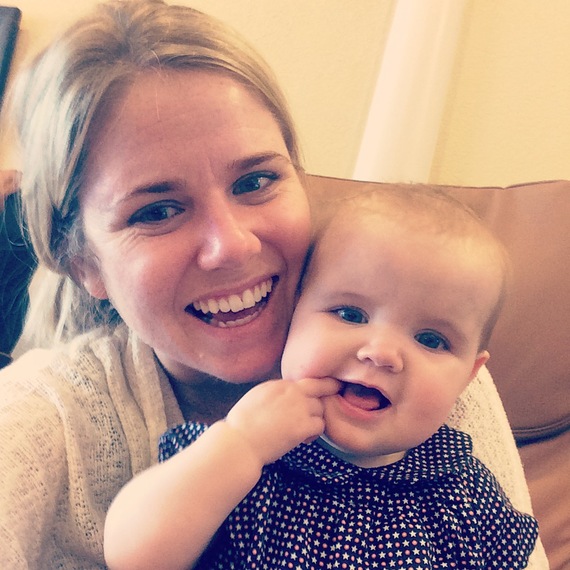 After reading Lean In, I became inspired. I started to believe that I could rise to leadership positions in my field while also being a mom. Maybe I didn't have to settle for part-time work or lower-ranked positions just to balance career and family. When my dream job became available, I pursued it with enthusiasm and confidence. The position would be a leap in my career; I would be running the operations and staff of an entire department. Professionally, I was ecstatic! As a new mom who had stayed home for almost the first year of my daughter's life, I wondered how it could all work. I reached out to my female colleagues and mentors who have families and interviewed them on how they managed it all. My husband is a true partner and my number one fan; he supported me 100 percent and was ready to step up at home. Everything was falling into place.
When I received the verbal job offer, I was over-the-moon. I couldn't wait to get started. The salary offer was competitive and they even offered me the option to start at 50 percent for the first month to help me transition. It was my dream scenario! I asked some follow-up questions about the work schedule, trying to gauge work hours so I could make childcare arrangements and better understand the hours I would be in the office. I asked how employees managed the long commute and rush hour traffic and how others in the office balanced career and family.

The next day I received a call from my would-be future boss, and her tone had completely shifted. She firmly explained they would no longer be offering me the job because it sounds like I was unable to commit to the position and that this clearly was not what I was looking for. I was completely caught off guard. I tried to understand how she could shift from being excited to offer me the job to stating that I was not committed. She made it clear this was not up for discussion.

I was devastated. And confused. And mad.

Apparently, voicing my questions about balancing family and career was an off-limit topic. They wanted to hire someone who did not have outside obligations that could get in the way of the job. Simply stated, I didn't get the job because I am mom, a mom who dreams of tucking her child into bed at night (or at least most nights) who would then, no doubt, rush back to her laptop to get in a few more hours of work before going to bed.

What was intended to be an open discussion was interpreted as a red flag by my future potential employer. Next time, I guess I should keep my mouth shut.

Except next time, I won't. Because I believe I can be a present mother and do an excellent job in my career. I believe I can aspire to leadership roles within an organization and still nurse my daughter to sleep at bedtime. This employer doesn't know me well enough to understand that they are missing out on a dedicated and committed employee who, yes, loves being a mom. And that's their loss.

Even writing about my experience gives me pause. When I spoke up about the idea of family and career balance with a potential employer, I ended up losing the job. As someone who is looking for my next career position, I wonder how coming out about this publicly might hurt me. In the end, it's worth the risk. I can't be alone in these experiences, and I hope that by speaking out it will be a continued step in the right direction.

After interviewing other moms who've faced similar dilemmas, I realize there are three options for career-loving moms:
Focus on your career but sacrifice time spent with your children.
Pull the breaks on your career and settle for a lower-ranked job that appears less "demanding." Maybe working part-time.
Leave the workforce altogether, either temporarily or permanently
It's no wonder women are wildly under-represented in leadership roles across all fields. Look at our options! If we, as a society, are going to forge ahead, we need a fourth option. There must be another way.

I have learned a lot from this experience. Not that I should keep my mouth shut, but that something needs to change. I am a career-loving mom who believes woman can thrive professionally, be committed employees and dedicated parents. I hope my own daughter will grow up in a world where these conversations aren't trendy, but implied.