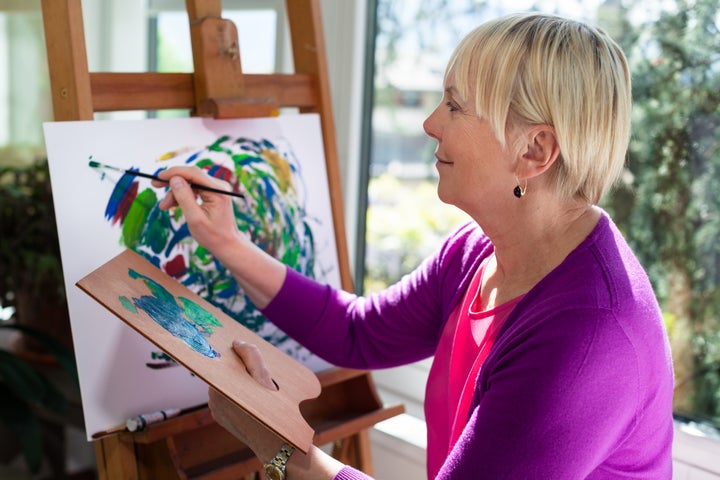 Recently, my mother-in-law, Maria, was diagnosed with Stage IV Breast Cancer and at 88 years old, that might just be a recipe for "caregiver doom and gloom," often felt when caring for aging parents. However, let's just say that my mother-in-law is the one who inspires me to look beyond the ordinary and to see life as one big positive opportunity to create beauty in the world.
I've been fortunate to be one of her caregivers over the last year, along with my extended family, each tasked with "draining fluid from her lungs," a common complication or side-effect of stage IV breast cancer. This procedure is something that would have required hospitalization years ago, but new medical technology and catheters now make it possible for minimally-trained caregivers like me to "drain the fluid." It can be downright scary but, six months into it now, I can honestly say I am getting used to it.
Maria is from Europe and during the bombing of London during WWII, she married the love of her life, Alfe, an American Air Force engineer from New Orleans. Her creative spirit and personality was nurtured at a young age by her parents, Gilbraltarian antique dealers, who immigrated post-war to the United States with Maria and Alfe.
Her creativity is expressed in a multitude of ways that undermine existing research on aging in our society which says that beginning in middle age, neural connections that receive, process and transmit information weaken from age and disuse. It may take us longer to learn new information. We often can't think as sharply or as quickly. Our reaction times may be slower.
Here's what Maria's latest project entailed which she worked on for several months without distraction -- an aquarium that teaches children to save the environment by saving fish and protecting coral from poaching.
The fish were not store bought but created with discarded eye glass lenses she obtained from local optometrists which she adorned with metallic paint, old fish net stockings and feathers. The fish were hung inside an aquarium shell, without water but with colorful "sea creatures" she crocheted and displayed alongside coral she collected as a younger women travelling throughout Asia.
Her work was on display at the Children's Room at the Wilton Library in Wilton, Connecticut earlier this year.
As I launch this blog for other midlife women like me, I want to really focus on Designing the Second Half of Life" and dispel the myths about creativity and aging that create barriers to more positive caregiving experiences.
Here's what's key to know: Because of their greater capacity to empathize, older people can have a better sense of the things that may charge up another person's brain and get them excited. This is a caregiver's balm, capture YOUR creative spirit!
I am part of AARP's kitchen cabinet on caregiving. All opinions are my own.
Popular in the Community