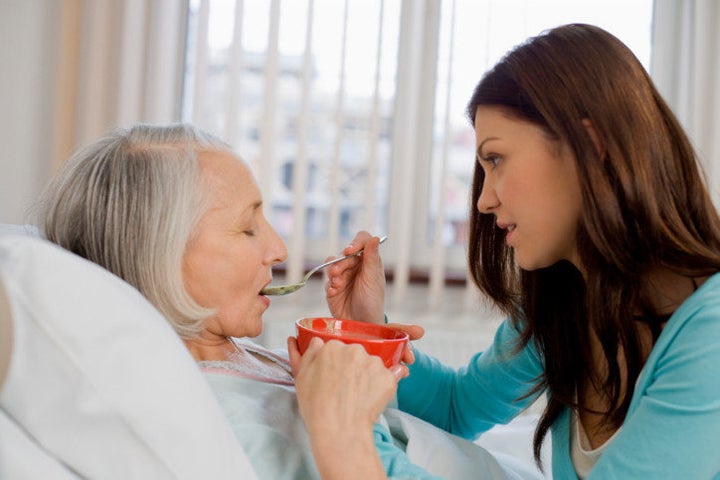 Family caregivers for seniors -- especially those with Alzheimer's disease or another form of memory loss -- often feel as if they are "on-call" 24 hours a day. Although rewarding, the role of caregiving can be stressful and exhausting if not managed carefully. Studies show that these intense feelings of responsibility can lead to anxiety and depression. Considering the normal pressures that fill our lives during the holiday season, respites, or time away from caregiving responsibilities, are very important for caregivers at this time of year.
Sadly, many caregivers do not get the break that they deserve and so desperately need. Many refuse to ask for help or accept the assistance of friends, family members or the services of professionals because they feel guilty or they believe no one else can provide the care as well as they can. But, respites can help relieve stress in caregivers, leading to their ability to provide greater care.
Respites can come in a variety of forms -- a few hours or an overnight stay when a friend or other family member takes on the caregiving responsibilities, or several days spent at an assisted living community. Time "off" can be extremely beneficial for both the caregiver and the senior, and can even result in more enjoyable time spent. Respites not only provide caregivers with time to themselves to relax or focus on something they enjoy, such as going to lunch with a friend, but can also be an enriching experience for the individual receiving the care.
I know a man who cares for his wife who has Alzheimer's disease. He felt he needed a respite to prepare his house for the holidays since his college-age children were coming home. He decided to arrange for his wife to stay at a nearby assisted living community for a short-term respite stay where she could benefit from their memory care program. When he got a call the first night from the memory care coordinator at the assisted living community, he feared they would say she was not adjusting well and wanted to come home. Instead, they told him that his wife was busy rearranging some of the trimmings on the Christmas tree, had been playing the piano and singing Christmas carols with other residents. She had even remarked how good it felt to "volunteer again." This much-needed respite proved to be a very positive experience for both the man and his wife.
This holiday season, consider giving the gift of respite to a caregiver you know. Volunteer to spend time with their loved one and allow the caregiver the opportunity to focus on themselves. Or, talk with the caregiver about the option of a short-term stay in an assisted living community. Having someone else bring it up sometimes helps eliminate feelings of guilt and allows the caregiver to see the true benefit for themselves and their loved one. If you are a caregiver, make it a priority to give yourself a respite. Everyone needs time "off" to recharge, and chances are that your friends and family are willing and happy to help.
Here are some tips to make respites successful for everyone:
When transitioning care to someone else for the first time, keep it to just a few hours to make sure that everything goes smoothly.
Caregivers should use their respite time to engage in an enjoyable hobby or activity that relieves stress.
When caregivers return from their respite, instead of rushing back into their lists of tasks, they should spend some quiet time with their loved one -- perhaps enjoying the beauty of the outdoors, listening to music or reminiscing with a photo album.
Family caregivers are truly heroic, but they are regular people with limits. Everyone needs and deserves breaks from stresses in their life. Respites are an important part of making pleasant days possible for those with memory loss and for those who care for them.
This holiday season, consider giving the gift of a respite for a caregiver you know. It may be the most appreciated gift of all!

Support HuffPost
A No-B.S. Guide To Life
Related
Popular in the Community