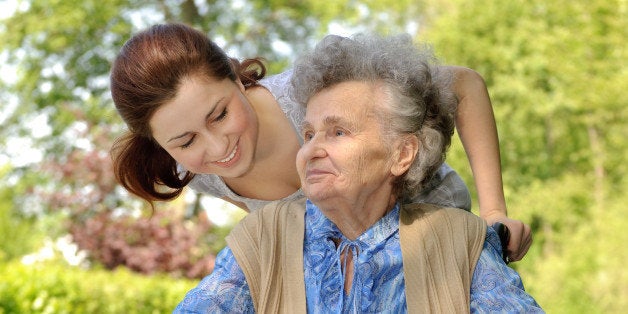 Being a caregiver to my elderly mother has been very challenging for me. I didn't sign up for this job, it has evolved over a lengthy period of time. At times I feel a sense of despair and hopelessness for myself and my mother. I am an only child and have no one in my very small family to help me care for mom. I feel a sense of obligation and duty to her, since she has been very good to me my whole life and she is my best friend. It's just been the two of us, since I didn't grow up with a father.

Caregiving can be a full time job. The roles are reversed now, and it's unsettling at times. I feel as if I am the parent and my mother is the child, which is an unnatural state. At times I get angry and frustrated that I am in this position, and that my mother isn't the dynamic, independent, self-reliant woman she once was. Her memory is a bit impaired, some of it due to the fact that she has severe obstructive sleep apnea, which went undiagnosed by her wonderful doctors for almost three years. I kept asking them, why she is so exhausted all the time, which they figured was due to her age. Which wasn't the case. I was recommended to a sleep specialist by someone in my caregiver's group, who said she might not be sleeping well. We went to see him, and he recommended a home sleep test, where she had to wear a little computer like machine on her wrist, tied to her finger. That showed that she wasn't getting enough sleep. After that initial step, we went to a sleep institute for a more in-depth evaluation. This is when we found out she had severe obstructive sleep apnea. I was so aggravated by the results of this test that I spoke with a few malpractice attorneys to see if I would have a case against her doctors for not diagnosing her with this problem a few years back. This has caused several serious health conditions that I feel is directly related to her sleep apnea. She has gotten atrial fibrillation and has to be on Coumedin (a blood thinner, which is a very strong drug), she has heartburn at night, extreme tiredness and confusion, fluctuations in her blood pressure, just to name a few. Some of the treatment options to help with sleep apnea is wearing a CPAP mask attached to a machine at night (which helps you breathe and brings more oxygen to the brain), or Provent Therapy (wearing a Band-Aid-like device on your nose). I got her a mechanical bed to try to help keep her head more upright, which helps keep the back of your throat from closing up, that isn't working too well. I am taking her for acupuncture next, which I read online for natural alternatives might be helpful. My acupuncturist said given her age, which is almost 92, it might not work well for her. He told me you will know after two to three sessions.
To combat some of the severe stress I am under, I attend Dahn yoga classes, I go ballroom dancing a few times a month and I go to the gym at least twice a week. I find that these activities are very helpful for the time you are actively involved doing them. It lessens the stress level by increasing the endorphins in your body, and it makes me feel good. If I don't keep active, and take care of myself, who will look after my mother, if I get sick. I am always worried about her. Since I never had children, I guess this is what it feels like. It's a lot of work, making sure she takes her medications properly and timely, eats regular meals, goes to her doctor appointments, gets blood work done, every other week (which a lab technician comes to the house), go for tests, take care of her bills, and go shopping both for food and clothes. I try to make her happy but it's not easy. She is depressed, rightfully so. She frequently tells me how she has outlived everyone in her family, and her friends. I know it's lonely for her at times. I bought her a cockatiel to try and replace the beloved one she had for 30 years, who passed away last year (which was a disaster). Kimmy (was his name) was like a person, he spoke, was very affectionate and funny. My mother had a very strong bond with him, unlike I have ever seen. I had to return the baby cockatiel after a day, because my mother couldn't comprehend why he didn't speak, she didn't have the patience anymore, and was kind of rough with the bird, which scared me. Having memory loss changes your personality, which really came into focus after seeing how she responded to the new bird. Oy vey, it's not easy!