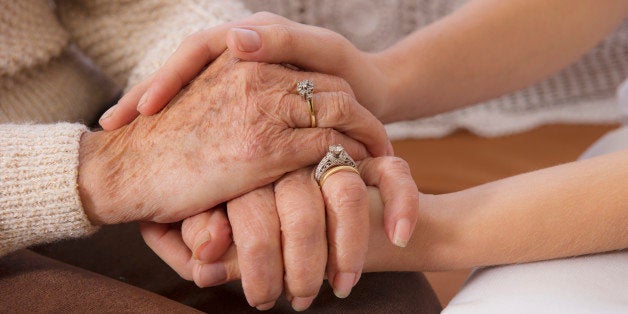 We are the nation's caregivers. We have stepped up to the challenge of caring for our aging relatives and loved ones -- providing services that, if paid, would cost upward of $522 billion a year, according to a new RAND Corporation study.
We assist our loved ones with meals, hygiene, driving and getting around; we take time off from our own jobs to take them to see doctors and fill prescriptions at drugstores; we check on them, pay bills for them, move them closer so that we may watch them better. We love them even when they see our faces and can't remember who we are. And we are not paid a cent for turning our lives inside out to meet their needs. If anyone went to replace the informal care we are dispensing to our elderly parents, for example, it would cost $221 billion a year, even at minimum wage. If we were replaced by skilled nurses, it would cost $642 billion annually.
And, as our readers have eloquently told us in a series that launched Nov. 3, caregiving costs the caregivers too. Caregiving takes its toll on our emotional well-being, our physical health, our careers, our quality of life. While caregiving is not always without joy, it is also never without sacrifice. For the next three weeks, Huff/Post50 will feature the stories of caregivers, who will tell us in their own words how caregiving has impacted their lives.
Julie Lew told us about how her father, Stanley Lew of Fremont, California, has selflessly cared for her mother, officially diagnosed with Alzheimer's six years ago.
"The pernicious way in which the disease transforms someone you've known all your life into an irrational, agitated, paranoid, childlike stranger happens so subtly and erratically that I think dad was always hopeful that she was just having a bad day and that if he put up with it temporarily everything would soon be all right again," she said. "And so when mom got up at 1 o'clock in the morning and put on her makeup, got dressed, and left the house in the pouring rain because she had to "meet someone," he followed her and brought her home. When she accused him of having an affair, he tuned her out. When she thought there were strangers lurking outside their house, he comforted her. He shouldered this frightening burden on his own, unwavering."
Julie Lew said it's not so much that her dad's taken care of her mom 24/7 without much complaint, but that it's also the way he's tried to re-create life as she knew it before she became ill.
"Throughout her life, mom always kept herself well-groomed, making up her face every morning, visiting the hairdresser regularly, wearing designer clothes. My dad, like most men, had no idea how my mom put herself together; he just appreciated the end result," she said. "So I was quite surprised, and tickled, to drop in on them one morning to find him applying her makeup for her. Eyebrows are really hard to draw, said my dad, who actually is one of the best self-taught artists I know."
She said her dad is an unsung hero -- always there for her mom, ready for anything.
But Stanley Lew is not alone. According to a HuffPost/YouGov poll, 55 percent of those surveyed said they'd prefer to personally care for a seriously ill parent or close relative; 32 percent would hire a nurse to care for them in their home. Another 19 percent would pay for them to live in an assisted living facility while 5 percent would not care for them in any of these ways and 18 percent are unsure. When it comes to spouses, 64 percent would prefer to personally care for their ill partner.
When asked how long someone would be willing to care for a sick spouse or relative, 52 percent responded they'd be willing to do so for more than five years.
Across America, people already spend an estimated 30 billion hours every year providing care to elderly relatives and friends, according to the RAND study.
"I've come to realize that even when someone has been ravaged by Alzheimer's and has lost most of their cognitive abilities and their memories, there is still, locked in tight in that core part of our brain where the disease is having a hard time getting into, a supreme human need​ ​for dignity," Julie Lew said. "It's as essential as breathing or knowing how to chew. I think my dad instinctively knows this and thus spends a lot of his energy providing it to mom."
The HuffPost/YouGov poll was conducted Oct. 22-24 among 1,000 U.S. adults using a sample selected from YouGov's opt-in online panel to match the demographics and other characteristics of the adult U.S. population. Factors considered include age, race, gender, education, employment, income, marital status, number of children, voter registration, time and location of Internet access, interest in politics, religion and church attendance.
The Huffington Post has teamed up with YouGov to conduct daily opinion polls. You can learn more about this project and take part in YouGov's nationally representative opinion polling. Data from all HuffPost/YouGov polls can be found here.
Calling all HuffPost superfans!
Sign up for membership to become a founding member and help shape HuffPost's next chapter
BEFORE YOU GO
PHOTO GALLERY
7 Tips For Caregivers