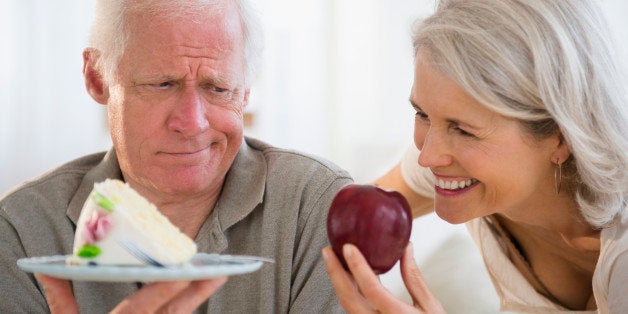 When Marie Marley was caring for Edward Theodoru, her partner with Alzheimer's, he was the first thing she thought about when she woke up, and the last thing the thought about as she drifted off to sleep. Because of Theodoru's condition, Marley felt she was constantly on high alert: What if he left his home and couldn't remember how to get back? What if he falls and severely injures himself? What if he never agrees to move to a special care facility?
"The stress of caring for Ed was incredible," said Marley, 64, an author and retired grant writer living in Kansas City, Kansas. "I sat in meetings at work obsessing about Ed, not listening to anything going on. And during lunches with friends I sat there obsessing about Ed, looking at my friends and hearing nothing. It was like watching TV with the sound turned off." Marley lived with that stress for five years, working a full-time university job and then coming home at night to care for Theodoru another five hours a day, until he agreed to live in a special care facility. He died in 2007.
That's why recent news from the University of California, San Francisco's Department of Psychiatry about how stress physically impacts caregivers' bodies is so concerning.
In a small study conducted by UCSF psychiatry professor Kristin Aschbacher, Ph.D., women who reported eating high-fat, high-sugar foods were more likely to have a larger waistline, more abdominal fat, higher oxidative damage and more insulin resistance over time -- but only if they were exposed to chronic stress. For the purposes of this study, that chronic stress was simply living as a caregiver for a spouse or parent with dementia, a situation that is known to increase anxiety and depression.
Meanwhile, women who were demographically similar in every way except for their stress levels, did not experience these negative health effects, even when they reported eating the same levels of the high-fat, high-sugar foods. In other words, chronic stress made junk food even more harmful than it normally is.
"We looked to see whether chronically stressed women were eating more junk foods than low-stress women, but that was not the case," Aschbacher explained to HuffPost. "Instead, it looks as if their bodies were more responsive to junk foods."
The study included 61 women ages 50 to 80, about half of whom were caregivers for a loved one with dementia. The researchers divided the women into two groups based on their self-reported stress levels: the chronically stressed women (the caregivers), and the lower-stress women.
Then, over the course of a year, researchers tracked the women's weight, abdominal fat and waistline measurements, as well as their metabolic health. Metabolic health was measured by analyzing their insulin resistance, neuropeptide Y levels (which is associated with stress and obesity) and free radicals (which are chemicals that can harm DNA, proteins and cell membranes).
While both groups reported eating similar levels of junk food throughout the year, only the chronically stressed women were more likely to have undergone negative metabolic changes while also taking on more abdominal fat and growing their waistline. Interestingly though, neither group was more or less likely to gain weight, something that Aschbacher attributes to the fact that she only followed them for one year.
"The focus was on metabolic health," said Aschbacher about the results. "We're starting to understand that's probably more important, ultimately, than just weight."
If stress goes untreated, it can all add up to a scenario in which the caregiver can get too sick to continue caring for anyone, noted Aschbacher. To prevent that, Tonya Jacobs, Ph.D., of UC Davis' Center for Mind and Brain, has two suggestions on how to reduce stress based on her own research: focus on the present or change your perspective.
"In the midst of life circumstances that can't be changed, one can purposely focus on the present moment instead of going over past mistakes or worrying about future problems," Jacobs wrote to HuffPost. "Another thing one can do is to try and re-frame the circumstances to create a greater purpose."