After being sent home because of her skirt, a high school student used social media to speak out against dress code rules.
On Oct. 27, Carey Burgess posted on Facebook about being involved with a dress code incident at her school in South Carolina. In the post, the Beaufort High School senior claims an administrator saw her outfit and said, "Your skirt is too short. You need to go to in-school suspension and then go home."
Burgess, who is student body president, told The Huffington Post that she chose her outfit that day as part of a "professional appearance" requirement on an assignment she had to present for her Teacher Cadets class. In her Facebook post, she said she became emotional after hearing the administrator's comments and being sent home to change. She also sprinkled sarcasm throughout the post to emphasize her problem with dress codes.
"I learned something very important about myself: I am a whore," she wrote. "So maybe I am in the wrong. Maybe our society isn't yet advanced enough to handle 3 inches of my thigh," she added later.
She then closed with a powerful statement:
Yes, I am a woman. I am [a] woman with thighs, a butt, and a brain. I am bigger than Beaufort High School. All of us are. Maybe instead of worrying about my skirt, Beaufort High should take notice of its incompetent employees, and sexist leaders.
According to Beaufort High School's website, the school's dress code allows shorts, skirts, skorts and jumpers as long as they are not shorter than three inches above the top of the knee. Burgess told HuffPost she has witnessed similar dress code incidents in the past, including a girl "sobbing as she left class, humiliated that she was sent out to change from a skirt and high socks to [B]ermuda shorts."
"Other remarks like, 'It's because you're a girl,' or 'We need a boy to be partners with this girl so she's not lost,' are fairly frequent in the classroom," she said. "Usually I laugh it off or roll my eyes, but one person can only bear so much for so long."
After posting her response to Facebook and Instagram, Burgess had a discussion with her school's principal, Corey Murphy, about her post and her concerns. "He treated me as an adult, not a rebellious teenager," she told HuffPost. "For that, I give him all the respect in the world."
Murphy told HuffPost that what happened had been "sensationalized by a very gifted student," explaining that the administrator who commented on Burgess' skirt correctly handled the situation.
"Her outfit clearly violated the dress code when my assistant principal address[ed] her," he wrote in an email. "The way it is depicted in the photo would be well within the dress code. The assistant principal followed protocol and enforced the district policy as approved by the board of trustees."
Burgess told HuffPost she does believe there are some cases in which administrators should deal with students who break dress code rules. However, the majority of dress code incidents "are petty and take away from learning." According to her, they fail to prioritize education.
"These dress code incidents tell young women and men that what they are wearing is more important than their education," she said.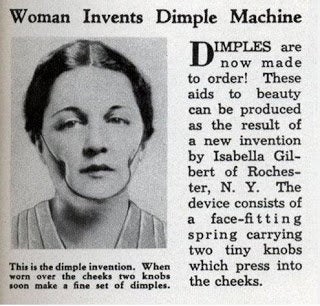 11 Horrifyingly Sexist Vintage Ads
Related
Popular in the Community