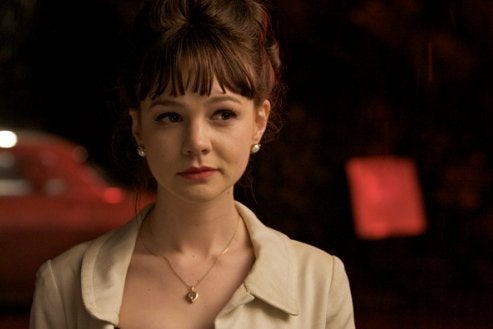 British newcomer Carey Mulligan is already drawing Oscar buzz and Audrey Hepburn comparisons for her performance in 'An Education,' a small Sundance film out Friday in wide release by Sony Pictures Classics.
Mulligan, now 24, stars as a 16-year-old schoolgirl who falls for a much older playboy (Peter Sarsgaard) and the glamorous life he carves out for her in the drab postwar London suburbs--and ends up getting a bumpy education in the ways of the world. It's hard to predict whether a nationwide, Polanski-chastened audience will embrace a teenager's wide-eyed romance with a lover twice her age, but the story (scripted by Nick Hornby) is nuanced and sweet. Mulligan is adorable, charming and full of nascent star power.
She recently shared the stage with Sarsgaard in Chekhov's 'The Seagull' and played Kitty Bennet in 'Pride and Prejudice.' Next up: 'Wall Street 2,' in which she costars with her boyfriend, Shia LaBeouf. Mulligan talked with us about how her career has taken off--and was circumspect on the subject of Shia.

On not being a big name--yet:
"My life hasn't really changed. No one knew who I was in 'The Seagull,' and that's still the case. It's been most of the year now since Sundance, and we keep saying, 'When's it going to come out?' Peter [Sarsgaard] and I did 'The Seagull' together on Broadway and he would give me lifts home every night and he would say, 'Don't expect it to sell.' He would manage my expectations because it wasn't a particularly good year to be in an independent film."
On playing 16 at 22:
"I've always played parts younger than myself. My first job I was 15, 16 and I was 18, 19 in real life. Then I did a play where I was 14. So it wasn't really a concern to me... I didn't really think there was a huge difference between being 16 and 24. It's really small changes that you make. You're better at capping your emotions, and I made my voice a tiny bit higher because I've got quite a low voice in real life, but that was it, really."

On the letter that started her career:
"My letter was to Julian Fellowes who'd given a talk at our school when I was about 17 and about winning the oscar for 'Gosford Park' and being a screenwriter and was the only actor I'd ever met in my life. I applied to drama school and didn't get in. And in using places on my university application to apply for drama school I didn't get any places at university. My parents were quite upset at me...So I wrote to him, 'You came to my school and I met you briefly and I know that I want to act but I don't think I'm going to get through the three years before I can get back to drama school.' He took me out to dinner with a bunch of other people who'd written the same type of letters whether they wanted to be actors or writers...and I met Joe Wright and auditioned about three times for 'Pride and Prejudice' and that's how I got the job."

On the superstars she's learned from:
"I didn't go to drama school, my first job was 'Pride and Prejudice' so from the beginning I've been so lucky to be surrounded by people I admire. Like Day 1, Judi Dench...I guess Emma Thompson has been the biggest female influence. Our day, because we had one day to shoot all our scenes together, I quite liked. She was amazing. She knew the first names of the whole crew by about 11 in the morning. And then in the evening we ran over by about half an hour and she got beer and wine and pizza for the whole crew and had a 'we ran over' party."

On how she met boyfriend Shia LaBeouf on the set of 'Wall Street 2' (the short version):
"We met when we had a round table read through with everyone back in August. We had about three weeks of rehearsal and now we're shooting. I play Gordon Gekko's daughter so I've gone against the finance world."

WATCH the trailer for 'An Education':
Popular in the Community