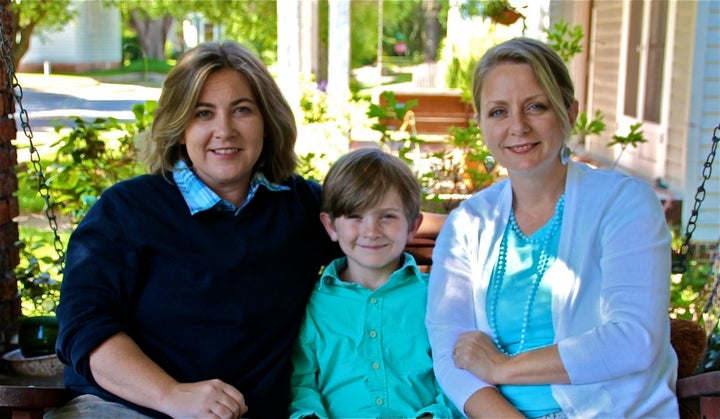 In towns large and small all across our country, there are parents that RaiseAChild.US considers to be true heros. Such is the case with Cari Searcy and Kim McKeand of Mobile, Alabama, who together fought an intense nine-year battle to improve the landscape for all families in their state. In this Huffington Post Gay Voices RaiseAChild.US "Let Love Define Family™ series installment, contributing writer Beth Hallstrom shares their riveting story of courage and justice.
Imagine sitting at your critically ill son's bedside with your wife, watching the life ebb from the infant's tiny body. Your baby is losing weight and desperately needs a feeding tube to sustain him until he receives an open-heart surgery, his only hope for survival, that is still two weeks away.
Your wife, upset and emotional, is unable to learn how to insert the tube. She is bullied by nurses and becomes hysterical so you step in and volunteer to take her place. But, because you are also a woman and living in a state with arcane marriage and adoption laws, you are denied. You are told, "You are not his mother."
Cari Searcy and Kim McKeand of Mobile, Alabama, didn't have to imagine this nightmare, because they had to live it. First they were stunned, then they were furious. And then they waged war against those arcane laws and changed history when they won.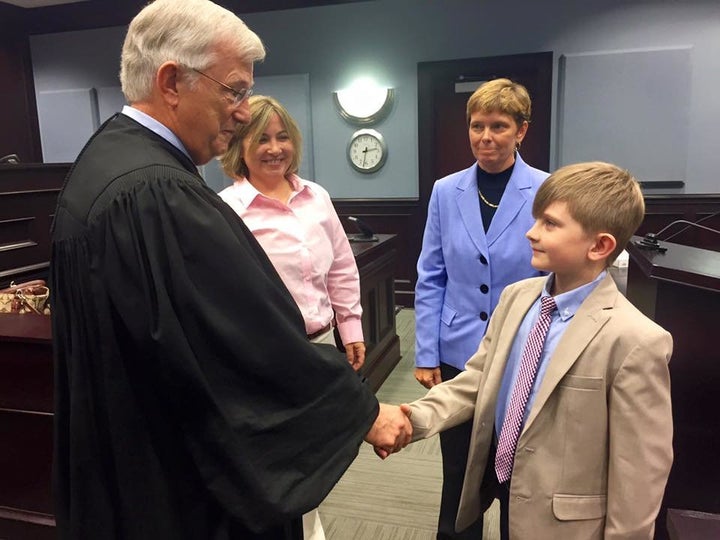 Cari and Kim's story began like countless other couples'. Natives of small towns in East Texas, they met in college, fell in love and decided to make a life together. A visit to Mobile enamored them with the Azalea City. They moved there in 2000, bought a home and began planning their family.
Kim chose to be the birth mother with the help of a donor and loved being pregnant, Cari recalled. "I always wanted to be a mother, but I never saw myself pregnant. It worked out perfectly for both of us," she said.
In December 2005, their son, Khaya, was born and doctors soon discovered a large hole in his heart. The defect was repairable through open-heart surgery, but not until the baby was three months old.
According to Cari, "When Khaya was two months old, he quit gaining weight. He was hospitalized and the doctors told us his heart was working so hard it was like he was on a treadmill all the time. He was just not receiving enough calories. They told us Kim had to stop breastfeeding and we had to put him on a high calorie formula but he continued to lose weight. The feeding tube was our only choice."
Before Khaya could come home from the hospital, his mothers -- or, from the nursing staff's viewpoint, his mother -- needed to learn to insert, remove and clean the feeding tube.
"Kim was so upset and became even more emotional when they tried to force her to do it. I asked them to teach me instead and there was dead silence in the room. One of the nurses put her hands on her hips and asked me, 'Are you the legal parent? Do you have legal documentation?' When I told them no, they told me they couldn't teach me because I was not his mother. That's when I started to burn," Cari said.
Fortunately, Khaya's cardiologist was making rounds and she demanded to know what was happening around Khaya's hospital crib. Appalled, she cleared the room, began to cry and proceeded to teach Cari about the feeding tube.
"She was a godsend," Cari said.
Cari recalled that it was at that moment that she realized she had no legal standing in Khaya's or Kim's lives. Despite the years together, the house and the family, the dog and the cat, she was nothing in the relationship.
"I'm sure straight people aren't asked for paperwork by hospital staff. No one is asked to produce a marriage license or adoption decree; they take it on faith that the person is the spouse or the parent. "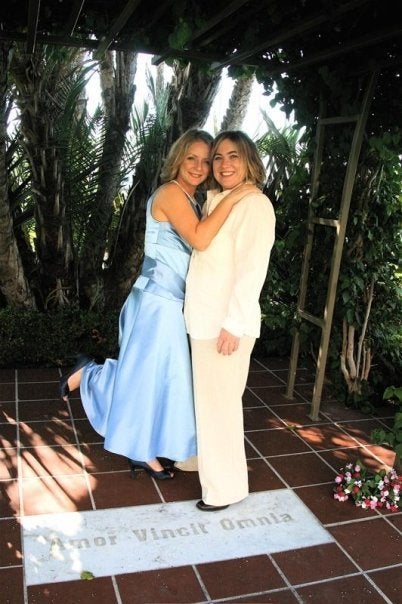 "It really opened my eyes as to how important that paperwork is and, the next week, we visited our lawyer to begin the process of me adopting Khaya. We figured it would be uncomplicated, an open and shut case. Boy, were we wrong!" Cari said.
The first denial of Cari's adoption petition was in 2006. Two more followed as Cari and Kim's legal odyssey took them from Probate Court in Mobile County to a 2014 federal lawsuit seeking to end Alabama's ban on same sex marriage. The couple's case also sought to require the state to recognize marriages performed elsewhere, including their own, which was held in California in 2008.
"The only way I could adopt was to make the state marriage law unconstitutional. We felt we had a pretty narrow and easily decided case in federal court because it was not right for me to be unable to adopt my own son," Cari explained.
While numerous people -- gay, straight, singles and couples -- cheered Cari and Kim on, they oddly received little support from the LGBT legal community.
"We were told not to push the issue because it might set back the effort to legalize gay marriage nationwide. Meanwhile, our son is growing up and I'm not legally his parent. It hit me that somebody has to do something," Cari said.
Victory finally arrived in January when a federal judge struck down Alabama's law but was quickly put on hold when elected officials dragged their feet, waiting to see how the Supreme Court would rule on same-sex marriage.
"The Probate Court judge, Judge Don Davis, refused to rule on our latest adoption petition until the Supreme Court ruled, even after we won the federal suit that said the law can no longer be used against us. So, in March, we filed suit against Judge Davis. He eventually recused himself and assigned the case to another judge. He never looked us in the eye and made comments that made us feel uncomfortable," Cari noted.
After the Supreme Court ruled in June that marriage equality was the law of the land, Cari and Kim's marriage was recognized. On Friday, July 24, the family stood before Visiting Judge James Reid from adjacent Baldwin County as Cari officially became Khaya's legal parent.
"It was amazing. It was very surreal when Judge Reid said it was in the best interest of the child to have two legal parents. I broke down and got so emotional. His words confirmed what we've known all along: that I've been Khaya's parent his whole life. It was great to be in front of a judge who looked as us like he looks at everyone else," Cari said.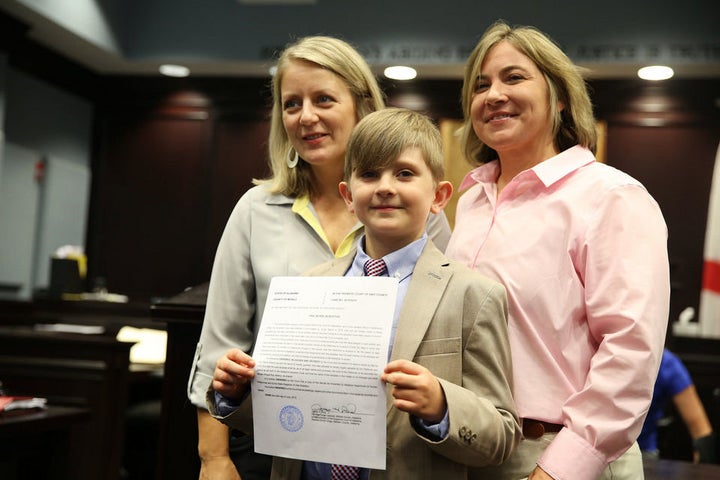 While the family has been in the spotlight for nine years, Cari said she and Kim shielded Khaya from much of the publicity and attention but, after the adoption hearing, he gave his first media interview.
"He thinks it's all pretty cool," Cari said. "It's been no big deal to him because the case has literally been going on his whole life, but I think Friday opened his eyes to what it all means and how many people's lives will change because of him."
Next for the family is expansion through adopting one or two more children. Cari said they have begun to investigate adoption agencies and are eager to give Khaya siblings.
"There were tons of times we thought maybe it just wasn't meant to be but then someone would come up to us and tell us to keep going for it, so we did. This is America and we shouldn't have to fight for equal rights," Cari said.
"It's amazing that our son made history. Our case helped thousands and thousands of families across our state. It restored our pride in Alabama. We love to hear Khaya talking to his friends when he tells them, 'We helped change the world.' He is so proud. And so are we."
RaiseAChild.US is the nationwide leader in the recruitment and support of LGBT and all prospective parents interested in building families through fostering and adoption to meet the needs of the 400,000 children in the foster care system. RaiseAChild.US recruits, educates, and nurtures supportive relationships equally with all prospective foster and adoptive parents while partnering with agencies to improve the process of advancing foster children to safe, loving and permanent homes. For information about how you can become a foster or adoptive parent, please visit www.RaiseAChild.US.
Support HuffPost
Every Voice Matters
Popular in the Community