The big cruise ships don't stop at the tiny islands of Bequia, Tobago Cays and Mayreau in the southeast Caribbean. Most visitors to these dots in a chain called St. Vincent and the Grenadines arrive on water ferries, private boats and small luxury liners, some of the latter looking much like overgrown yachts.
I was among 143 passengers on a recent sailing of one such ship, the Wind Spirit. Starting in Barbados, our seven-day cruise took us west to St. Lucia, then down to St. Vincent and the Grenadines, further south to Grenada and back to Barbados. Here's my log from the trip:

Day One (Saturday): Departure day
The docks at Barbados' main port at Bridgetown are packed with six cruise ships, among which four mega-liners dwarf the Wind Spirit and another yacht-like ship.
Around 6 p.m., the Wind Spirit's signature departure music -- Vangelis' stirring "Conquest of Paradise" from the film 1492 -- blasts out over the ship's P.A. as it pulls away from the pier. I've heard the song before at the start of the line's cruises to other places, and it never fails to get my juices flowing for another adventure.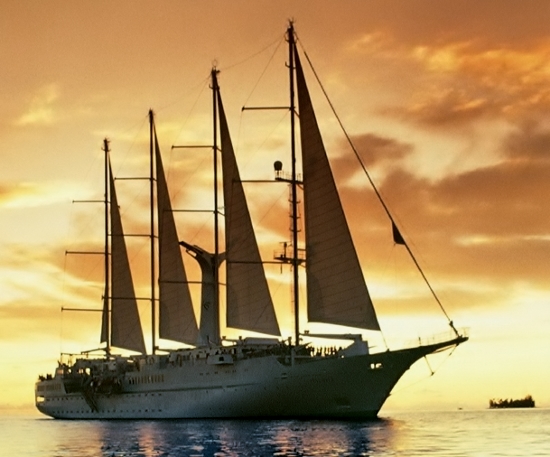 Wind Spirit readies for a Caribbean cruise. Photo by Windstar Cruises.
Outside the harbor, motorized sails unfurl from bars angling off the ship's four 200-foot-high masts, and the first salty gusts of wind slap me in the face. That night we zip through the Caribbean waters for about 110 miles to St. Lucia, powered by a combination of the ship's engines and its sails.
"It's not unusual for first-time passengers to ask if the sails are fakes, there just for show," says Wind Spirit Captain Olivier Marien. He assures them the sails are real, and besides creating the ambiance of an old-time sailing ship they can dramatically cut the ship's fuel consumption.
Day Two (Sunday): St. Lucia
Our first stop is in a bay off Pigeon Island National Park on the mainstream tourist island of St. Lucia. Passengers go ashore for a day of sightseeing, shopping, diving, fishing, hiking through a rainforest and the like. A few of us climb up a mountain trail to an 18th-century fort where British Admiral George Rodney spied on French ships anchored at the neighboring island of Martinique.
That evening we sail down the coast of St. Lucia to soak up an eye-popping view of the island's iconic twin volcanic peaks soaring a half-mile in the air.
From there we leave the beaten cruise tracks to sail through the 32 islands of the nation of St. Vincent and the Grenadines (SVG for short). We bypass the main island of St. Vincent at the top of the 45-mile-long SVG strip and head straight to sleepy Port Elizabeth on the tiny island of Bequia.
Day Three (Monday): Bequia
Our welcome to the SVG comes the next morning when we awake to find our ship anchored in a bay right off the travel posters.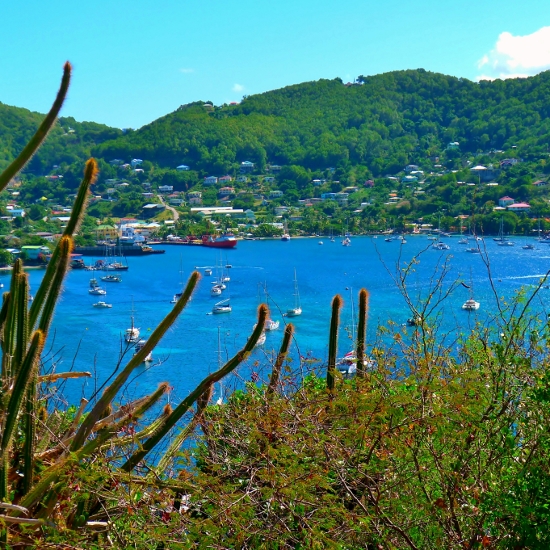 Private boats dot the bay at Port Elizabeth. Photo by Bob Schulman.
Here on Bequia (pronounced beck-way) there's no cruise dock, no jet airport, no wall-to-wall souvenir shops. Instead, the island's main activity seems to be what the 350 local folks call "liming" -- meaning taking it easy, such as flaking out on a powdery white beach, sipping cool ones around a pool or snoozing in a hammock shaded by palm trees.
Some passengers sign up for a tour of the island (you can pretty much see everything on this seven-square-mile speck in a couple of hours) while others set out for snorkeling sites. I opt to mosey around the bay's little town in search of a Bequian t-shirt. I found one saying "Save water, drink beer on Bequia." I did.

Day Four (Tuesday): Tobago Cays

Our newly learned liming skills come in handy as the Wind Spirit sails into an archipelago of five uninhabited islands called Tobago Cays (pronounced keys). We anchor off Petit Bateau, hop on the ship's rubber Zodiac rafts and splash ashore, ready for another tough day of napping on the beach, tossing frisbees around and taking an occasional dip in the picture-postcard waters.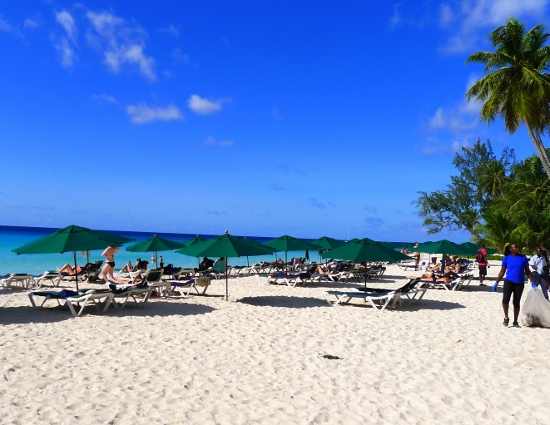 Passengers practice liming on the beach. Photo by Bob Schulman.
Several passengers head off to the Cays' iconic Horseshoe Reef, a long, shallow strip of coral known as one of the best snorkeling spots in the Caribbean. Among homies there are swirls of parrot fish, groupers, snappers and blackfish, together creating a dazzling underwater kaleidoscope bounced around by waving sea fans.
Day Five (Wednesday): Mayreau
We sail a few miles west from Tobago Cays to Mayreau (pronounced my-row), the smallest inhabited island in the SVG group. Here, 300 or so locals go about their business -- fishing, diving for lobsters and a lot of liming -- while tourists come ashore now and then from private boats and small liners like the Wind Spirit. There's no airport on the island, nor any banks or ATMs.
I join 35 of my fellow passengers for a spin around the neighboring islands on a 65-foot catamaran. Along the way we skirt gorgeous spots such as Union Island (home to some 3,000 residents, including a good number of ex-pats) and two privately owned upscale resort islands, Palm Island (named for the palm trees rimming its beaches) and Petit St. Vincent (the southernmost island of the SVG group)
The catamaran's skipper, "Captain Sam," tells us visitors can lime down on a half-dozen more Grenadines outside the St. Vincent group. Long ago, we learn, they were all part of one chain, so named for their governing island of Grenada (Gren-AY-dah) 40 miles south of Mayreau. But after centuries of wars between Britain and France, they were split into two sets of islands, one set governed by St. Vincent while the others are still dependencies of Grenada.
Petit St. Vincent is just a quick sail from Petit Martinique, which anchors the northern end of the Grenadan Grenadines.
Day Six (Thursday): Grenada
I wake up early the next morning and look out of my cabin's porthole. Yikes! Instead of yet another palm-lined island basking in the sunrise I see other portholes -- thousands of them. They're on a huge cruise ship docked parallel with the Wind Spirit on the other side of a pier at Grenada's popular cruise port at St. George's.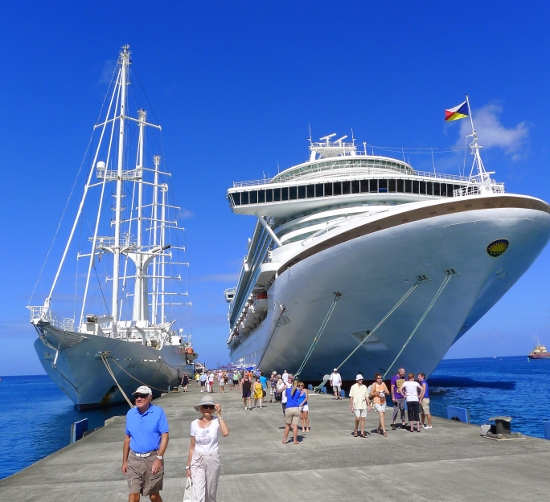 A big cruise ship dwarfs the Wind Spirit at St. George's. Photo by Bob Schulman.
Passengers from our ship join throngs of other tourists jamming the town's wall-to-wall souvenir and spice shops. Others go on packaged sightseeing tours of the island, highlighted by stops at ancient forts, government buildings, spice estates and rum factories.
I come back to the ship with a Bob Marley "One Love in Grenada" t-shirt and a bag of nutmeg, both bought at a world-class duty-free shop right in the port building.
Day Seven (Friday): At sea
We get back to Barbados early Saturday morning, in time for many of the passengers to catch jet flights back to the United States. Others stay on the island for a few days of sightseeing, shopping and a last chance to lime out on the beaches.
Captain Marien reports our week-long cruise zipped through 474 nautical miles of Caribbean waters. We spent a total of 83 hours at sea, of which the sails were up nearly 85 percent of the time.
Seattle-based Windstar Cruises operates three ships: the 148-passenger Wind Spirit, its sister ship the Wind Star and the larger Wind Surf, carrying up to 312 passengers. Besides the Caribbean area, the line offers cruises around the Mediterranean, Northern Europe and other parts of the world, including a number of small ports not served by the big cruise ships.