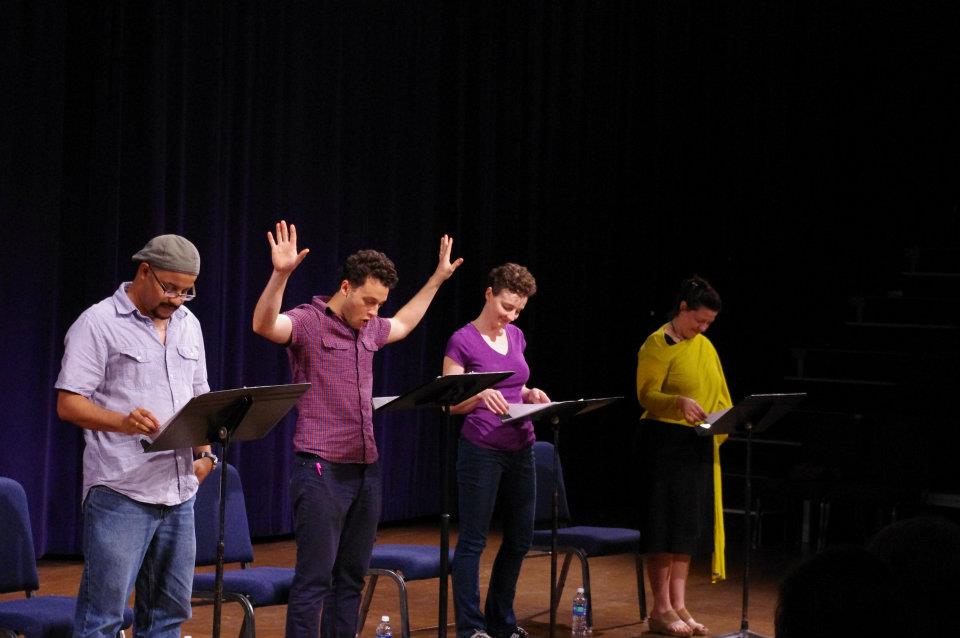 "The Way of Water" presented as a reading at the National Theatre Institute at the Eugene O'Neill Memorial Theater Center.
Last night at The Village Voice's 57th Annual Obie Award's I could not have been more overjoyed to watch playwright Caridad Svich receive her lifetime achievement award. I've been following her Way of Water project over the past seven weeks. Svich's play "The Way of Water," developed in 2012 at the Lark Play Development Center in New York, has launched into 45 readings to date at companies all over the world, including locations in; Canada, Brazil, South Africa, Texas, London, Berlin, New York, California, Scotland and Louisiana (to name a few... Read the full list here). What number could be bigger for a playwright than 45 going on 50?
Not only is the subject matter immediate and evocative, Caridad's writing focuses on humans stories in the aftermath of Deepwater Horizon, embodying a simple poetry of heart wrenching proportions. It may be that I grew up in Nebraska in a family of well drillers, people who live off the land, whose livelihood depended on it -- but I feel that I know her characters. I feel that we all do. Read on for an in-depth conversation about "The Way of Water" and Theater Activism as well as where to attend a reading.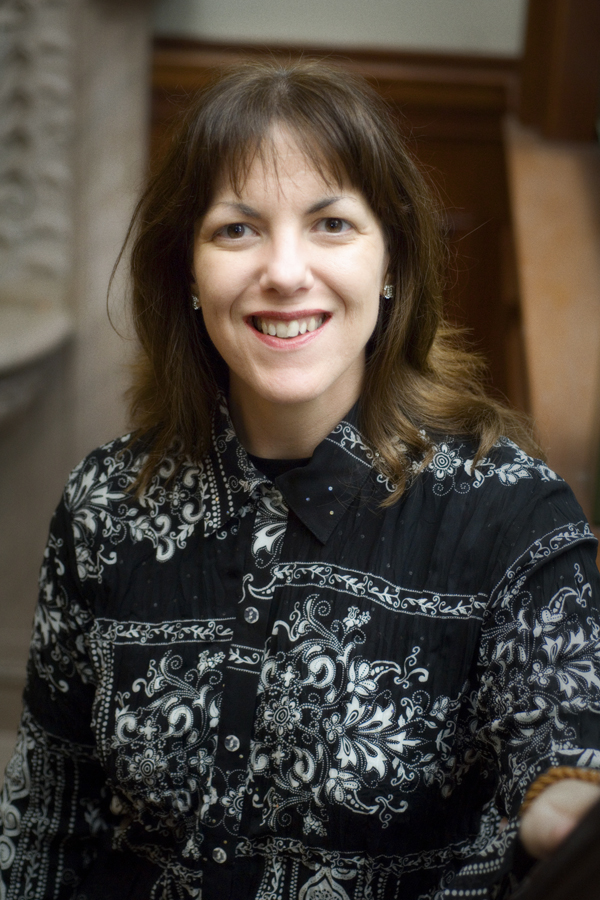 Playwright Caridad Svich.
JODY: What were your first reactions to the BP oil spill and when did you decide to write about it?
CARIDAD SVICH: As you might imagine, my first reaction was a combination of heartbreak, outrage and sadness. For 11 workers who died in the explosion. For the 17 who were injured. For the 35,000 to 100,000 barrels a day of oil gushing from the well and into the Gulf of Mexico after the explosion. As a concerned citizen, I followed the story for no other reason initially than to be informed. The long-term damage to the ecosystem, the marine life, the birds, and the human beings (due to toxic legacy of the spill, and esp. due to the continued dispersal of Corexit past the date when it was required to cease on 15 July 2010), and the simultaneous and complicated stories spun by BP after the disaster were all and continue to be of great concern to me, and I hope to anyone who cares about environmental justice and our planet.

While my concern as a citizen was and is paramount, I am a playwright. That is my life path. So, inevitably, sometime in the early spring of 2011, I began to contemplate the idea of perhaps writing something set in the aftermath of the disaster, mainly as a way to find and fight my way through feelings of outrage and with the hope toward offering some words of healing for the communities in the US Gulf region. I spent early part of my mid-adolescence living in Florida and I have traveled and worked as an artist in and around cities in the Gulf, chiefly in Houston. One of my earliest signature plays "Alchemy of Desire/Dead-Mans Blues" is set in a Louisiana bayou. I have a tangible, emotional connection to the region. Even in some of my plays where the setting is un-specified, there's a little bit of the US Gulf somewhere in the traces of the theatrical landscape either visually, linguistically or poetically.

At first, in the spring of 2011, I started to write a series of poems in my writing journal, thinking nothing more at the time than to begin to shape some of my research and thinking about the event and its legacy, but slowly I realized that these poems were actually becoming a play. I thought then that my way into the material might be from a legal standpoint, i.e. through the various and multiple lawsuits against BP and Nalco, but the more I waded through the escalating levels of research, the more I felt that the human stories were somehow getting lost.

Theatre is many things, but ultimately it is concerned with bodies in space and time, and principally the motion and behavior of human bodies in space and time, and through spoken and visual language. If the human body is not at center, then where is the focus?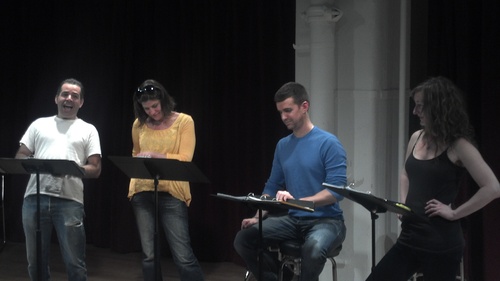 Bobby Plasencia as Yuki, Elizabeth Rich as Neva, Armando Riesco as Jimmy and Caitlin McDonough-Thayer as Rosalie in "The Way of Water" at the 2012 Lark Studio Retreat. Photo by R. Alex Davis.
I set the poems and notes for the play aside, and worked on several other projects, continuing research on this story and its many layers, letting the research and dreaming stir in my consciousness. Then in the late fall of 2011, the Lark Play Development Center in New York City asked me to take part in the Winter Writers Retreat. It is a retreat where a group of dramatists for a very concentrated period of time works on new material or revisions of extant material in a structured, time-intensive manner. I told the administrative personnel at the Lark that I'd be happy to take part in the Retreat and gave myself the goal of transforming the notes and poems and layers of research into something that would be a play.

Shortly after, I realized that my way into the story had to be through the lives of people most directly and acutely affected economically by the disaster: the lives of fishermen. This decision focused my creative energy and suddenly, almost as if I were merely transcribing, the characters in the play started to speak to me, and a great sense of urgency -- a marriage of my writer and activist brain -- took hold. And "The Way of Water" began to take true life.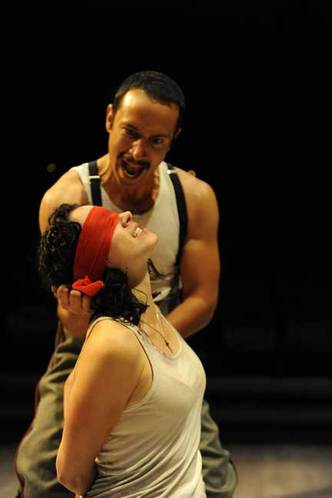 The Denver Center Theatre's production of Caridad Svich's, "THE HOUSE OF THE SPIRITS" directed by Jose Zayas in 2010. Drew Cortese as Esteban Garcia and Meg Wolf as Alba. "THE HOUSE OF THE SPIRITS" is the recipent of the 2011 ATCA Primus Prize.
JODY: Your characters are so deeply flushed out, vivid, heartbreaking in a very real and unsentimental way. I really appreciate that in "The Way of Water" you are writing about Jimmy and Rosalie, Yuki, Neva - struggling working class fishermen and their wive's, people who rely strongly on the environmental economy -- in danger of losing everything. How did you approach writing them?

CARIDAD SVICH: As I said, the characters took hold. They started talking to me - Jimmy, Rosalie, Yuki and Neva - and truly I just followed them where they led me as a writer. It is a mysterious thing that occurs sometimes in the act of writing. It doesn't happen with every play, but on occasion, a play will just seem to make itself. That is to say: that as a writer you feel as if you have stepped aside and there are these other people, these characters that become as real as flesh and blood, take over and your job as a writer is to simply notate what they say and do and what happens. It is a very blessed and rare thing when this occurs in creative writing. In the case of "The Way of Water," this was very much the case.

So, the question, how do I write them is actually how to I step aside and let them be written?

It helps of course that I had spent months and months researching and dreaming and keeping my heart and mind open to the story writ large and the so-called "smaller" stories that emerged after the disaster. Even if I hadn't written a play, my chosen and preferred medium, I think that the impetus to make something, to shape something creatively in response to the disaster, was present and urgent enough in my body and consciousness that I was unusually alert and focused to receive an act of transmission - which is how I view the process of creating and developing characters. Without judgment, without prejudice, with compassion, dignity and understanding of the complicated nature of being human, flaws and all.

As a child of immigrant working-class parents, from Argentina and Cuba, respectively, and thus as a first-generation US born and raised citizen, I am acutely aware of how representations in the media and literature can sometimes err toward the judgmental and perhaps even crude when depicting the working class and the poor in this country. As a freelance artist, living daily in the precarious balance between a wage and no wage, I can't pretend that I don't know what it's like to eke out a living, and to feel the crunch of economics and class. For example, being able to afford health insurance and having a job that offers benefits does matter. It isn't a conceptual idea, but a very practical one. So, for me, as a writer always, whether I'm writing about the working class, the middle class, the upper class or the artist class, it comes down to telling the truth. No matter the structural mechanism of the play, short story or film-script, capturing the truth of the characters, their lives, what they go through, their sheer bone poetic reality, is my mission. I mention poetry because I think, well, that theatre is poetry. It is a poetic medium. It is spoken word. A medium of ontological transformation at the same that it is a medium of civic engagement. In telling stories aloud and in motion, in front of other people, we as theatre-makers are engaged in an ancient spiritual, cultural practice. We are cultural workers reflecting back to society what is seen, not seen, forgotten, dismissed. we re-engage, re-energize and ask that a new kind of dreaming take place. That's theatre.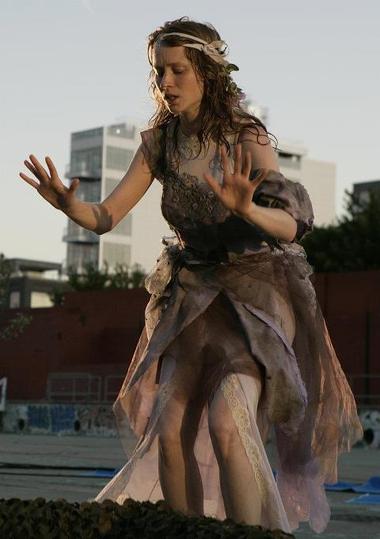 Premiere of the poetic "12 OPHELIAS" produced by Woodshed Collective at McCarren Park Pool in Brooklyn (2008). Pepper Brinkley as Ophelia. Photo courtesy of Woodshed Collective.

With a subject as polemical, difficult and complicated as the Deepwater Horizon disaster, I felt it was my job as a writer to go in through a very focused human story - a story that could also reflect beyond the disaster itself and to how we have lived and are living through many toxic legacies. My goal is not to write verbatim theatre, although I think that writers who choose that path have a perfect right to do so. It's just not my way. My way is through fiction based on, inspired by, drawn from real life and then re-imagined. My way is through the fragility of human experience.

JODY: Do you think that there is hope/ what is your hope for this environmental crisis?

CARIDAD SVICH: Is there hope for what seems to be irrevocable damage to the eco-system? Well, I am a creative optimist. I do hope that the independent scientists and environmental activists who are working daily toward the restoration of the US can help us make sense of this disaster that should not have been. Basically, it comes down toward understanding and caring for an eco-system that is vital - a shared understanding. In other words, don't think of it as "something that happened in someone else's backyard," but truly, deeply understand that it is ALL of our responsibilities whether we live in Omaha or Houston or St. Petersburg or Swansea. Does off-shore oil drilling, fracking and water contamination affect your communities? No one is immune here. Every day we touch products made with petroleum. Every day we have a choice toward moving a step closer toward living a more sustainable existence or continuing to be complicit with the plundering of the oceans and the continued ravaging of this planet. Water is the great topic of the century. Well then, I hope that as citizens, as artists, as audiences listening and responding and being awake to storytelling, and to the true stories that course through our veins of family, friends, lovers, neighbors and fellow citizens near and many miles away, that we can believe in a concrete manner - and not through magical thinking - that what we're made of - what sustains us - water- in great part - is worth fighting for.

The long-term effects of the Deepwater Horizon disaster are still being studied. There is so much we don't know yet, although the fact that two years later, for example, we are seeing mutations of shrimp born with no eyes and are starting to witness severe damage to the coral reefs in the US Gulf are only two signs of many that the "story" isn't over. The very fact that the dispersal of Corexit and the exposure to it in the region has caused and is continuing to cause severe respiratory and other as of yet undiagnosed illnesses in human beings (the effects of Corexit exposure in this disaster are being compared to the Agent Orange in Vietnam) is reason enough to hope and fight for continued investigation and study.

JODY: It seems slightly rare and very important that plays embody science, politics, current events- what effect do you think Art has on policy making and would you characterize this work as a political act?

CARIDAD SVICH: Does art have any efficacy? I've of mixed minds about this. I think if you make work specifically to change a law, to change policy, etc. then it's probably best done through civic action - protest, street action, etc. Art deals in the long term, even when the subject matter is of the now. A play, a film, a TV show, a Youtube clip, etc. has a limited audience, even if it plays to 500 people a night or 1000 or 10,000. The policy wonk or the Congressperson might not even be watching. They may not even care that there's a play or film or novel about a specific subject. Or they may. Unless you're targeting someone specifically. (i.e. Congressperson X, read my petition now) To my mind, historically, art can be part of a larger conversation. Sometimes, in a visionary manner, it can lead a societal and cultural conversation. Sometimes it can respond to an existing conversation. Sometimes it can decide to not enter into the conversation at all and make and/or be something quite radically else, and in so doing, perhaps, in years' time, awaken a conversation in society and culture. Art is fragile. However mighty its aims. Ultimately, an art piece can only be true to itself and to try to effect the change in a room, so that when an audience walks out of the experience, the experience stays with them, and it is the audience that takes ownership of the process of change. I think, for example, of the "AIDS plays" of the 1980s and 1990s - As Is, The Normal Heart, Angels in America, and many more - and the plays demanded to be part of a necessary conversation in society. The artists, with their passion, fury, compassion, imagination, indignation, restless and relentless pursuit of truth-telling through the imaginative act of writing, and the producers and collaborating artists who believed in these plays being performed, pushed a conversation that was already happening in culture into new and re-framed light.

For me, writing "The Way of Water" came out of creative outrage. Yes. I felt that the stories in the US Gulf, the stories of the people, of our fellow citizens, were being forgotten, dismissed, and/or swept away in seeming cultural amnesia that affects the ghoul patrol of aftermath - be it Exxon Valdez or Fukushima etc.) and it was and is upsetting to me. I wrote out of urgency -- political, emotional, spiritual. Making art is political. You have the choice as an artist -- if you're fortunate enough as an art-maker to live in a country where there are less restrictions legally about the kind of art you can or cannot make -- about what you tell,and what you choose to tell, which really means, what you choose to show, expose, or bring to light. This choice and the choices within that choice to show this story now at this time in front of an audience is political.
JODY: You've had an very exciting number of readings (45) of "The Way of Water" all over the world in a short period of time (roughly seven weeks). There is obviously a need for this work, these stories, if you could have this play produced in any venue/ location(s) where would those places be?

CARIDAD SVICH: On April 3rd, 2012 in Austin, Texas the first full reading of "The Way of Water" took place as a collaboraton between ScriptWorks and Hyde Park Theatre. Since then, over 45 readings of the play - as it has developed - have been presented from Pretoria, South Africa to Aberystwyth in Wales, from Sao Paolo in Brasil to Waterloo in Canada and Berlin and Glasgow, and here in the US, from Los Angeles to Muncie to Houston, Tampa, Ashland and Birmingham (Alabama) and more. As of this writing, I'm looking toward readings in Richmond (Virginia), Los Angeles, Baton Rouge, New York City and Chicago. This international reading scheme was set in motion in January 2012 via NoPassport theatre alliance simply because I started contacting people at venues at universities, colleges, theatres of varying sizes, one on one and asking them if they wanted to help raise awareness toward the ongoing environmental and health concerns in the US Gulf region as a way to mark too the two-year anniversary of the disaster. Two brave and hard-working dramaturges Heather Helinsky and R. Alex Davis became part of the scheme's journey and so, we set out to see if we'd find colleagues who'd want to take this scheme on.

I thought that perhaps, maybe, five to ten venues might respond. So, the response has been overwhelming and humbling and really, at day's end, the conversations have been so moving and powerful with actors, directors, educators, audiences so far. I think all told over 1000 people have heard the play already in its development. Each presentation - simple, script in hand - some outdoors, some radically re-interpreted as physical and public art, some conceived as virtual film clips on Youtube and Facebook, some in classrooms, others in theatre lobbies, or on actual theatre stages -- has had its own unique, local energy and focus. The common theme seems to be one of understanding how a toxic legacy impacts all of us, nearly wherever we live.

I think the multiple, complicated stories of this disaster need be told, shown, exposed, heard, voiced. Be it as play, film, documentary, public art, installation, novel, etc. The more voices in this necessary conversation, the more powerful the mutual understanding will be. Where we live, how we live, and why we live the way we live -- that's the story. "The Way of Water" is my offering toward this conversation. Of course, I do want the four characters in this play to find a theatrical home or two. I write plays for performance, not for the drawer and not for readings alone. As for ideal venues? Well, I think it's tough in this biz to single out a theatre. I always find that plays land where they need to land. Sometimes it's in London or Dublin. Sometimes it's in New York City, Chicago, Baltimore, Washington D.C. or Los Angeles. Not all theatres in the US, anyway, produce new writing, after all. That's a fact. At day's end, it will be about who wants to be part of the necessary conversation.
Correction: An earlier version of this interview listed Caridad Svich's last name as Svitch. We regret the error.
REAL LIFE. REAL NEWS. REAL VOICES.
Help us tell more of the stories that matter from voices that too often remain unheard.