When CR Fashion Book — Carine Roitfeld's hotly anticipated new magazine — debuts later this month, there will be no traditional "front of the book" section. Instead, the former editor of French Vogue will present only editorials and feature stories in print, leaving the shorter, newsier bits traditionally in the front of a magazine to live exclusively on her website.
CRFashionBook.com, which launched this morning, will be the online extension of Roitfeld's splashy return to magazines since leaving French Vogue last year. The site, powered by Tumblr, will feature three main sections: The Book, featuring exclusive fashion, travel and lifestyle stories; The Envelope, which will be a daily update of Roitfeld's latest obsessions; and The Wall, which publisher Jorge Garcia says will be "an amalgamation" of the other two sections.
"CRFashionBook.com is like an invitation into my home, to give the reader a glimpse of my world," Roitfeld told The Huffington Post. "It will act as my personal diary to record everything that moves and inspires me."
Garcia says the decision to put all front of book content exclusively online was meant to bridge the gap between exclusivity and relevance, to ensure that they keep the brand "relevant, valid and current."
"The magazine is something special that you will want to keep, while the web brings something instant, current and immediate," Garcia said in an interview. "The web can be more informational in a way that keeps the point of view valid and current."
For Roitfeld, the web offers a chance to experiment with a new publishing metabolism. She'll be posting everything that moves her — from images from the latest fashion shows to emerging designers to young makeup artists — into the site's Envelope section daily.
"I love that the web gives me the opportunity to share my thoughts with my readers in real time, something that I have never been able to do before," she said.
This entree into the digital space is an extension of the theme of rebirth that plays throughout the launch issue of CR Fashion Book, which opens with an editor's letter featuring a photo of Roitfeld's pregnant daughter Julia one month before she gave birth in May, seen below.
"This issue takes rebirth as its theme and is filled with both images and ideas about birth, pregnancy, and family," Roitfeld writes. "The promise of youth. The force of age, and the rush of all things news. It's an escape, a fashion fairy tale. It's a dream of a better life—because fashion is meant to make us dream. CR is a place for these fantasies of fashion—the most irresistible clothes on the most beautiful girls captured by some of the most visionary photographers."
On the web, Roitfeld's priority, Garcia said, was maintaining the same level of luxury and artistry as in the magazine. Both photographers and advertisers from the print book will appear on the website as well.
Garcia said he has been impressed by the way advertisers have greeted Roitfeld's digital efforts.
"I was very impressed with the way people were responding to the digital aspect," he said. "I've been working with digital sites for quite some time and for [advertisers] to be in a site that has a very luxurious environment make it a safe venture for them."
"Carine is definitely a very big pull," he added.
Below, see two images from the launch issue of CR Fashion Book: first, Roitfeld's editor's letter, featuring a photo of her pregnant daughter Julia (photographed one month before giving birth to a daughter in May) shot by Sebastian Faena; and second, an editorial spread shot by Jean-Baptiste Mondino featuring Marte Mei van Haaster and Marie Piovesan.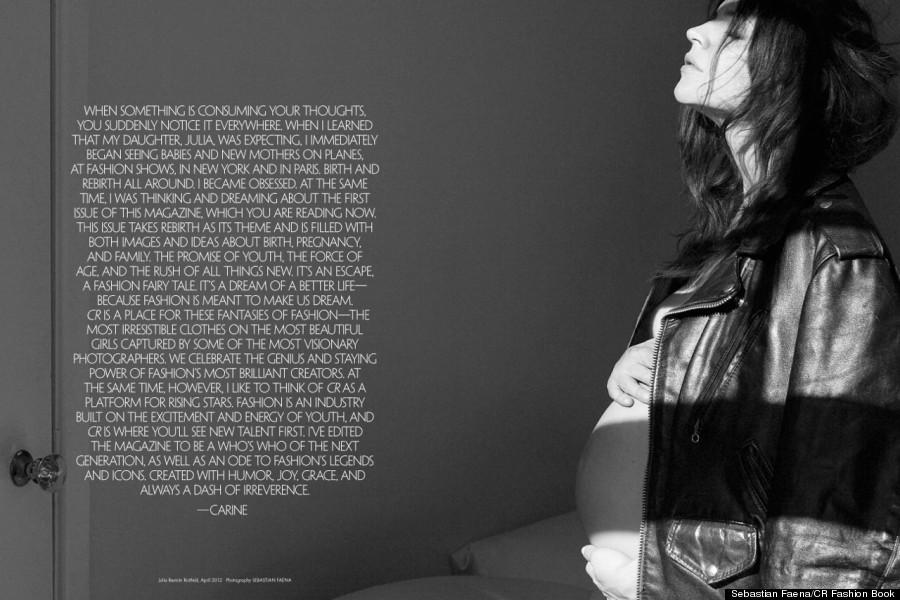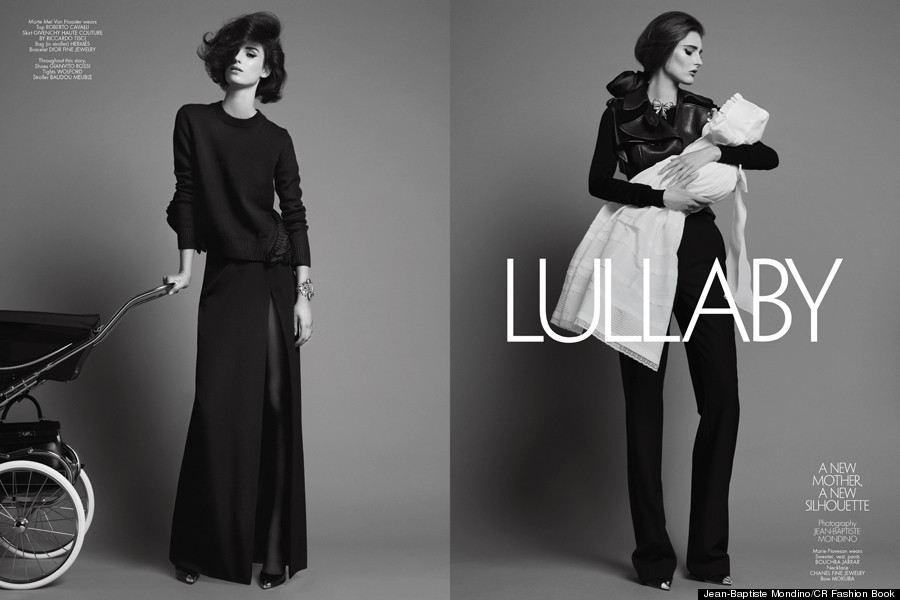 Related