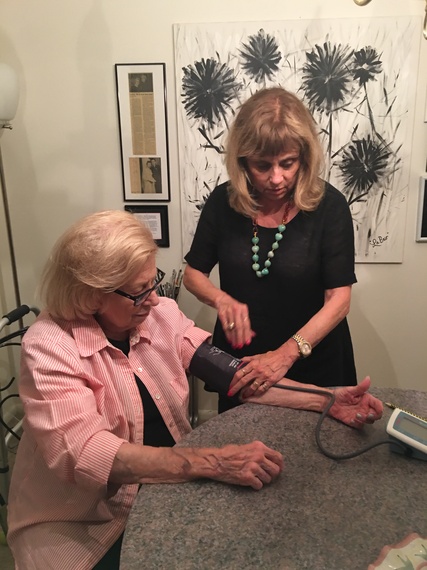 I know I'm not alone. I am an aging baby boomer with a widowed mother who lives 1,000 miles away from me. And there are certain things I can be sure of when I stay with my mom in Ohio.
1. There is usually a funeral to attend. My husband and I fly in on a Sunday and go to graveside services the following afternoon for a 91-year-old close family friend my mother knew from junior high school dances. And at the shiva call we make after the funeral, my husband and I are swept into a large party room -- peopled with adults we have grown up revering. Many with canes. Many with walkers. Many displaying evident decline by stroke, cancer or just the natural ravages of aging.
2. I still see that my mother continues to thrive, while living alone in an apartment building. She still drives, manages her finances and works on the daily puzzle called Jumble in the newspaper while drinking her morning cup of Maxwell House coffee. Unlike me, who usually gives up early in frustration over the baffling information presented, she patiently tackles the blocks, fills in the circles and 100 percent of the time comes up with the sentence to match the cartoon.
3. My mother is still making new friends. After my mom and dad sold their house and moved into a mid-rise building with under cover parking, my mother met a woman her same age, living right down the hall from her. From Connecticut, Carol had moved with her husband to Ohio to be closer to her son and his family. After both husbands passed away, my mom and Carol began spending more and more time together. "I like her so much," my mom notes."Not only do we chat about our health and families, but we are both interested in learning about each other's past experiences and we have found we can relate to each other famously."
4. My mother still has the energy for self-care. Besides some hearing loss due to scarlet fever as a child, my mom's pretty healthy. She takes her blood pressure meds regularly and monitors her blood pressure levels daily. She suffers from arthritis in her legs and as she has grown closer to her 90th birthday, has become more unsteady on her feet. Hence the walker. Hence the daily exercises, mastered at physical therapy, to prevent excess swelling.
5. My mom is still highly creative and participatory. She writes perfectly rhyming poems, signing each with a flourishy "La Bev." And she paints colorful florals on miniature canvasses when the spirit moves her. She gets her hair and nails done weekly and her signature look for her nails is either an exotic color or a flutter of sparkles. She texts on her iPhone, regularly conducts Google searches on her computer and checks her email daily.
6. She remains adaptable. Her apartment's furnishing are far more modern than that of her children's and her closets more organized and streamlined. She tolerates messiness much more than she used to -- I think as a result of realizing out-of-town company is more important than angst over clutter.
7. "La Bev" remains charming. She is well known by both owners and employees at the bagel shop, the print shop, the frame shop, and various neighborhood eateries. Two years ago, she was featured in a commercial to save a famous landmark, Union Terminal. The faces of both the maintenance man at the apartment complex and the night watchman light up when they see her. My dad's former caretaker still brings her boxes of water regularly and her caretaker's grandson helps her with computer glitches. And when we went out to dinner, the waiter treated US to dinner. No joke.
In spite of it all, is she depressed? I'd say so. Hearing loss remains profound and uncorrected by hearing aids-- leading to her being shut out of conversations and increasingly feeling isolated. Her three grown children have all moved away. None of her grandchildren live close by. In a city where she had a vast network of family members, few remain. She is unwilling to move closer to any of her adult children, so she remains in the city of her birth surrounded by loving, long time friends. And, fortunately, she has a companion/helper five afternoons a week who provides company, runs her errands, monitors her meds and makes sure she eats.
My mom misses my father, who passed away four years ago. Life is tolerable. But my mom is not happy. And in spite of all the positives, I think she'd be very relieved to join my dad.

Iris is available to speak on a variety of topics, focusing on self-help, self-improvement and self-empowerment. For more information, contact her at irisruthpastor@gmail.com
If you want more information about Iris's forthcoming book Tales of a Bulimic Baby Boomer, or to sign up for her weekly newsletter, visit www.irisruthpastor.com or follow her on Twitter @IrisRuthPastor.
PHOTO GALLERY
Milestones Through the Years
REAL LIFE. REAL NEWS. REAL VOICES.
Help us tell more of the stories that matter from voices that too often remain unheard.