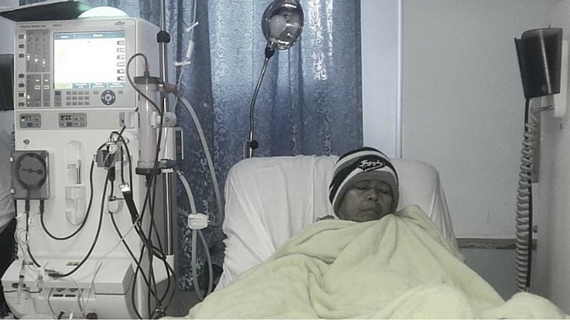 When my mom is on her better days, she can walk, eat, take a bath, dress up by herself.
During her ill days, she needs me to help her do those things for her. I step into the situation and fulfill the role of a parent to her.

My mother suffers from late stage cervical cancer and Chronic Kidney Disease (CKD). In more than one year, she went from an energetic, cheerful, and on-the-go person to someone who is worrisome, lethargic, and needing care 24/7.

The diagnosis came while I am parenting a 2-year-old girl who needs me most of the time also. On top of that, I have a full-time job to do good at, a freelance writing side job to attend to, and a household to run each day. Friends and acquaintances wonder and ask how I do it all. So if you're in the same boat and you're wondering how I stay sane amidst all chaos, here are seven crucial tips to live by.

1. Communicate.

While my child is still young to understand what's going on, my mother is not. It was very tempting to lie to her at first about the diagnosis (I wanted to shelter her from the heartbreaking truth), I realized that it's her body and her life. She deserves to know everything. We've kept an open line of communication since the day of her cancer diagnosis. I made sure that she always get a say in every decision to make, even if I don't agree with her choices some of the time.

2. Allow others to help.

People who think I do it all got it all wrong. I'm no supermom. While it took me some time to accept the fact that I wasn't self-sufficient anymore, I realized it's my mother's and my child's well-being that's at stake here. So I have to do everything that I can do including allowing people to help us (which is something I've struggled with for a long time).

You may find this uncomfortable at first, especially if you're used to dealing with tough situations on your own. However, cancer is no easy battle and it gets tougher with each day that passes by. So it matters a lot to have the right help when you need it. The "help" you're going to accept need not be all about money, anyway. For example, I accept neighbors or friends' offer to pick up groceries for us when they'll do their own grocery shopping. Some relatives also offered to oversee my daughter during days I needed to bring my mother to the hospital.

3. Keep a schedule.

Another thing that helps me keep my sanity as I navigate probably one of the toughest roads of parenting is when I have a schedule planned way ahead of time. Before March kicked in, I've already planned for it in February. The plan includes all the days my mother needs to go to the hospital for her treatments, doctor appointments, blood transfusions, who will oversee my daughter while I'm in the hospital, and how much money do we need for the month. Knowing that I'm in control of some things calms me down. More importantly, having an idea of the approximate amount of expenses we'll have in advanced helps me figure out ways to make ends meet, if in case what I earn from my full-time job doesn't cut it (and it doesn't, most of the time).

4. Have a backup plan.

Sometimes, plan A won't work. So even before that happens, you've got to have a backup plan. Or backup plans, if possible. For me, that includes the names and contact information of friends who have expressed their sincere desire to help me deal with the challenges that come with taking care of my mom while raising my daughter.

When any part of my plan A didn't work, I make calls to see if any of my friends can help, say take my mother to the hospital, sit with her while I'm on my way, or take care of my kid.

5. Be your own medical advocate.

While doctors spent huge time studying about medicine and treating patients with the same or even worse case, they don't know everything. I, for one, have been cautioned about not going online to read more about my mother's case because of contradicting information which can cause confusion. However, I believe I'm capable enough to decide which resources I can trust. So do your own research by asking people around and scouring the Internet. You're old and smart enough to distinguish between the reliable information and the opposite.

6. Realize you can have more good times than the bad.

When you know how the story ends, it's hard to carry on. However, if you exert a conscious effort and focus on creating brighter memories, you'll find that you can laugh more than you cry. On her better days, I take my mother to parks so she can inhale some fresh air and connect with nature. On days she's ill, I make calls and see who among her friends can visit her so she won't feel alone. When I'm not working, I make sure I put the phone down and be in the moment with her and my daughter as much as possible. This way, my memories with her don't have to be all about what happened while we're in treatment rooms, waiting rooms, and emergency rooms.

7. Your faith will go a long way.

Having faith in God helps me fight this tempestuous storm each day. On days I'm afraid and overwhelmed, my faith enabled me to have the strength I need to keep moving forward. You'll make it through if you hold on to your faith and believe in the impossible despite how dark the circumstances are. Remember, there's always a silver lining in every cloud.