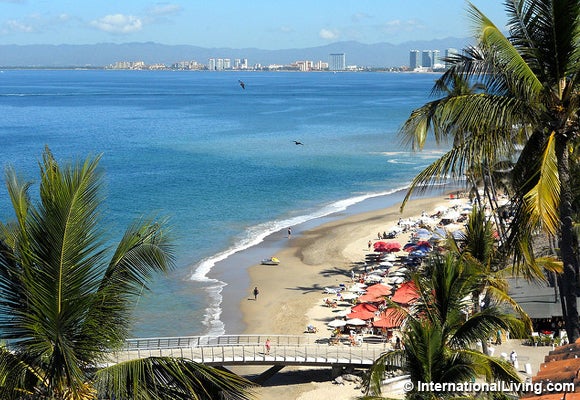 This article comes to us courtesy of InternationalLiving.com, the world's leading authority on how to live, work, invest, travel, and retire better overseas.
At a fit and youthful 60 years of age, Mike Hord sports a contented grin as he guides his four-legged charges along the winding malecón (esplanade) in Puerto Vallarta, Mexico. The sparkling blue waters of Banderas Bay are to one side, the purple hues of the Sierra Madre Mountains to the other.
"The difference is amazing to me," he says, comparing his new life to the one he left behind in Manhattan. "The stress is completely gone now. It was a life-changing transformation to come here. And the best part is I get paid to be with these wonderful dogs in this beautiful place."
Not long ago, Mike's days were filled with the many stresses of owning a successful construction business, which was focused on the historic restoration of New York's oldest buildings.
"There is always a lot of stress in the construction business, but with historic restorations, the regulations and protocols are especially rigid and demanding. There is no room for error and that is a challenge, day after day, year after year. Plus, as I got older, it became harder to tolerate the cold, grey weather. It was taking a toll on my mood and health.
"Now I completely fund my life by caring for and training dogs in paradise, with zero stress," says Mike. "I live on far less than I've ever lived on before, and I have a wonderful, healthy, and simple life."
Lying on Mexico's Pacific Coast, Puerto Vallarta has been a world-famous, international resort for decades now, attracting vacationers and expats from around the world. From the bay's sparkling beaches, the city's cobblestone streets wind up the steep hillsides, providing countless spectacular views over the Pacific. Here traditional architecture (such as the famous Church of Our Lady of Guadalupe) meets modern hotels and condos, a delightful mix of the old and the new.
"I came here originally for a dental implant in 2013," says Mike. "It was about a third the cost of what it would be in New York, and I thought Puerto Vallarta would be a nice place to visit. I returned for more dental work, but that was mostly an excuse. I stayed longer than I needed to and kept coming back over the next few months."
Mike realized that he was a different, more relaxed person in Mexico—and he liked it.
"I started taking Spanish lessons and I walked miles and miles, exploring the town," he says. "I went swimming in the ocean after my lessons every day. Each time I went back to New York, it became harder and harder to face."
Knowing now that he wanted to move here permanently, he set about making it happen.
"I made a two-year plan to move to Puerto Vallarta and applied for a Temporary Resident Visa through the Mexican consulate in New York before I left. I bought a one-way ticket and packed a small suitcase. My dog and I moved permanently to Puerto Vallarta."
Mike parlayed his construction and restoration experience into a great living situation. Having found a historic home that he liked in Puerto Vallarta's Centro, he approached the owner and worked out a deal to do some restoration work in exchange for reduced rent. Mike now pays less than $500 a month for a one-bedroom, one-bathroom, ocean-view apartment with a studio that could serve as a second bedroom. His total cost of living is between $1,000 and $1,500 a month. This is much lower than his old life in New York City, where his apartment costs alone came to $2,200.
"The difference is big," he says. "Groceries are much less expensive here and the produce is superior. The other night I went with a friend to Pancho's Tacos. We had four tacos each and hibiscus tea. It cost 145 pesos ($8) including tip. We went to a first-run movie at the Cinemax. It was 120 pesos ($6). A bus in New York City is $2.50. In Vallarta it's 7.5 pesos (around 40 cents). Taxis are also inexpensive here."
Mike's business began with walking and exercising dogs for friends and neighbors who did not have the time. It has since grown and expanded to caring for dogs when their owners are working or traveling.
"I've always loved dogs, and even when I was a child, I loved working with them and teaching them tricks," he says. "That's how it started: I noticed that many people were asking about dog training, walking, boarding, etc. The opportunity was right there.
"Many of my clients work during the day and don't want to leave their dogs at home alone. So I started a daycare business for their dogs. Now all the dogs can play together during the day and get regular walks and exercise."
All told, his startup costs came to around $1,000. Mike says his best advertising is word of mouth and being active in the community.
"Once I was at Starbucks when a large dogfight broke out between leashed dogs. Their owners were yelling and screaming and didn't know what to do. I was able to step in and get things sorted out…and picked up two clients right there."
From humble beginnings, his business now allows him to live a comfortable, happy life in Puerto Vallarta.
"I don't have any plans of completely retiring. I love my business here and I still maintain a much smaller version of my company in New York, which my partner oversees. I go back to New York when I can and he comes to Puerto Vallarta as often as possible. We are making it work for us.
"I don't want to live anywhere else. This is perfect for me."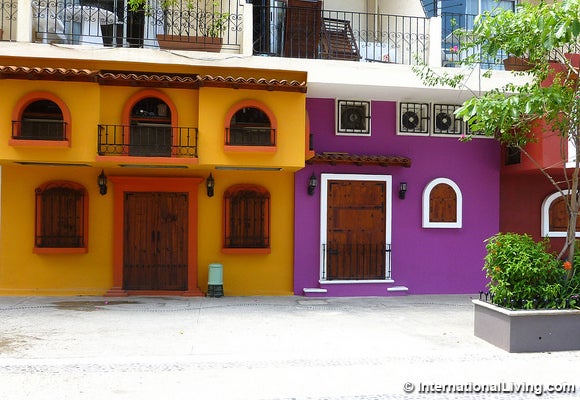 Calling all HuffPost superfans!
Sign up for membership to become a founding member and help shape HuffPost's next chapter
This post was published on the now-closed HuffPost Contributor platform. Contributors control their own work and posted freely to our site. If you need to flag this entry as abusive,
send us an email
.