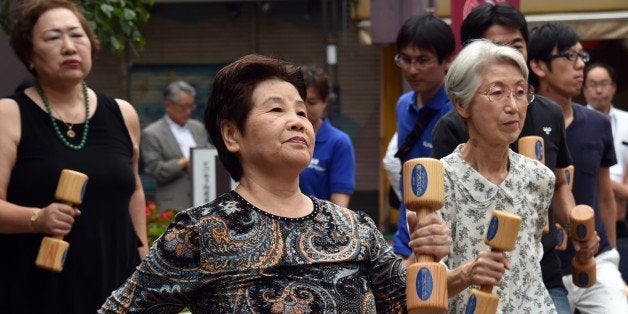 How the elderly are regarded varies in different parts of the world. Here are seven very cool things about how the elderly are seen and treated in other countries:
1. Japan has a national holiday called Respect For The Aged Day.
The third Monday of every September in Japan is a national holiday designated to honor and show appreciation for the elderly. It's a paid holiday from work and traditionally, gifts are given to grandparents after sharing a festive meal with them. Respect for the Aged Day is a far more serious event than, say, Grandparents Day in the U.S. Neighborhood volunteers distribute free obento boxed lunches to elderly people. In some small villages, younger people and school children dance and provide entertainment. There's a "no-elderly-left-behind" attitude about it so even the lonely get some attention.
China is projected to have 636 million people over age 50 by 2050, or nearly 49 percent of the population -- up from 25 percent in 2010, according to a report in USA Today. And somebody needs to care for them, goes the government thinking.
3. In Scotland, they actually listen to the elderly.
Scotland's "Reshaping Care for Older People" program sets out with this vision: "Older people are valued as an asset, their voices are heard and they are supported to enjoy full and positive lives in their own home or in a homely setting." One of the things that irks the elderly is to be frozen out of the discussions about them. Ever take your Mom to the doctor only to have him speak about her directly to you, as if she wasn't even there? In Scotland, they've pledged to hear the elderly. The cultural thinking -- and the money -- has shifted away from hospitals and toward preventative care. The emphasis is on adapting homes so that people can age and stay in them. The elderly spoke and someone listened big-time. Nearly 90 percent of Americans told AARP that they wanted to stay in their homes as they aged.
4. Who are you calling "old?"
"Old man" isn't a slur in Greece; in fact, it is quite the opposite. As Arianna Huffington discussed in her book On Becoming Fearless: "Ten years ago I visited the monastery of Tharri on the island of Rhodes with my children. There, as in all of Greece, abbots are addressed by everyone as 'Geronda,' which means 'old man.' Abbesses are called 'Gerondissa.' Not exactly terms of endearment in my adopted home. The idea of honoring old age, indeed identifying it with wisdom and closeness to God, is in startling contrast to the way we treat aging in America."
Calling all HuffPost superfans!
Sign up for membership to become a founding member and help shape HuffPost's next chapter
BEFORE YOU GO
PHOTO GALLERY
Cheapest Places To Retire