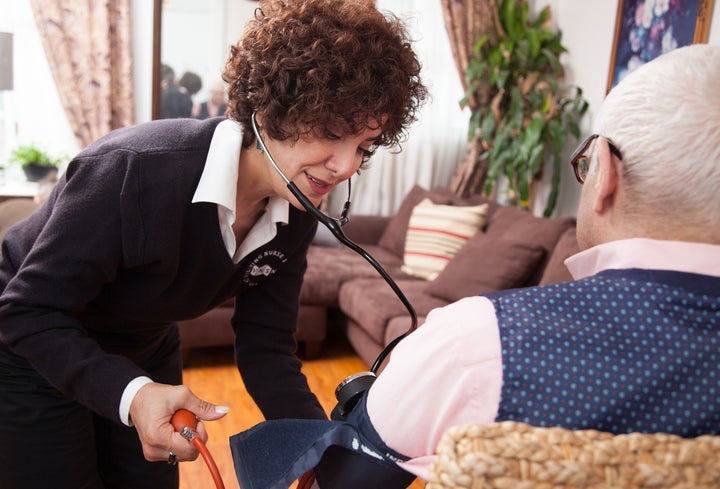 Nurse Joyce Henry and her home care patient, Martha P., quickly found common ground: They had both grown up in the Caribbean, Joyce on the island of Trinidad and Martha in Jamaica. Both knew the culture's deep stigma around gender nonconformity—and Martha knew it first hand, growing up as a boy who "always felt different."
"I understood how hard it must have been for her," says Joyce, who provided skilled nursing care to Martha following gender confirmation surgery. "She felt relaxed, that I was someone she could relate to. In addition to providing physical care, I also provide the emotional support that I give to all my patients."
That is home health care in a nutshell. Delivered in the sanctuary of the home by providers trained to observe, listen and meet individual needs, home health care offers a unique opportunity to make a profound difference in the health and well-being of lesbians, gay men, bisexuals and transgender people as they age, recover from illness or injury, and struggle with chronic conditions.
In home health care, we take care of isolated patients all the time and are highly competent in assessing what they need to stay safe and independent in their homes, on their own terms. Because we see people in the full context of their lives—in their homes, as opposed to clinics or doctors' offices—and can assess and meet their needs in ways that go beyond the physical, we are the perfect workforce to bridge this gap in care and ensure that LGBTQ older adults have access to the physical, emotional and social supports they need and deserve.
This is one reason that my colleagues and I at Visiting Nurse Service of New York are especially proud of our recent SAGE recognition at the highest credentialing level: Platinum. Our agency already holds SAGE accreditation in our Hospice Care practice, and earning this distinction in our home care business as well helps us let members of the LGBTQ community know that we understand what they need, and can be trusted to deliver compassionate care with knowledge and skill.
As part of the SAGE accreditation process for VNSNY Home Care, our agency recently completed SAGECare training in cultural issues, sensitivities and best practices around sexual orientation and gender identity. Among other things, the training emphasizes the importance of approaching each patient in a nonjudgmental fashion, using respectful language, and never making assumptions about anyone's sexual orientation or family structure.
With this in mind, I wanted to share with you a few insights into key ways we are working at VNSNY to ensure inclusive, respectful and culturally sensitive care for our LGBTQ older adults. We take this responsibility seriously, and are proud to be at the forefront of a movement to ensure that all home care patients, including the LGBTQ community, have access to the care they need and deserve.
Honoring the Customs of the Home
As guests in someone's home, home care providers are highly attuned to each patient's cultural, religious and personal practices. If one's religious or personal practice calls for removing shoes at the front door, we remove our shoes. Our frontline caregivers strive to quickly understand customs and norms of all homes they walk into, and homes of LBGT older New Yorkers are no different.
We pay special attention to and adopt the words our LGBTQ patients use. If they refer to the person they live with as their roommate, we honor that term. Similarly, if they use the term partner or spouse, so, too, do we. Speaking a "common language" helps put our patients at ease and helps us have more authentic, productive conversations.
Understanding Personal History
Most LGBTQ older adults—as compared to younger generations—grew up in a time of crippling discrimination, when homosexuality was viewed as a crime, a disorder, a firing offense. For many, this fear of judgment and isolation remains, sometimes creating a barrier to health care. In fact, according to SAGE, 40% of LGBTQ older Americans say their healthcare providers do not know their sexuality, which can lead to incomplete care.
Many LGBTQ older adults are also estranged from their birth families, and go on to create "families of choice," powerful and vital social and support networks that have been with them throughout their adult lives. Because families of choice are often made up of peers (who are aging, too), 40% of LGBTQ older adults say their social network has become smaller as they age, as compared to 27% of non-LGBTQ older adults, according to SAGE.
Home care workers seek common ground with our patients all the time, to break the ice, ease into care and, often, begin a relationship that goes deeper than physical care. It can begin with a mutual culture or language, a love of pets, or passion for jazz or the local baseball team. It's no different when we work with LGBTQ older adults. For Joyce, a conversation with Martha quickly revealed what they had in common. "I said, 'Where are you from?' and when she told me, I said, 'How did you cope?' We both knew what it was like to grow up in the Caribbean, and I knew how hard it must have been for her." Joyce gave Martha her cellphone number, saying, "Any time you are under stress, you can call.'"
Connecting to the community
An important piece of home care is connecting people with resources in their community. For LGBTQ older adults, that may be senior centers, adult day centers, or resources particular to the LGBTQ or senior community. A list of SAGE resources in New York can be found here.
Meeting People Where They Are
While we strive to have open conversations and meet the needs of the LGBTQ older community as each individual expresses them to us, we also fully respect the desire to keep sexual orientation and/or gender identity private. The SAGE training helps us pick up on cues, and our overall home care training—and, often, innate personalities—make us skilled, active listeners.
No matter the situation, we aim to create an inviting, nonjudgmental environment for care. I am inspired by care providers like Joyce, for whom working with patients is a two-way street. She quickly mentions all that she's learned from Martha, and adds that she plans to take Martha up on an invitation to hear her deliver a lecture in April on transgender issues. This is the essential dialogue of home health care: we listen, we learn, and we care.
REAL LIFE. REAL NEWS. REAL VOICES.
Help us tell more of the stories that matter from voices that too often remain unheard.