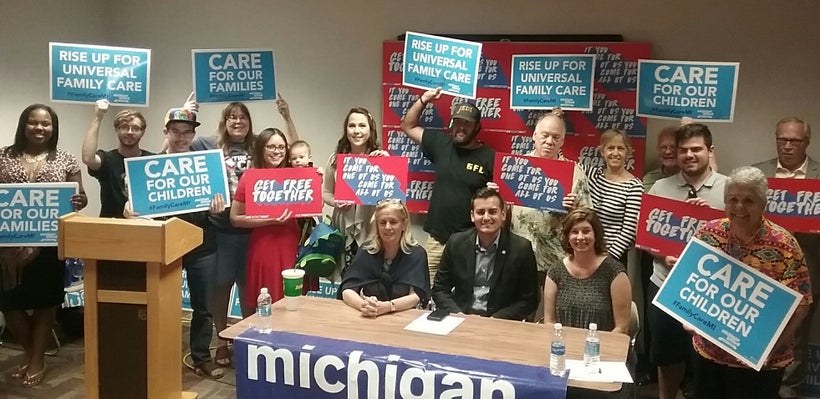 Kari Snyder, a mother of two from Wyandotte, has plans to go back to school for a Master's degree. For now, she has put those plans on hold. An advanced degree for Kari would mean a higher income for her and her family, but being a stay-at-home mom is a full-time job and going back to school at this time is not possible. Kari says, "My husband's 12 hour swing shift, student loans, child care prices and lack of family able to chip in leaves us with no financially accessible options for either of us to go to school to better ourselves. Both of us need more education to advance but it's out of reach because we have two small children."
Kari and her family are not alone. According to a care report by New America, "The average cost of full-time care in child care centers for all children ages 0-4 in the United States is $9,589 a year, higher than the average cost of in-state college tuition ($9,410)." That means, according to the same report, that a family at the median household income would need to spend one-fifth of its income on child care whereas an individual earning minimum wage would need to spend two-thirds of their earnings. Oriana Powell, a new mother and community organizer with Michigan United, has received caregiving support from family members, who care for her newborn while she is at work. Oriana says, "My partner and I checked out several day care facilities; child care was just something we could not afford." In Michigan, "full-time care is greater than 90 percent of the typical cost of rent." For low-wage workers and single parents, a lack of affordable day care options leaves many forfeiting their job to provide child care themselves—even when they need that income to survive.
Alexis Wyatt, a single parent from Brownstown Township, left her job when her youngest child, Alexander, was born with severe illnesses and health complications. Affordable infant care that would provide her ill son the quality care that he needs to survive has been impossible for Alexis to find. The Michigan League for Public Policy reports that "the average annual cost of full-time infant care in a child care center in Michigan is over $10,000, which is nearly half of the state median income for a single mother, and 13% of the median income of a married couple, placing Michigan as the 12th least affordable state in the U.S. for infant care." Rebecca Gray, the new mother of a 7-week old, had an emergency c-section after she delivered less than a month ago. She says, "I've always supported paid leave and public childcare, I am now truly angry that our legislators aren't acting to reflect this need. I had an emergency c-section and couldn't walk without assistance for the first 10 days. Not only did I need time off to heal, I needed my partner to have time off to help me—and he ended up quitting his job in part because he had zero guarantee of even unpaid time off."
Elder care is similarly unaffordable. Long-term care, such as nursing home or in-home care, is typically not covered under standard health insurance plans. If you do not have the money to pay for long-term care but need it, you will most likely have to spend down to $2,000 or less to qualify for Medicaid, a program that provides for many long-term care needs. Terri Voepel-Lewis says, "A few years ago, I had the privilege of caring for my mom in my home for the short months before her death. However, we had to hire care workers to be with my mom during the day so that I could continue to work. Two short months of care cost several thousands of dollars, nearly depleting my mom's savings just prior to her death. Had she lived longer, I would have needed to quit my job in order to provide her necessary care. We were lucky to be able to cover the high costs for this short time. Many are not."
There are similar stories surfacing at community conversations, "Care" film screenings, and campaign events across the state. If we reflect deeply enough on our own lived experiences, we will find our own stories or know the stories of our neighbors and relatives. These stories are not isolated; they are the result of a lack of care infrastructure in our country. Addressing all of the issues related to care will mean pushing a bold, intersectional policy agenda. Rebecca Gray says, "I know many other families are struggling with these same care needs but as this stress falls primarily on women, especially women of color, our culture ignores it and normalizes it, taking our reproductive labor for granted. I want my elected officials to hear mine and others' stories and understand that it is time to pass policies that support care for all families—we won't wait any longer!"
Michigan United, a statewide organization fighting for the dignity of every person, is taking action. In May of 2017, Michigan United launched a campaign for Universal Family Care (UFC) in Lansing with co-sponsors Rep. Hoadley (D-Kalamazoo), Rep. Chang (D-Detroit), and Rep. Camilleri (D-Brownstown Township) present. Meredith Loomis Quinlan, UFC Campaign & Strategic Initiatives Director for Michigan United, explains,
Universal Family Care is about being there for the ones we love, and was created by listening to the day-to-day experiences of families, who really know what we need to thrive. I believe we can find innovative, proactive policy solutions that not only relieve the burden and stress of caregiving, but positively invest in Michigan's care infrastructure. What does that investment look like? It looks like family members being compensated for the loving and hard work of providing care, it looks like care professionals making enough to live with dignity after caring for our children and elders all day, and it looks like new state-based programs to meet the needs of Michigan's families as our demographics change and our population grows older. All of this will require leadership from our representatives in Lansing. So far, we have been encouraged by bipartisan support for a long-term care study bill to assess the current landscape of long term care in our state and analyze potential solutions.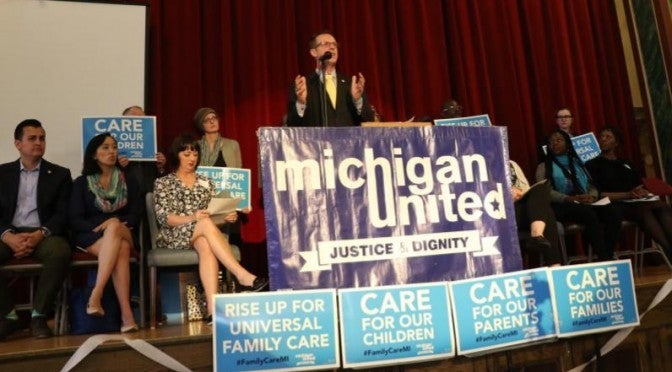 This fall, Michigan United is leading a statewide organizing effort to pass the bipartisan Long-Term Care Study Bill (HB 4674) in the legislature. HB 4674 will provide an opportunity to do a rigorous needs assessment of long-term care in Michigan and provide an actuarial analysis of potential solutions. Michigan United is also working with SEIU and NDWA to create a people's union for child and home caregivers. Rai Lanier, the lead organizer of this project, says that "the work of organizing child and home care workers together is new in movement organizing" and "this work is restoring justice and dignity within a culture shift." You can learn more about the campaign by visiting www.careformichigan.org.
REAL LIFE. REAL NEWS. REAL VOICES.
Help us tell more of the stories that matter from voices that too often remain unheard.
This post was published on the now-closed HuffPost Contributor platform. Contributors control their own work and posted freely to our site. If you need to flag this entry as abusive,
send us an email
.