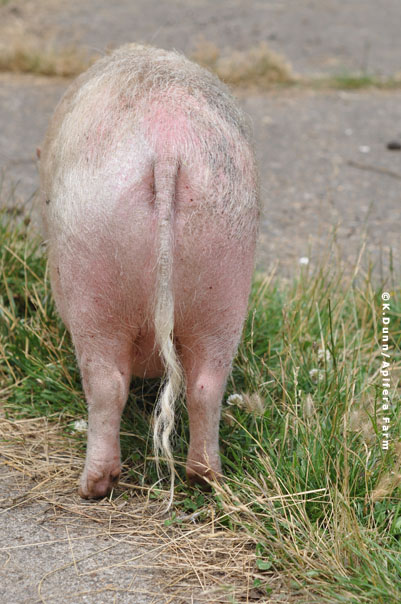 "I'm going to take you fishing," I told my husband,
His expression showed delight, as he hadn't had time to fish since fall. He had worked tirelessly on so many projects all winter and spring, then went right into summer field work here at our farm.
"I have a little Inn all picked out and it will be my treat, " I continued.
More delight danced in his eyes.
"We'll fish some on Saturday, and all day Sunday if you want ... and then Monday we'll pick up the pig," I went on.
"Yes, the pig, and Stevie the handicapped goat. They go together," I said.
You know you're married to the right person when he considers a fishing weekend fair exchange for driving 12 hours round trip to bring home a pig and her crippled goat companion.
I had been researching pig ownership for a couple years and knew the subtle nuance of the Apifera barnyard required that any incoming pig had to be just the right fit, or it could result in an old goat uprising or depressed senior goose therapy sessions. While several pigs were brought to my attention, they just didn't feel like the right fit.
And then I found Rosie. While Rosie herself wasn't old, her owner was and the elderly woman could no longer care for her. She tried very hard to find her a home and felt her final option was to euthanize her rather than let her fall into a large shelter. But Rosie was taken in by a wonderful "care farm" called Sanctuary One. I immediately felt a kindred connection with them, as the mission of a 'care farm' (a popular concept in Europe, but yet not as well known in the States ) is to bring together people, animals and earth, and let them work together for mutual healing. The fact that Rosie's owner was elderly also brought up emotions for me, knowing the loneliness and sadness the elderly go through losing friends, mates, homes, health, mind, senses ... and animals as their lives wind down.
Rosie was not spoiled by couches, late night TV or too much food out of a refrigerator. She was a farm pot bellied pig, not a celebrity kind of pig. And when I found out she came with a handicapped goat, I just knew she was the one. Stevie, the goat, was part of a huge neglect case in Oregon where he and 30 or so other goats were taken in by the Humane Society. His feet were about 6+ inches of curl, and he could no longer walk. A ligament operation was donated so he would be able to at least get off his knees. His legs would always be bent and he would be handicapped, but it would allow him to walk. When Stevie was placed at Sanctuary One, he immediately bonded with the little pig. Lovers? Friends? It matters not, Sanctuary One saw their bond and wanted them to stay together.
Stevie is very kind and dignified, like any physically challenged man, woman or beast strives to be. They told me he gave kisses, and I can attest that this is true; he reaches out his face to you and keeps his mouth closed, but presses into your cheek -- a very gentleman kind of kiss.
When I care for the needy or old animals at our farm, it heals the misfit in me. Old or special needs animals (and people) are often seen as misfits or "not right" -- not young enough or not pretty enough. How many times had I felt that? Even as a young child, I remember being drawn to those misfits.
I spent my first morning with Rosie rubbing oil on her dry skin (she was shedding and right now is in a rather hairless state -- something pigs go through). While this might seem like an odd comparison, it reminded me of my father in his final year. He too had painful, dry skin. His 83 year old legs and arms were often chafed just like Rosie's. Each time I rub oil into Rosie's dry skin it is a way for me to connect with my father. Even though I couldn't help him then -- I couldn't be there to perform such a simple, caring task as rubbing oil onto his skin -- caring for Rosie helps me heal that sense of helplessness I carry with me after his death, and it also only helps her too.
Each time I can use my hands to touch an old creature with massages or gentle pats of "hello", it is like doing this for my father -- and all the old people that I could not help, or can not help.
That is what I want Apifera Farm to be -- healing. Not just for the animals, but for the people I bring here, both young and old. Martyn and I nurture the earth as best we can and in return it feeds Apifera as best she can. The animals feed our souls, and we in turn rub their aging bones and sing to them in death.

Katherine Dunn is an artist, writer, and shepherdess at Apifera Farm where she lives with her landscaper husband. Her new book, Creative Illustration Workshop [Quarry Books], is now available. She also muses about farm life, old goats, donkeys, feral cats, weeds, pie, chicken underpants and puppets on her blog.
Related