The training in Huazhou came to a close in mid-January, just before the people of China turned full attention to celebrating the New Year of the Horse. The new teachers, nannies and the now fully-engaged staff of the orphanage decided they should have a celebration too. It would be the children's first party ever.
The new preschool was decorated with the children's first watercolor art. On a large white sheet, the children and their nannies and teachers and even the orphanage director dipped their hands in paint and stamped a palm print mural to hang on the preschool wall. Half the Sky Teacher Zhou said, "Now you can be reminded every day that we are all working together to make life beautiful for the children."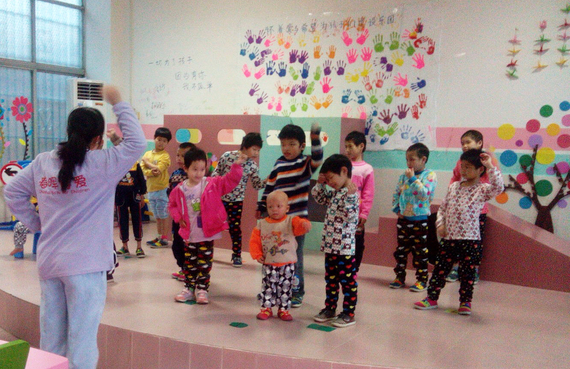 A slide show brought back moments from before and during the training. The orphanage director talked about how much he had learned. He promised that a new building, now under construction, would house a Family Village, Half the Sky's permanent foster family program. All of the children in Huazhou would soon be living in loving families.
Then it was party time. On came the music. Out came the sweet treats and the dress-up clothes. There was plenty to celebrate!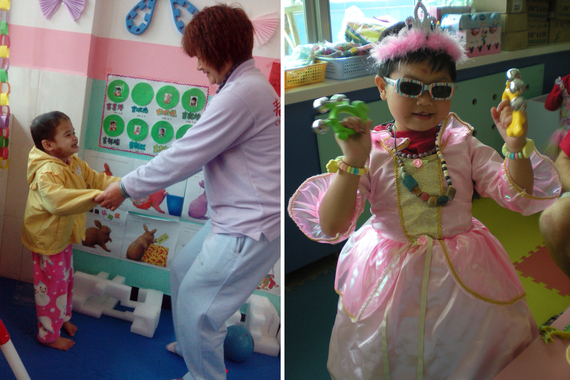 As the children played and danced to the music, Half the Sky Teacher Li chatted with the trainees, "Now you know that through observation we can try to understand why children behave as they do, instead of making judgments about them. Understanding is more important than sympathy. If we understand, we can begin to help the children from a tender place in our hearts."
Even the most resistant orphanage staff seemed transformed. By the last training day, almost all were attending classes, even office workers. Now, as they talked about their experiences in the group, we knew that the changes in Huazhou would not end when Half the Sky trainers moved on.
A supervisor who'd once told us that the children were not capable of learning, said, "This training gives me a feeling of being wanted and needed. Seeing the children who could not walk before learn how to walk, and seeing the babies who could not sit begin to learn to sit on the mat have been the most rewarding things in my life. Now I see we can bring children a different future by our positive actions."
A new preschool teacher said, "I think the children here have lacked love for a long time. I learned how to be with them and show them love with every hug, smile and kiss. I learned to squat down when I talk to them. I learned Half the Sky ways to interact with the children using compassion, harmony, and understanding. I learned to observe them while opening myself to a new perspective. The most important thing is to love them from the bottom of my heart."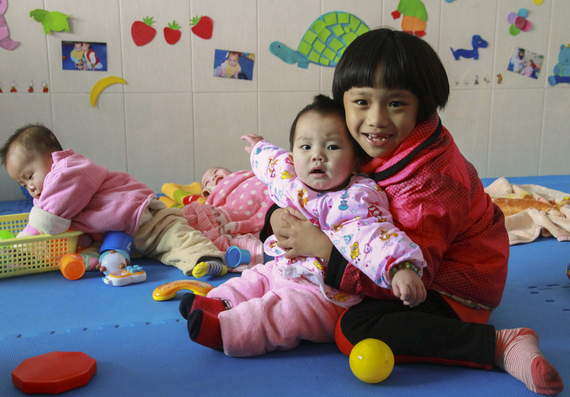 The new youth mentor said, "Facing this special group of children, what I learned is I need not only professional skills, but a big heart and patience to love and respect them. I need to listen to the inner voice of the children and be with them when they're wronged and let them know they are loved and that I care what happens to them. I'll be at their back when they are facing difficulties, and share their joy when they are happy. I am their teacher and mentor but also their friend and mother. My actions will influence their whole lives."
Next: A return visit to Huazhou
In her new memoir, Wish You Happy Forever, Jenny Bowen told the story of Half the Sky Foundation's failed attempt twelve years ago to help children in Huazhou, a small orphanage in southern China. Now, as she relates in Part 7 of a series, Huazhou is becoming Half the Sky's 53rd children's center and is representative of a national initiative to reimagine child welfare in China.
REAL LIFE. REAL NEWS. REAL VOICES.
Help us tell more of the stories that matter from voices that too often remain unheard.