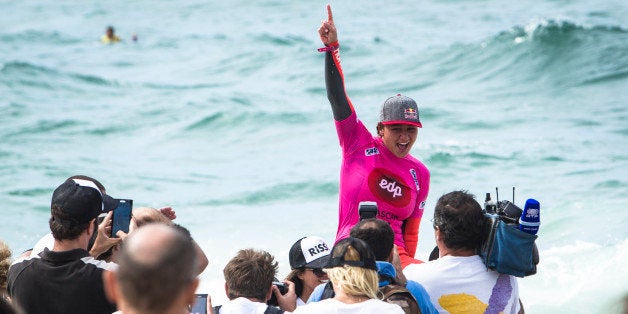 Most athletes go after world titles for fame, million dollar sponsorships, or even bragging rights. But when Carissa Moore was asked why she wanted to win the world surfing title, her answer was simple:
She really wanted a puppy.
Turns out, her dad promised the 21-year-old that if she were to win the ASP Women's World Championship, he would buy her a puppy. And that's exactly what happened.
Moore's battle with Australian Tyler Wright for the world surfing crown was one of the closest battles that the ASP had ever witnessed, but Moore secured the top spot after Wright was eliminated by Sally Fitzgibbons.
When Moore arrived back home in Oahu last weekend after winning the 2013 title in Portugal, she went straight from the airport to pick up Tuffy -- the adorable black labrador-terrier mix she had always wanted.
Moore will spend the next four months enjoying her time at home in Hawaii. We imagine she'll take her new friend on plenty of hikes, just like the Makapuu Lighthouse Trail below.
"I take so much pride representing Hawaii," Moore told KITV. "This is such an incredible place to grow up and I've had so much support here. It's amazing and there's no better place to come from."
Watch the rest of her interview here:
BEFORE YOU GO
PHOTO GALLERY
Hawaii In Photos