Close your eyes and think of all the products you use every day that make you feel good about yourself. You'd probably start by thinking about what you put on your back -- an expensive suit or dress, a handbag, maybe your make-up.
But for rape victims, the homeless and those recovering from domestic violence, starting the day with dignity can mean simply putting on a clean pair of underwear and socks -- a set of basic garments that do not remind them of the trauma they are currently struggling to overcome.
"We consider the work we do a gesture of compassion from the community at large to people who are in need of respect and dignity," says UnderShare founder Helen Huang. "At the very least, we can remove from their experience one more demeaning situation."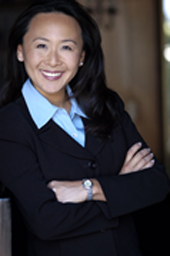 Huang, now an acquisitions executive at Showtime Networks, founded UnderShare as a class project during her senior year at UC Berkeley.
"I wanted to do something that I could get started immediately and would have a meaningful impact on the community," Huang continues. "The National Guard Armory had just opened a homeless shelter in my hometown and when asked what they needed, they said they needed underwear and socks. I thought about it as a possible charity I could start and I called shelters in the Bay Area and spoke with different coordinators and they all encouraged me to do it."
So, with a group of friends who saw a direct need they could fill, Huang founded UnderShare. Its mission is simple: to donate new undergarments -- like socks, underwear, diapers and bras -- to those in need. That includes domestic violence shelters, homeless shelters and rape advocacy support services.
When Huang moved from the Bay Area to Los Angeles for graduate school, rather than pack up her charity, she chose to found a local chapter that, to date, has provided new undergarments, socks and diapers to social services agencies across Southern California including Walter Hoving House, Chrysalis (through the Junior League of Los Angeles), and Sojourn Services.
The registered 501(c)(3) non-profit, which is run entirely by volunteers, has also expanded its reach by lending its logo and organizational services to college students around the country so that they can initiate undergarment drives in their communities as well.
And at home as the charity gets the word out to a younger and edgier demographic, Huang and UnderShare's current president, Jamie Klausner, have tapped into Hollywood's deep pockets by organizing events like underwear fashion shows and silent auctions -- the proceeds of which go entirely to supporting the charity's mission.
"I think the integrity of our charity is unassailable," says Huang. " I'm proud that because of our volunteer-based structure and lack of overhead, a donation of $5 goes to buying $5 of underwear."
For her part in creating UnderShare, Huang is modest in recounting her organization's successes, eager to point out that it is UnderShare's active volunteer base that has made the charity what it is today. In fact, UnderShare's first fundraiser -- a fashion show and silent auction on Sunset Plaza featuring firefighters in American flag boxers -- was, according to Huang, the fruit of one volunteer's loom.
"Faith Heidtke, took UnderShare and ran with it," Huang says. "[After the fashion show], while I was recovering from burn out, Faith was already having a meeting with the volunteers and planning our next event."
Fifteen years later, UnderShare is still going strong due to that same volunteer enthusiasm. On August 14, the organization will throw another fashion show and silent auction. This one, hosted by Paget Brewster, will welcome members of the Hollywood community, including celebrity attendees like the Suicide Girls, DB Sweeney, Kristanna Loken and many others. The event hopes to raise money to do more good in the Los Angeles area, in part through its silent auction, which features an original piece of art by Katey Darling -- made in part by underwear.
For more information about UnderShare and how you can make a difference, visit them on the web at www.undershare.org.
Caritas Hollywood is a recurring monthly column spotlighting charitable works by members of the entertainment community and beyond. The goal of this column is to draw attention to organizations addressing specific needs within a community, especially smaller organizations without the financial means to support a public relations campaign. If you would like a charity considered for this column, please submit all information to caritashollywood@fabioperiera.com.
Related
Popular in the Community