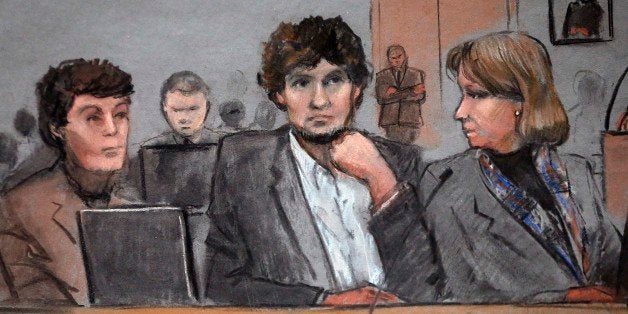 BOSTON -- Jurors in the Dzhokhar Tsarnaev trial heard testimony Thursday from a witness described by experts as perhaps one of the most important in the case against the accused Boston Marathon bomber.
Dun Meng, a Chinese engineer, described Dzhokhar Tsarnaev emptying money from his bank account at an ATM while Tamerlan Tsarnaev, his brother, twice pointed a gun at Meng's head during a carjacking in Cambridge, Massachusetts, on April 18, 2013.
Meng said he was sitting in his Mercedes SUV near the Charles River around 10:30 p.m. when a sedan pulled up behind him. Tamerlan Tsarnaev scurried from the passenger seat of the sedan and knocked on Meng's window. Meng lowered it, and Tamerlan reached in and opened the passenger side door.
According to Meng's testimony, after taking about $40 in cash, Tamerlan asked Meng: "Do you know the Boston Marathon explosion? ... I did it and I just killed a policeman." Dzhokhar Tsarnaev is charged with having fatally shot MIT Police Officer Sean Collier earlier that night, though the defense claims that Tamerlan killed Collier alone.
"The whole world, everybody is looking for them," Meng testified. "My hands were shaking."
Meng's testimony could influence whether or not jurors accept the defense's claim that Dzhokhar, now 21, was under the thumb of his older brother. Federal prosecutors have argued that the siblings were "partners" in staging the attack at the finish line of the Boston Marathon.
"I am Muslim. Muslims hate Americans," Tamerlan said, according to Meng. The brothers used Meng's stereo system to play a CD of what Meng described as "religious" music.
Though the brothers spoke to each other in a foreign language, Meng said it did not seem that Tamerlan yelled at or threatened Dzhokhar.
The defense briefly cross-examined Meng, getting him to admit that he never saw Dzhokhar brandish a gun. Unlike Tamerlan, who threatened Meng, Dzhokhar asked if Meng's car was equipped to play music from an iPhone.
Jurors saw surveillance footage from a Shell gas station that showed Dzhokhar buying snacks. Video from cameras outside the store showed Meng fleeing from the SUV and running across the street to another gas station.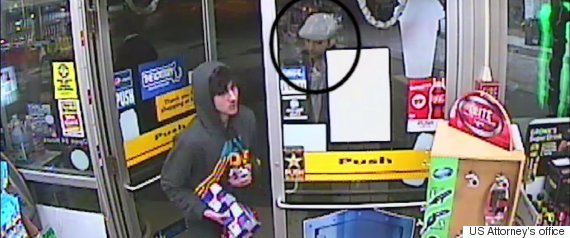 Dzhokhar Tsarnaev carries snacks while his brother Tamerlan Tsarnaev (circled) stands outside the entrance to a Cambridge gas station shortly after they allegedly killed MIT Police Officer Sean Collier on April 18, 2013.

Bolting from his SUV was "the most difficult decision in my life," Meng said, because Tamerlan had already threatened to kill him.
Meng said he seized the opportunity to escape while Dzhokhar was at the convenience store and Tamerlan was fiddling with a GPS device.
Footage from the second store shows Meng gesturing wildly. He testified that he told the attendant two men were trying to kill him.
Members of the Cambridge Police Department testified about responding to Meng's 911 call from the gas station, and spoke about the ensuing hunt for the Tsarnaevs, who were then the most wanted men in the country.
Court adjourned until Monday after CPD communications supervisor Joseph Sullivan told jurors that the tracking equipment installed by Mercedes had located Meng's stolen SUV in nearby Watertown.
Tamerlan Tsarnaev died there in a firefight with police, and authorities later captured Dzhokhar as he hid in a motorboat parked in a backyard.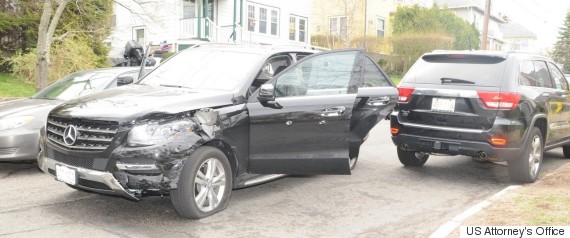 This photo shows Dun Meng's Mercedes SUV after Tamerlan and Dzhokhar Tsarnaev allegedly used it in gun battle with police in Watertown, Massachusetts on the night of April 18-19, 2013.
Earlier on Thursday, jurors saw photos of Collier's body taken at his autopsy. District Judge George O'Toole ruled Wednesday that the pictures of Collier would not be made available to the public as other evidence has been.
Medical examiner Renee Robinson, who performed the autopsy, described the six gunshot wounds she found in Collier's body.
"There is a big hole" between his eyes, she said. It was one of three bullets that struck Collier in the head. "Bullets went into his brain and destroyed vital parts of his brain that you cannot live without."
Another shot entered Collier's skull through his cheek, and one hit him near his left ear.
"He's essentially dead right away," Robinson said.
The photos, which were not released to the public out of concern for Collier's family, had a visible effect on several jurors.
Three bullets also hit Collier in the hand. [Warning: Graphic photo below.]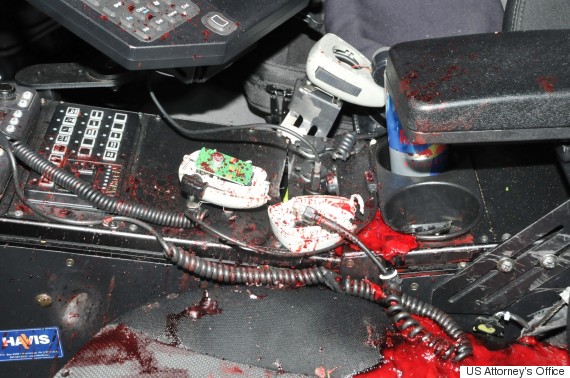 This photo shows the blood-spattered interior of MIT Police Officer Sean Collier's patrol car. He was fatally shot on April 18, 2013.
Calling all HuffPost superfans!
Sign up for membership to become a founding member and help shape HuffPost's next chapter
BEFORE YOU GO
PHOTO GALLERY
Boston Marathon Bombings