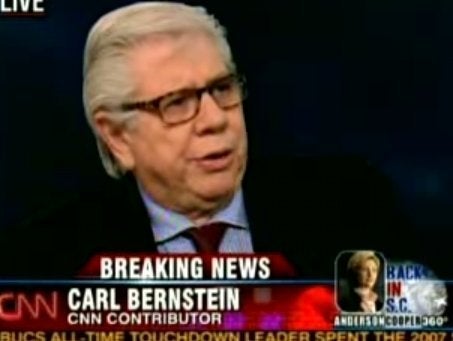 In recent weeks Bill Clinton has been making headlines on the campaign trail, and not all of them have been positive. As the race for the Democratic nomination has narrowed to an intense two candidate race between Barack Obama and Hillary Clinton (John Edwards remains a contender, but looks to be a long shot for the nomination) the public feuding and aggressive back and forth between the Clinton and Obama camps has grown increasingly contentious, particularly between Bill and Obama.
A backlash of sorts seems to have begun against Mr. Clinton, with members of his own party questioning whether his aggressive campaign tactics are befitting of a former president (and someone not on the ballot) and whether they could have consequences down the road, not only for his reputation as a global statesman and figurehead of his party, but for his wife's candidacy, especially were she to win the nomination.
On CNN Thursday night, Carl Bernstein, whose biography, A Woman in Charge: The Life of Hillary Rodham Clinton, came out last year, talked about the often critical reaction Bill's behavior is generating in the Democratic party and even among long-time supporters. While Bernstein acknowledges the growing fear among influential supporters that Bill is "out of control," he also answers the more important question of whether his strategy might be working.
Popular in the Community