Warning: Spoilers for "The Walking Dead" below!
Dear "Walking Dead" fans: If you haven't already heard, Carl (Chandler Riggs) is dying this week.
So say goodbye to that guy. No more pudding. No more cowboy hats. Carl is dead. He's dead, dead, dead.
But a simple death is never enough for "The Walking Dead."
They're going to drag this one out.
We already know the show's midseason premiere is going to be extra long ― reportedly 82 minutes ― and that it's going to send Carl off into the sunset as he dies a slow, agonizing death from a zombie bite.
If that doesn't sound cheery enough for you, there's going to be a sad callback in the episode, too.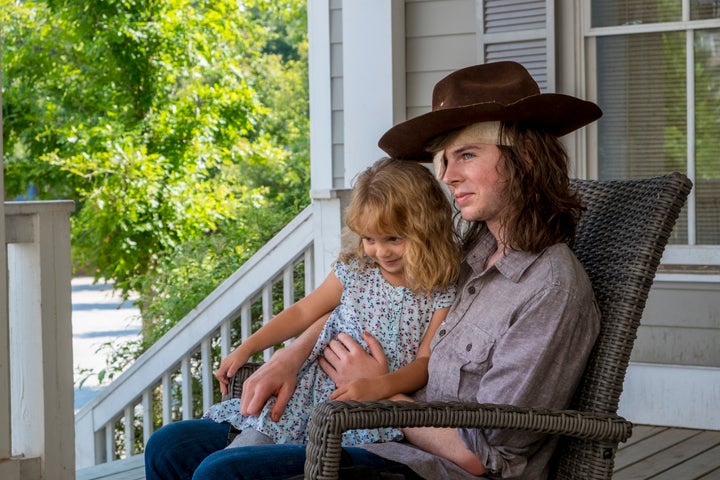 Carl got his deadly bite in Season 8, Episode 6, "The King, the Widow, and Rick," when he was killing zombies with Siddiq (Avi Nash).
Siddiq's mother apparently believed that killing zombies would free their souls, so Carl helps Siddiq kill some zombies in honor of his mother.
Unfortunately, Carl's decision to do so leads to his demise.
On the surface, this seems like a really dumb way for Carl to die. After all, he's been around since Season 1, and still has a lot of story from the comics that the show hasn't yet touched on. If you dig just a little deeper, yes, the plot turn is still dumb (can't fix that), but it also seems to have a connection to Carl's mom, Lori Grimes (Sarah Wayne Callies).
You see, after learning that Siddiq kills zombies because of his mother's beliefs, Carl asked, "Doing that, doesn't it just make things harder for you while you're trying to survive?"
Um, yeah, considering Carl's bite, it clearly does.
But the line reminded us of when Lori died, and she told Carl to "always do what's right," even though it's not easy. Does killing the zombies make it harder to survive? Yes, but it's right, so that's why he did it.
For those who don't remember Lori's death, you're lucky.
In Season 3, a very-pregnant Lori went into labor, and Maggie (Lauren Cohan) had to perform a cesarean section on a dirty floor without pain meds or anesthetic. Baby Judith comes out fine, but Lori doesn't make it, and Carl has to shoot her to ensure she doesn't come back as a zombie, as people on "The Walking Dead" are known to do.
Before all that, she said goodbye to Carl, telling him he's going to "beat this world" (a line that Carl repeats in the Season 8B trailer), adding:
You gotta do what's right, baby. You promise me, you'll always do what's right. It's so easy to do the wrong thing in this world. So don't... so if it feels wrong, don't do it, all right? If it feels easy, don't do it. Don't let the world spoil you. You're so good.
During an interview with "Walking Dead" chief content officer Scott Gimple last year following the midseason finale, HuffPost asked if Carl's fateful decision to go zombie-hunting was a callback to Lori's final words.
"It was a story decision, and the only reason I can't get into that part is I want the story to be told," Gimple said.
"It's funny that you bring up Lori. I will say there are parallels there, and it was very much in our mind," he added. "Things we see even in the very next episode played into exactly what you're talking about."
What those things will look like remains to be seen; however, Riggs previously told The Hollywood Reporter that his character's death turned him into a "humanitarian figure" meant to help Rick (Andrew Lincoln) see the good in people. Just as Lori died imploring Carl to do what's right, it seems Carl might do the same for Rick.
The upcoming episode is going to be heavy. On the bright side of things, Rick's ugly cry after Lori's Season 3 death eventually led to all those Sad Rick/Coral memes. Maybe the next episode's tragedy will make for another hilarious GIF.
We hope so. Yes, it's the apocalypse, but would it kill anyone besides Negan (Jeffrey Dean Morgan) to smile every once in a while?
"The Walking Dead" Season 8 returns Feb. 25 at 9 p.m. Eastern on AMC.
Before You Go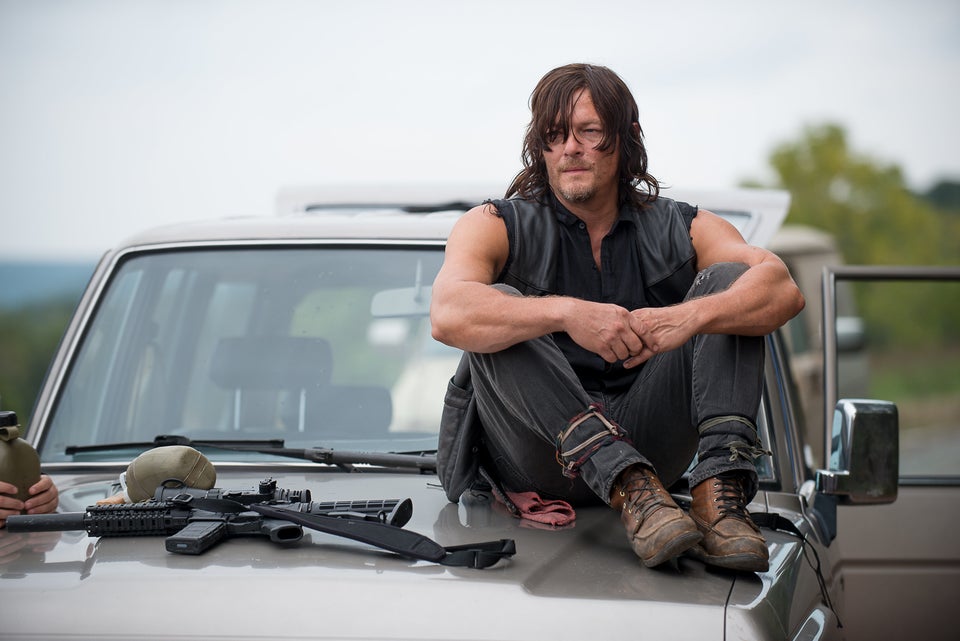 The Walking Dead
Popular in the Community