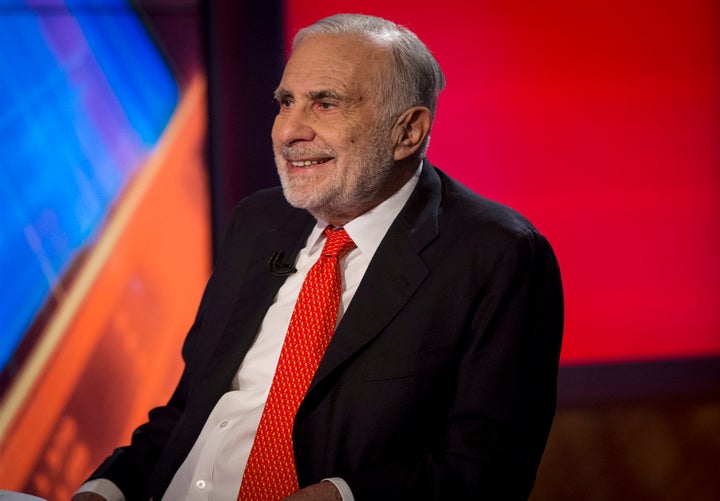 That's no small feat and it's possible because Icahn, a billionaire investor President Donald Trump named as a special adviser on regulatory reform, is not technically part of the White House.
He owns an 82 percent stake in the oil refiner CVR through his holding company and told an ethanol trade group this year that Trump would sign an executive order that would save CVR hundreds of millions of dollars every year.
Icahn speaks to the president "solely in his individual capacity," White House spokeswoman Kelly Love told The Huffington Post. "He is simply a private citizen whose opinion the president respects and whom the President speaks with from time to time." 
The White House also denies Icahn has a policymaking role.
But Icahn's unpaid, informal advisory role means his communications with both industry officials and the White House can skirt the Freedom of Information Act and other forms of accountability. It is unclear if Icahn is telling industry players he speaks for the White House, but in financial and regulatory circles in New York City and Washington, D.C., people know he has a direct line, as one energy industry source told HuffPost.  
And Icahn seems to be doing his best to influence policy in a way that would benefit his company. Bob Dinneen, the head of an ethanol trade group, confirmed to Reuters news agency on Monday that Icahn told him Trump would be signing an executive order changing the Renewable Fuel Standard. The Environmental Protection Agency program requires fuel sold in the U.S. to contain certain amounts of biofuel, such as corn-based ethanol.
Under EPA rules, refiners must blend ethanol or biodiesel into gasoline or purchase Renewable Identification Numbers, swappable serial numbers attached to shipments of biofuel. Refiners expected to pay $1.8 billion in 2016 for renewable fuel credits, the price of which surged nearly 32 percent late last year. Icahn called the program the "mother of all short squeezes," insisting it would bankrupt small refiners and ultimately make gas more expensive.
"The domino effect of this will be that 'big' oil will sop up the bankrupt refineries, causing an oligopoly resulting in skyrocketing gasoline prices," Icahn said in August.  
We need to know whether Icahn had access to nonpublic government information, and whether he directly or indirectly traded on that information.

Washington University School of Law legal ethics professor Kathleen Clark
CVR shares have risen just under 70 percent since election. Its stock rose 6 percent after that story ran, netting Icahn $126 million in gains. Share prices fell again after reports that the White House indicated there was no such plan; both Icahn and the White House have now said on the record that there was no executive order planned.
Since the election, Icahn has ratcheted up criticism of the RFS and its costs to his refiner. He wrote an op-ed in The Wall Street Journal in late November slamming the Obama administration's EPA for choking out small- and medium-size oil refiners by forcing them to buy renewable fuel credits.
The EPA's proposal was meant to encourage the use of more renewable biofuels, but it "threatens to destroy America's oil refineries, send gasoline prices skyward and devastate the U.S. economy," Icahn wrote. CVR said in regulatory filings that cost it about $200 million in 2016.
"The Trump administration, with new leadership at the EPA," he wrote, "should move quickly next year to reform the biofuels mandate and forestall the crisis."
Icahn's advisory role, and the position it puts him in to influence policies that could benefit CVR, raises ethical red flags, said Kathleen Clark, a legal ethics professor at Washington University School of Law.
"We need to know whether Icahn had access to nonpublic government information, and whether he directly or indirectly traded on that information," Clark said. "I believe that the White House refers to Icahn as an 'adviser' rather than as an 'advocate' or a 'lobbyist,' but that term may obscure his actual role: advocating for his own financial interests."
This "is the purest definition of a conflict of interest that you can get," Tyson Slocum of the watchdog group Public Citizen told Bloomberg. "It is clear that Icahn has played a role in influencing aspects of administration policy that have a direct financial impact on Icahn's business at CVR."
Icahn did not respond to a HuffPost request for comment. A spokeswoman for CVR, Brandee Stephens, declined to comment.
BEFORE YOU GO
PHOTO GALLERY
Donald Trump's Environment Guy Doesn't Believe In Climate Change