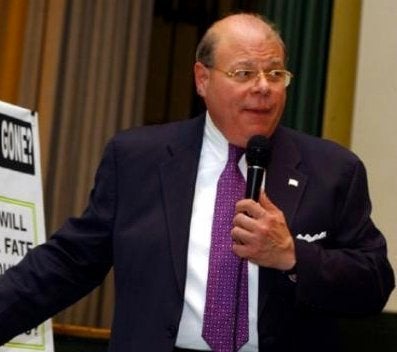 New York State Senator Carl Kruger, D-Brooklyn, has resigned from the Senate (see letter below), as he is expected to plead guilty to federal corruption charges Tuesday for accepting more than $1 million in bribes during his time in office. He faces up to 25 years in prison.
Under state law, Kruger would've been forced to resign if convicted of a felony.
Mr. Kruger collected at least $1 million in bribes, the authorities said, in return for all manner of political favors, like helping hospitals seeking to merge, getting state money for real estate developers and even expanding the business hours of liquor stores. The bribes, according to prosecutors, financed a four-door Bentley Arnage and the Mill Basin home, which was originally built for a boss of the Luchese crime family.
Kruger shares the Mill Basin home with two gynecologist brothers and their mother. Recorded phone conversation between Kruger and one of the brothers, Michael Turano-- also a defendant in the bribery case-- reveal an intimate relationship. Kruger, however, denies that he is gay.
Turano allegedly helped launder the money through two shell companies. Feds struck a plea deal, according to The New York Post, with Kruger and Turano: plead guilty to bribery and fraud charges, and we'll drop the money-laundering charges. Part of the deal, according to The New York Daily News, also involved Kruger's resignation.
Kruger, Turano and six other men, including State Assemblyman William Boyland and lobbyist Richard Lipsky, were indicted on bribery charges in March.
Kruger was first elected in 1994 to the state Senate, serving as chairman of the powerful Senate Finance Committee. He was also chairman of the committee Social Services, Children and Families in 2007. He represented the Brooklyn neighborhoods of Brighton Beach, Sheepshead Bay, Gravesend, Bergen Beach, Mill Basin, and Midwood.
Popular in the Community