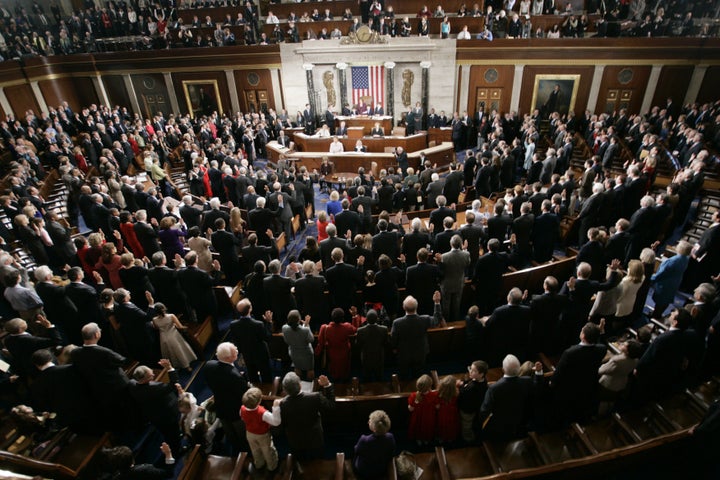 Senate Republicans made a persuasive case for abolishing or reforming the filibuster on Tuesday night when they blocked a routine nomination to the National Labor Relations Board that had been held up since April.
The GOP was joined by Democrats Ben Nelson of Nebraska and Blanche Lincoln of Arkansas in defeating President Obama's nominee, Craig Becker, by a vote of 52-33. The 52 votes were in favor of Becker, while the 33 were in opposition. In today's Senate, that's enough to block a nominee.
"I'm in my thirty-sixth year. I've never seen anything like it," said Judiciary Committee Chairman Pat Leahy (D-Vt.), noting that no previous Republican Senate leader would have allowed his party to filibuster such a routine nomination.
Leahy said that the overuse of filibusters by the GOP was leading Democrats to consider ways to modify it.
Sen. Carl Levin (D-Mich.), another long-serving member, said that abuse of the filibuster is unsustainable. "I think it will either fall of its own weight -- it should fall of its own weight -- or it will fall after some massive conflict on the floor, which has happened in the past where there have been rulings from the chair that have led to reform," Levin told the Huffington Post, adding that the filibuster should be restricted to major issues.
Vice President Joe Biden will be sitting in that chair in January when the Senate next has a chance to modify its rules, and is studying the issue of the filibuster.
Leahy said he recently conferred with former Sen. Walter Mondale about filibuster reform. Mondale led the charge that last changed the rule in the 1970s. "He said it was just inconceivable to anybody at that time" that it would be abused as it is now, Leahy said. "The reason the filibuster rule has been supported all these years is people have used it responsibly...this is unprecedented."
The GOP went to great intellectual lengths to find a reason to oppose Becker, a labor lawyer. Sen. Mike Enzi of Wyoming, the highest-ranking Republican on the committee that approved Becker, presented a novel argument. He noted that Becker had answered hundreds of questions that Republicans had submitted to him, and then used that fact to make the logical leap that he was a questionable nominee.
"If a nominee garners a greater level of public scrutiny and larger than usual volumes of questions, we should ask why. This unique scrutiny should be a signal that the individual has raised a great level of concern and controversy," Enzi argued from the Senate floor.
Enzi also argued that the nomination, which was first made in April 2009, was being rushed through the Senate.
Sen. Sherrod Brown (D-Ohio) responded that not even a "half dead" organization would consider that pace anything but lethargic.
In a fiery floor speech, Brown accused Senate Republicans of McCarthyist tactics for highlighting Becker's connection to someone who had once worked for the embattled community organizing group ACORN.
For decades, Brown said, Republican presidents have nominated pro-management people to serve on the National Labor Relations Board and Democrats nominated pro-labor individuals. The GOP, he said, had thrown out the rulebook with its historic filibuster of a nominee to the board.
The Huffington Post asked Nelson prior to the vote if he thought the president had a right to nominate pro-labor people to the NLRB. "He does," said Nelson. "And I have a right to oppose them." Newly-minted Sen. Scott Brown (R-Mass.) voted against the nomination.
WATCH Sen. Sherrod Brown's floor speech:
UPDATE: Organized labor is responding with outrage at the obstruction of Becker's nomination.
"Working families across America today learned that the Republican Party and some Democrats would rather sit on their hands than serve the interests of the people who put them in office in the first place," said Service Employees International Union President Andy Stern.

"Craig Becker is as qualified and brilliant a nominee as they come, someone who is respected by management and labor-side attorneys, by academics, liberals and conservatives alike. But when it came time to voting to even debate his appointment to the National Labor Relations Board, Congress forgot -- or ignored -- the needs of the people they were elected to serve, and thwarted the will of the majority of the Senate."
AFL-CIO President Richard Trumka said that he'd welcome a recess appointment, which both Senate Majority Leader Harry Reid (D-Nev.) and Obama have floated recently as a way around the GOP blockade. President George W. Bush's first nomination to the NLRB, after all, was made by recess appointment.
"It is reprehensible that a minority in the U.S. Senate has blocked an up-or-down vote on Craig Becker, nominated seven months ago by President Obama to serve on the [NLRB]. Once again, a Republican-led filibuster has put political interests over the needs of America's working families. For more than two years, the NLRB has had only two of its five members. Without a fully staffed NLRB, working families face a major disadvantage in winning justice in the workplace," said Trumka.
"We support President Obama's expressed willingness to make recess appointments of critical posts in the federal government if that's what it takes to get around minority delay and obstruction. There are currently more than 60 political nominees being held up by the Republican minority in the Senate -- at this point in the Bush Administration, only four nominees were still in limbo."

Popular in the Community