 WASHINGTON -- Carl Levin will be remembered as the powerful chairman of the Senate Armed Services Committee, a Michigan man who fiercely championed the auto industry and its unions, and a jealous guardian of the traditions of the Senate.
But K Street will remember the Democratic senator differently, and fondly, as an accidental rainmaker for lawyers and lobbyists specializing in corporate crisis response. Levin, who announced Thursday that he will retire at the end of 2014, will also give up the gavel of the Permanent Subcommittee on Investigations, known to insiders simply as PSI -- "the most feared committee" in Washington, as one lobbyist put it.
"If WilmerHale were a publicly traded company, I'd be shorting the s*** out of them today because they've probably got partners who've put their kids through college off the billables they've racked up dealing with PSI," joked one Democratic super lobbyist who has made enough PSI money himself to put a few kids through school.
"I don't think people think about it that way," said Reginald Brown, a leading congressional investigations lawyer at massive law firm WilmerHale. "The committee's got a long history that predates Senator Levin, but he's clearly one of the giants in the oversight community and it's frankly hard to envision what the space looks like without him in it."
A member of the oversight panel since 1999, Levin chaired the PSI from 2001 to 2003 and again from 2007 to the present. A committee spokesman declined to comment for this story.
PSI has been so lucrative for Washington's permanent establishment because it has done what an investigative committee is supposed to do -- pursued its targets with nonpartisan vigor, eschewing the media spotlight and instead seeking real results. Levin's investigations have led to prison terms, sparked lawsuits and, in the case of Swiss banking secrecy, earned billions of dollars for the U.S. Treasury and changed the way international banking is done. His peek into the causes of the financial crisis uncovered rampant criminality, the evidence of which was forwarded to the Justice Department, an indictment wrapped in a bow. (Attorney General Eric Holder didn't file charges and earlier this week said his department has been concerned that prosecuting major banks could harm the economy.)
The contrast between Levin's investigations and those carried out by the House Oversight and Government Reform Committee (OGR) couldn't be starker. Chaired today by Rep. Darrell Issa (R-Calif.) and previously by Rep. Henry Waxman (D-Calif.), the latter panel has long been better at getting press than driving indictments.
"Goldman Sachs took [a PSI investigation] really, really seriously in a way that -- OGR has reputational downside, because they're so aggressive with the press, but PSI is setting precedents for lawyers and lawsuits and criminal investigations. There's so much more at stake," said one Republican lobbyist who worked with Goldman and who, like a few others who spoke to The Huffington Post, requested anonymity to talk freely about influential lawmakers still in office. "Issa and Waxman were more interested in a quick bang and a headline. I don't think Levin was interested in a headline. He wasn't driven by press. It doesn't smack of pure politics."
What has distinguished Levin from Issa and Waxman, in large part, has been political ambition. Both hard-charging House members appeared to see bigger things for themselves beyond the oversight panel. But Levin, who was first elected to the Senate in 1978, has long had the air of somebody who knew he was finished rising through the ranks. He seemed satisfied with his chairmanships, and he has made the most of them.
"He probably knew he was going to be retiring today the day he assumed the chairmanship. He was less ambitious, had already proven himself. He just has a tone of more seriousness," said the GOP lobbyist.
"There is a difference that is, I think, historical, but the gravitational pull is toward the Levin approach," said WilmerHale's Brown. "His approach has been bipartisan and detail-oriented and very, very substantive. The record on the House side is sometimes more mixed, but I think [the Levin model is] the same direction that Chairman Issa and Congressman Cummings are saying they want to move in the current Congress." (Rep. Elijah Cummings, of Maryland, is the ranking Democrat on the House Oversight Committee.)
A Waxman spokeswoman disagreed with the characterization of his tenure as chairman of the House Oversight Committee as focused on headlines, saying that Waxman's investigations led to significant policy achievements as well as indictments. Issa's office did not respond to a request for comment.
Clients were willing to throw tremendous amounts of money around to try to thwart or blunt a Levin investigation, said lobbyists who spoke for this article. "They don't know what to do. There's only like six people you can call, guys who can go above the rim," said the GOP lobbyist. When his firm pitched one client facing a Levin probe in recent years, he said that another lobbyist, who had worked more closely with such investigations, told him that the fee the firm was demanding -- $20,000 per month -- would make them look unserious and suggested raising the bid to 10 times that amount.
Levin's investigative work preceded his time leading PSI. As the chair of the Senate Subcommittee on Oversight of Government Management, the Federal Workforce, and the District of Columbia, Levin directly targeted Washington lawyers and lobbyists and the companies that hired them.
These investigations found major loopholes in the nation's lobbying disclosure and ethics laws and led directly to the passage of the 1995 Lobbying Disclosure Act. One such inquiry found in 1991 that the top six defense contractors had failed to disclose millions of dollars in lobbying expenses.
In the late 1980s, another investigation into the awarding of contracts under a Small Business Administration program to the heavily connected New York company Wedtech uncovered corruption and collusion among political appointees, lobbyists and corporations, leading to a massive overhaul of contracting at the agency and new laws to prevent abuse.
In his retirement announcement, Levin declared that he would use his last two years at the PSI helm to pressure the IRS into providing proper oversight of the explosion in tax-exempt groups that appear to be almost exclusively engaged in politics.
"Our tax laws are supposed to prevent secret contributions to tax exempt organizations for political purposes," Levin said in his March 7 statement. "My Permanent Subcommittee on Investigations needs to look into the failure of the IRS to enforce our tax laws and stem the flood of hundreds of millions of secret dollars flowing into our elections, eroding public confidence in our democracy."
These so-called dark money groups, which include the Koch brothers' Americans for Prosperity and Karl Rove's Crossroads GPS, identify themselves as nonprofits under section 501(c)(4) of the U.S. tax code to avoid disclosing their donors while engaging in political activity.
Melanie Sloan, executive director of the watchdog group Citizens for Responsibility and Ethics in Washington, applauded Levin's assertion that he will investigate the IRS' failure to enforce its own rules and called on him to issue subpoenas. "He could issue subpoenas and find out who's supporting these groups," Sloan said. "I think he should subpoena all the (c)(4) groups that were active in the last election cycle."
Levin has already helped expose the IRS' weak explanation for failing to provide oversight and enforcement through a series of letters exchanged with the tax agency. The IRS' argument that it is simply enforcing the rules as written 50 years ago, according to Levin, is "not an excuse if new abuses require a review of an IRS regulation." He also said that the agency "is not enforcing the law in the face of the avalanche of evidence that our laws are being flouted."
Beyond the IRS' failure on the campaign finance front, Levin also declared that he will continue investigations into tax avoidance schemes by wealthy individuals and large corporations.
Washington's investigation defense lawyers are well aware that Levin holds the gavel for two more years. "He's not gone, and I don't think that he intends to rest on his laurels for the next year and a half," Brown said.
This story has been updated with a comment from Rep. Henry Waxman's office.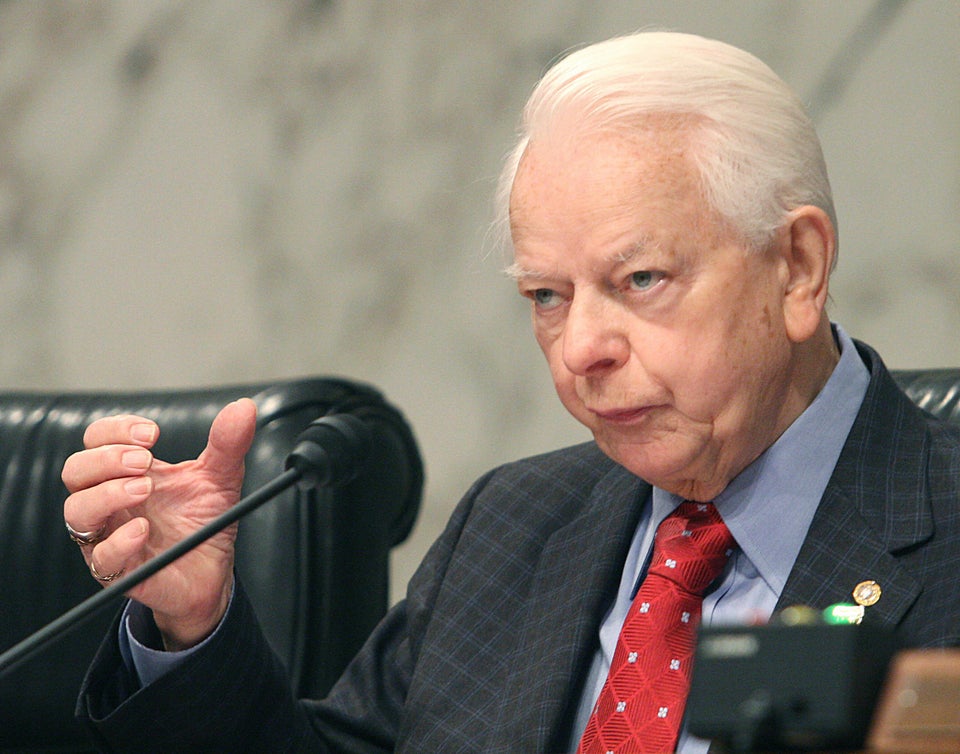 Longest Serving Senators In U.S. History
Popular in the Community